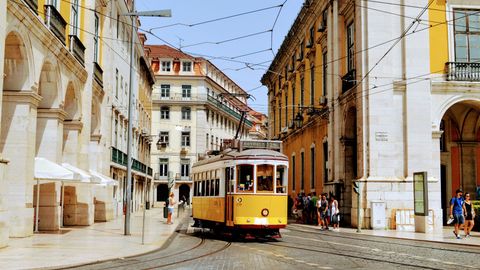 The southern European country Portugal is a land of brilliant incompatible combinations. Where there are twirling mountains, there are primaeval silver beaches that follow. There are corners filled with art and culture on one end and then there's this enormous valley that resembles the heart of Portugal wine. Let's walk you through the best places to visit in Portugal and some of the must things to do in one of the oldest nations of Europe. By Shrestha Purkayastha
Keep scrolling and bookmark the best places to visit in Portugal
No wonder the enthusiasm among tourists to get a good sneak peek of these European classics has only been escalating each year.
Best time to visit Portugal Although with such diverse options to browse in this country, there isn't any such hard and fast rule to visit this so-and-so attraction during this season or that month. However, the period of spring, that is, March-June or fall, that is, September-mid October could be considered the best time to visit Portugal. There is comparatively limited tourist footfall along with lower prices and comfortable temperatures. If the popular wine of Portugal is something you cannot wait to sip then travelling in September or October would be ideal.
The entire period of summer is usually signified as the peak season for travelling to Portugal. If you're someone who doesn't mind exploring with the presence of a heavy crowd around, then the sunny season is the time for you. Just a disclaimer, that during this particular time frame, all the famous attractions in Portugal are tightly packed and you also have comparatively fewer options for available accommodations.
The holiday cum festive season is when Portugal decks up like a bride given the manner it is intricately decorated and lighted. Thereby, the best time to visit Portugal mostly depends on the specific fascinations of this place that you eye on.
Best places to visit in Portugal
Sintra Sintra is known to be a ravishing Portuguese town, straight out of a fairytale. Buried amidst its magical pine forest, you'll bump into mischievous palaces, foundations of Moorish's 10th-century castle, and fanciful hills. The array of compelling antique structures and dramatic natural landscape shapes Sintra as an extraordinary tourist harbour. Sintra is considered to be a worthwhile tour of the Lisbon neighbourhood, and a weekend in this phenomenal town will complement your vacation to this place.
Lisbon A historical centre with a mammoth of tales to narrate, Lisbon is known to be one of the coolest cities in Europe. Where the sun rises 290 days a year, where the menu is addressed to making beyond a hundred ways to prepare the cherished dish called bacalhau, where you'll barely feel the temperature falling down to 15 degrees Celsius, this sought-after city is as safe in the night as it is during daylight.
You're likely to explore the contradictory blend this city possesses. Its age-old history and ancient traditions mingle with high-tech modifications and artistic celebrations, designating it as one of the best places to visit in Portugal.
Madeira Portugal's self-ruling region consisting of four islands, the unbelievable Madeira is one of the best places to visit in Portugal. It is a strangely one-of-a-kind cultural and geographical spot which is a cute little universe on its own, rich with rugged mountains and dense hills boxed with Atlantic waves beneath the coastline of Africa.
What you discover on the island is its evergreen forests, the warm hospitality of its natives, sensational natural backdrops and a theatrical depiction of the Portuguese culture and traditions.
The Algarve The Algarve is this appealing southern seaboard of Portugal. Comprising thrilling waterparks for adventurers, dreamy natural beaches for families, well-known towns for an artistic trip, and energetic nightlife for party animals, this region is gifted with dazzling beaches, an excellent climate, and scenic fishing hubs that altogether mould this place into an ideal destination for a vacation.
This sorted holiday destination claims to be extremely safe and secure, with top-notch standardised hotels to welcome you and a bulk of colourful towns and natural riches to explore.
Obidos Pretty adjacent to the capital and situated on elevated land close to the Atlantic ocean, Obidos is one of the most breathtaking and intricately safeguarded towns in Portugal. Obidos has had a history of sheer significance in the country. You will discover a well-maintained castle enclosed by walls and what would satisfy your eyes more is the knot of white houses and streets as you keep taking a stroll ahead. In addition to the vibrant boxes of windows and the Manueline Portico, several admirable examples of local architecture from the town's celebrated times offer an array of reasons to draw tourists from all over the world.
Porto The renowned town that delivered its name to the country as well as its widely known port wine, Porto is the second-largest city in Portugal after Lisbon. At times, you'll even come across the name "Oporto", again regarded as Porto itself, is an ancient city whose just one portion is industrially developed. The age-old town, positioned right in the middle of Ribeira, was constructed on the cliff towering over the Duro River, and currently, is a UNESCO World Heritage site. Along with the local port wine vaults, generally situated alongside the Vila Nova de Gaia, the 14th-century Sao Francisco attracts equal interest.
Things to do in Portugal
With its appetising delicacies, hospitable natives, eye-catching attractions and a whole pile of a lot more, Portugal really spoils you with its magnetic charm of options.
Savour the Portuguese Wine Usually just regarded as a port, this Port wine is undeniably the most famous export of Portugal. It is said that you haven't exactly relished port until and unless you have thoroughly surveyed its innumerable kinds in Portugal. Make your way to Porto and drop by the vaults of its producers, where you will get familiar with the creation of the port and even get to sip some of the most famed kinds of port for a further deep interpretation, you can tour the Dour valley where the statistics are basically shared.
Bless your ears with some Portuguese Folk Music Fado, a Portuguese Folk Music, comprises two forms- the more positive heartbroken Lisbon style and the Coimbra style. These two variations were introduced after the towns they were shaped in. With the good enough facility of saving a place for you and your group at several bars around, do try making it a point to visit both these types of Folk Music. It shall be worth all your tie, especially if you happen to be an ardent music lover.
Breathe on the beach By now, you would rightly know that the Algarve land of Southern Portugal carries a marvellous coastline with striking waters and stunning beaches. You can come across every kind of beach you ever imagined in your head to step into. Whether it's your interest in sunbathing or simply sitting by the shore with absolutely no chaos around, whether you wanna swim all the way or rather look for a fabulous sunset while surfing, this unreal land will offer everything at its best.
Delve into the Duoro valley As the name suggests, port wine is extracted from the Porto town, Douro valley. You can say this valley is a legit home to an expansive collection of wineries. Porto is where the finest wine is preserved, loaded in bottles and finally stashed. The wineries here are conventionally marked-off areas on the entire planet. Dropping by the landscape of Duoro valley will make you go all tongue-tied even if you aren't an avid wine lover or someone who's interested in such processes of manufacturing.
Take a tour of the Bom Jesus do Monte Sanctuary This is a sacred sanctuary right towards the edge of Braga, and it barely takes an hour to reach here from Porto. Bom Jesus de Monte sanctuary is located on the crest of a mountain coated with gardens and a church. Here, you can walk straight up the bewildering criss-cross staircase or simply go for the cable car. However, in either case, as you move ahead, as you keep reaching the topmost point, you'll get a lifetime of an out-of-the-world view.
Live through the nightlife of Lisbon Certain sites of Lisbon have been recognised by the Bairro Alto region to joy ride for a night outward of town. When the sun calmly rests on its skyline, the entire ambience immediately switches into a rejoicing mode. While the town seems all energetic in the moonlight, it is not limited to the party animals. Tourists can freely go out and experience the nightlife of the city, munch and gobble till late or even stop by a late- night concert.
Go surfing at the beaches With the ever-increasing state of surfing camps on Portugal's shores, it only narrates additional information for you to acquire on how to surf on some of the state-of-the-art beaches in the territory. If you're an expert surfer, get to know about Praia do Norte, right adjacent to Nazare's casting village. Also, if you're someone who is absolutely new to this place, then before you onset for surfing, explore the beaches of Ericeira for a controlled start.
Hero Image Credit: Chris Barbalis/Unsplash; Feature Image Credit: Aayush Gupta/Unsplash
Related Article: Qatar Travel Guide: Make Your Checklist Ahead Of The FIFA World Cup 2022
Frequently Asked Questions (FAQs)
Question: How much time is required to explore Portugal?
Answer: To make sure you've throughly covered every famous attraction in Portugal, including the fun things to do there, its traditional delicacies and cultural entertainment, a minimum of seven days would be required to take a complete tour of Portugal.
Question: What to shop in Portugal?
Answer: Did you know that one of the most pocket-friendly places to shop in the entire Europe is the land of Portugal? Here, the best things you can go for buying is Portugal's attractive souveniers, the classic ceramic painted tiles- Azulejos, their extraordinary items made of cork, embroidered items, Portugal's good luck symbol- Rooster, Castebel soaps, leather shoes and bags, and cartons of the finest wines.
Question: Is living in Portugal costly?
Answer: On a generic note, it is cnsidered that Portugal is one of the most cheapest and affordable countries to settle in western Europe.
Question: What to eat in Portugal?
Answer: Of the many appetising food options in Portugal, here are some of the best and famous Portuguese cuisines that you must try. Pastel de nata (Custard tart), Polvo a Lagareiro (octopus with olive oil and potatos), Arroz de pato (duck rice), Sardinhas assadas (grilled sardines), Arroz de marisco (seafood rice) are definitely some of the must-try dishes.
Question: Where to stay in Portugal?
Answer: The best and the most comfortable places to stay in Portugal are The Beekeepers, Morgado do Quintao, Casa Brava, Reserva Alecrim, Herdade do Sobroso, and Cucumbi.
Question: What to wear in Portugal?
Answer: When in the country of aesthetics, elegance would undeniably be the primary style quotient. To be more specific, save your sarongs and comfy shorts for the beach. Go for some smarter outfits for classy restaurants. Always carry a pashmina to complement your dress style of every kind. Havinga Pashmina also helps in covering your bare shoulders and legs in case you step into a religious place as such. For the men particularly, try carrying dappertravel jackets and chic beachwear.
Question: How to roam around in Portugal?
Answer: You'll always find cable cars, metro cars, bikes, trams and all other means of public transportation at your service to carry you from one corner to the other corner of Portugal.
Written By