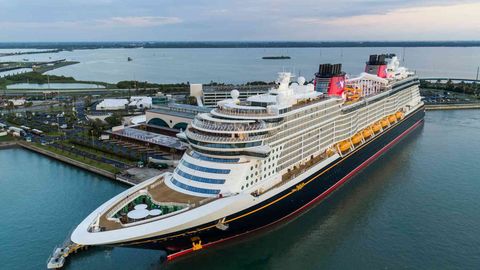 With planned itineraries and excursions, a range of activities for all ages, and the ease of unpacking just once while visiting multiple destinations, cruises are a great option for family vacations and multi-generational travel. By Patricia Doherty
"Cruises are ideal for family vacations. For starters, they offer exceptional value, as they're inclusive of dining, lodging, and transportation to amazing ports around the world. On top of that, many cruise lines offer both family activities and things for kids and parents to do separately — so they can have a fun vacation that suits everyone's tastes and needs," Colleen McDaniel, editor-in-chief at Cruise Critic, recently told Travel + Leisure.
Cruise vacation options range from small-ship expeditions to larger ships with pools, water slides, game rooms, and an array of restaurants, so the choice depends on your family's interests and capabilities.
Here are seven of the best cruise lines for families
Hurtigruten This Norway-based cruise company features voyages along the Norwegian coast, ocean cruises, and expeditions to the Caribbean, Antarctica, South America, and more. Exploring the Galápagos with Hurtigruten aboard the newly refitted expedition ship MS Santa Cruz is an ideal family cruise. A variety of cabins are available for singles, couples, and families, with amenities that include a Science Center, library, Sky Deck, fitness room, and hot tub. Trained naturalists lead excursions, hands-on projects, and tours, making the adventures engaging and educational for all ages. An onboard photographer shares tips so that everyone comes home with memorable photos.
Adventures by Disney River Cruises River cruises offer many advantages, from visiting a variety of destinations to the intimate size of the ships. Recognising their appeal largely to travellers in the 50+ age range, river cruise companies are taking steps to attract younger travellers. Adventures by Disney and AmaWaterways have teamed up to create river cruises especially designed for families, adding trained Adventure Guides and activities aimed at diverse interests. Disney's Adventure Guides supervise young kids (minimum age five, suggested age eight and up) and teens with events like welcome parties, movies, and Disney-themed games. Adults-only dinners and events are also on the itinerary.
Norwegian Cruise Line Norwegian Cruise Line, with destinations around the world, features a wide range of family-friendly programs and activities. For children ages 5-12, there's Splash Academy, with complimentary activities like sports, creative play, parties, and theme nights. Entourage, for 13-17-year-olds, features complimentary supervised activities such as video games, movies, music, art, and a special lounge just for them. While the kids are having fun, adults have a spa, adults-only pool, theatre, casino, and private beach club. Opportunities for family togetherness include mini golf, scavenger hunts, family nights, casual dinners, and shore excursions. The Norwegian Prima, the newest ship in their fleet, actually features a three-level race track that all ages will enjoy.
Disney Cruise Line Cruising the world with destinations in the Caribbean, Europe, Alaska, Mexico, and more, Disney ships were designed for kids of all ages, with entertainment, dining, and excursions perfect for all members of the family. Live theatre, fireworks, character visits, deck parties, pools, waterslides, and nightclubs offer plenty to do. Staterooms are also arranged for families, with privacy curtains, abundant storage, and divided bathrooms. Dining options include restaurants from casual eateries to upscale steakhouses, ice cream and sweets shops, and 24-hour room service. In the Caribbean, Disney's private island, "Castaway Cay," features a family beach, snorkelling lagoon, walking trails, boat rentals, shopping, and adults-only Serenity Bay with cabanas and frozen cocktails. On board the ships, adults-only spots offer relaxation and quiet. The new Disney Wish includes an adults-only section on the upper deck, as well as lounges and special restaurants.
Lindblad and National Geographic Since 2004, Lindblad Expeditions and National Geographic have collaborated on exploration, research, conservation, and technology, joining forces to provide superb expedition travel experiences. The company offers adventures in world-class expedition vessels that offer both space and togetherness along with daily activities for a range of interests and fitness levels. Onboard naturalists inspire young travellers' interests in science and nature. Whether paddling a kayak in Alaska, snorkelling in the Galápagos, or cruising in a Zodiac in the Arctic, travellers learn while they enjoy the adventure. Family-friendly dining choices and activity options are ideal for multi-generational groups. Every expedition includes a certified photo instructor and often a National Geographic photographer, so guests take home new skills (along with great photos).
Royal Caribbean The cruise line's Adventure Ocean youth programs offer both fun and education in age-based groups. For Aquanauts (ages 3-5 years), experiments lead to becoming Certified Jr. Adventure Scientists. The Explorers program for 6-8-year-olds includes exciting activities and themed parties, and Voyagers (9-11 years) participate in a range of enjoyable learning events. Teens have their own spaces, movies, arcade games, and parties. Family movie time, a library, poolside games, parties, and family dining provide lots of opportunities to enjoy the cruise together. And child care is available for ages 3-11 between 10 p.m. and 2 a.m. for a stress-free, adults-only night out. The new Wonder of the Seas is the world's largest ship with plenty of ways to play — for everyone in the family.
Celebrity Cruises Families with children of all ages are welcomed and entertained with movie nights under the stars, silent disco parties, archery tournaments, cupcake decorating, laser mazes, and many other activities to share. Celebrity Cruises has created a Camp at Sea program for junior cruisers by partnering with world-renowned companies like Anturus, Xbox, Fat Brain Toys, and others to offer fun-filled, interesting activities. For example, Power of Plankton investigates the world of tiny marine organisms and their importance. Art projects, cooking groups, competitions, and programs managed by counsellors keep everyone engaged while they learn and have fun at sea. Teens can even enjoy spa services designed especially for them.
This story first appeared on www.travelandleisure.com
Main and Feature Image Credit: Steven Diaz/Courtesy of Disney
Related: Here's Why Your Next Family Vacation Should Be In Los Cabos
Written By