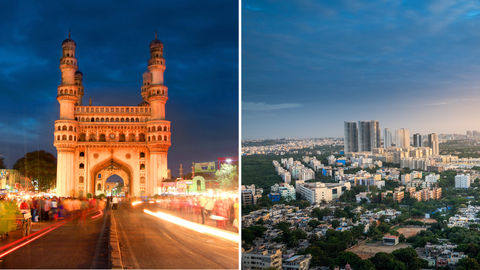 Always wondered where to move to in India to get the best of everything? A recent survey conducted by Holidify.com has ranked Hyderabad as the best city to work in India and live in too, and we are already packing our bags. By Amitha Ameen
View this post on Instagram
The survey conducted by Holidify.com ranked 34 cities in India that is the best place to live and work in. And, Hyderabad scored the top position as the best city to work in India and live in too. "A city of contrasts, Hyderabad exudes an old-world charm of its own with the Old City (Charminar side), Hitech City (Cyberabad), and the other areas lying between the old and the new, read the survey," (as reported on Times of India).
In the survey, Hyderabad scored 4.0 out of 5.0 and ranked over cities like Pune, Mumbai, Chennai and Bengaluru among others. The survey also stated that the best time to visit the city is during September and March. Additionally, the survey mentioned that the city is turning into the new New York City of South India.
View this post on Instagram
"The capital and the largest city of Telangana, Hyderabad is home to stately mosques and noisy bazaars lined parallelly alongside swanky new office buildings and malls, and it is these very contrasts that glimpse into the city's rich past with inherent promises of an even better future that make Hyderabad a city worth visiting," read the survey (as reported on Times of India).
Known as the start-up hub, some would say that Hyderabad has overtaken the original silicon valley of India, Bengaluru. Whether its the history, culture, food, architecture, or shopping — Hyderabad has, over the years, made a mark on the map for being a go-to destination for people across the country.
Related: Hyderabad Declared India's Most Vegan-Friendly City Of The Year!
Written By