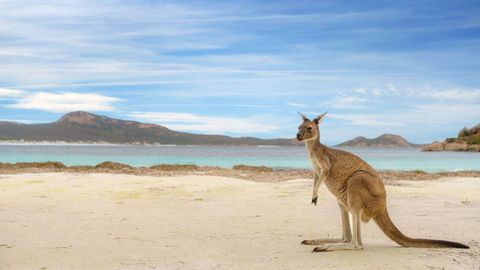 Not sure where to go on your next seaside getaway? We have a few stellar ideas. By Stacey Leasca
Recently, the travel publication announced the winners of its fifth annual Editors' Choice Awards, which recognises the best in travel and hospitality in the USA and around the globe. The awards spanned 18 categories, including Best for Family, Best for Outdoor Enthusiasts, Best for Brunch, and our personal favourite, Best for Beach Bums.
These are the best beach destinations for your next vacation
"We're thrilled to announce the winners of the 2022 TripSavvy Editors' Choice Awards. We know that trip planning can be a daunting task and these awards are sure to help our audience of avid travellers find the best places to go and things to do," Laura Ratliff, TripSavvy's senior editorial director, shared in a statement provided to Travel + Leisure. "No matter what the occasion, we have you covered – whether you're planning a romantic escape, looking for the perfect place to take your family for a winter vacation, or searching for an unforgettable restaurant experience." The winners were selected using a rigorous review process that combined proprietary machine learning and human vetting, which narrowed the winners from a massive 60,000 potential businesses and destinations worldwide.
As for its Best for Beach Bums list, TripSavvy named a total of 49 destinations, seaside hotels, and beach bars to its winning list. Winners spanned the globe, with spots in the Greek Islands, several winners in Florida, sandy stretches in Costa Rica, France, India, the Caribbean, and more. A few standout stars include destinations like the Cape Cod National Seashore, which TripSavvy gave 4.5 stars and called out for its spectacular array of available activities from "boogie boarding, fishing, swimming, biking, hiking, and frolicking in the dunes."
As for companies, TripSavvy gave Endless Summer Surf School Kauai the ultimate shout out — a five-star rating. The school earned its ranking thanks to its variety of classes as well as being a "perfect option for safe, patient, and productive learning environments."
The Myconian Korali Relais & Châteaux made the list as one of its choice hotels with a 4.5-star rating. The gorgeous property in Mykonos made the list thanks to its prime location in the centre of town, along with its personalised touches and "chic style and Aegean views that make Mykonos such a prised destination."
This story first appeared on www.travelandleisure.com
Main and Feature Image Credit: Prasit photo/Getty Images
Related: 10 Of The Best Mediterranean Cruises For Every Type of Traveller
Written By