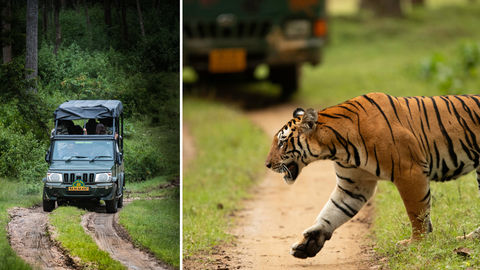 If you are planning to take a rebound road trip from Bengaluru, we'd suggest Kabini —a riverside forested getaway hours away from the Indian Silicon Valley. A preferred haunt among wildlife enthusiasts and budding photographers, Kabini has all that you need for that long-due rebound holiday. Let this guide serve as your friend as you meander your way through Kabini's many jungles. By Bayar Jain
View this post on Instagram
Once a royal hunting lodge, modern-day Kabini now thrives with abundant wildlife and greeneries galore itching to be rediscovered once travel is safe again. Apart from serving as a home to the rare black panther—reminiscent of Jungle Book's Bagheera—this getaway comes packed with a gurgling river and untamed mountain ridges and valleys as well. Over head, countless birds flutter while the soothing sounds of many animals in the Nagarahole National Park—within which Kabini lies—soothe.
What To See?
View this post on Instagram
When in Kabini, the first item to be struck off the travel bucket list is a jungle safari through its thick forests. Serving as the apt way to acquaint oneself with the plethora of flora and fauna here, this experience can rarely be substituted. During the trail, expect to see tigers, leopards, elephants, bison, sloth bears, cheetahs, and hundreds of birds. Follow this up with a trek to the surrounding Western Ghat peaks like Tadiyandamol, Brahmagiri and Kumara Parvatha. To add to the adventure, rent a bike to travel locally—a preferred means to soak in nature's grandeur while here.
Kabini, however, is not all about adrenaline-pumping fun. The serene Kabini River dazzles in crimson hues as the sun sets. Boat rides and Indian coracles during this golden hour are sure to make it a memorable sight.
View this post on Instagram
Another notable waterside attraction here is the Kabini Dam. Built on the River Kapila, the dam draws its prominence from being a major source of drinking water to the state capital, Bengaluru. When here, visit the village Beechanahally for a dose of rural tourism.
Where To Eat?
View this post on Instagram
While an upcoming tourist destination, Kabini's gastronomical offerings are yet to catch up with the influx. All the hotels and wildlife lodges here come paired with in-house restaurants, ordinarily serving hotel specialities (in case of high-end accommodations) or simple meals. Local chains, mini dhabas, and small eateries dot the roads.
How To Reach?
Kabini is 162 kilometres away from Bengaluru. Being located at a four hour distance away from the capital city gives it the advantage of being easily accessible by road, both private cars and state-owned buses.
Where To Stay?
View this post on Instagram
Kabini is replete with staying accommodations, suitable for all kinds of travellers. For instance, Evolve Back, Kabini is designed to bring its guests in sync with the natural tapestry of the region, courtesy luxury tribal hut-like accommodations crafted without skipping out on comforts. Being bordered by the Kabini River on two sides adds another layer of calm to the already tranquil space.
View this post on Instagram
The Serai Kabini is another preferred stay option here. Another riverside property, this place brings in an amalgamation of nature and modern-day luxuries. When here, an array of nature-inspired activities like wildlife safaris and bird watching calm, while rejuvenating spa and wellness treatments spoil silly.
View this post on Instagram
On the flip side, a tented stay awaits at KAAV Safari Lodge, Kabini. Seeped in the quiet spaces of Kabini's forest, the property promises private balconies looking out to crimson horizons. And, redefining 'glamping' comes naturally at this lodge!
Written By