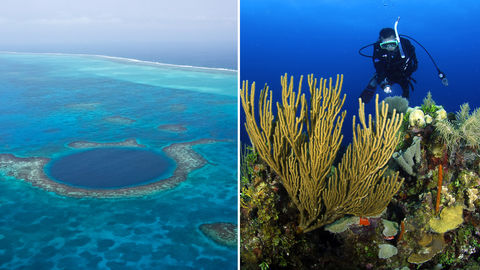 Belize is home to the biggest barrier reef in the western hemisphere! If you are an adventure-seeker and looking for the best diving and snorkeling experience ever, this is your calling! By Sashwat Deo
The Belize Barrier Reef is also home to one of the most diverse ecosystems in the world. The reef is a 300-km long system and is second largest after the Great Barrier Reef of Australia. Just a small part of it has actually been discovered. Most part of this reef is protected by the Belize Barrier Reef Reserve System, which consists of 450 caves, seven marine reserves and three atolls.
The old capital Belize City facilitates all transportation options like international flights, commercial flights and water taxis for the nearby islands. The largest and the most visited island on this reef is the Ambergris Caye as it is a complete getaway with exceptional accommodation and beautiful beaches. This island is a 15-minute plane journey from the mainland and is the closest you can get to the barrier reef.
Belize's best diving spots — Lighthouse Reef, Hol Chan Marine Reserve and the Great Blue Hole are just a few minutes from here. The Great Blue Hole is a must-visit spot! The diving also features breathtaking coral reefs and whale shark adventures.
Listed as the World Heritage Site by UNESCO, the Belize Barrier Reef maintains its coral reefs and preserves the diverse ecosystem. If you feel like exploring the local area, Glover's Reef Atoll is the closest snorkeling and scuba diving spot, which is also a bit distant from the mainland. Hence, it provides clear water and a rich coral reef system.
The Belize Barrier Reef houses numerous endangered animals like sea turtles, American crocodiles and manatees. There are more than 500 fish species like tarpons, porcupine fish, cow fish, and etc. The barrier reef also has rare species like hammerhead sharks and jaguars.
Getting there
Two stop-over flights at Heathrow Airport and Miami Airport will take you from Delhi to Belize City. Belize City is connected with charted planes and boat taxis, which can take you to the Barrier Reef.
Stay
Ramons Village Resort in San Pedro, Ambergris Caye will provide you with one of the best facilities here.
Best season
The most favourable time to go to Belize is between November to March as the temperature is mostly pleasant during this time.
Related: Explore Malawi: The Ultimate Hidden Gem Of East Africa
Written By