The name of this storied Catalan city, Barcelona, is almost as beautiful as the coastal metropolis itself. Nicknamed Ciudad Condol (once upon a time, the city was the seat of the Count of Barcelona) the destination sticks with anyone who wanders among the remarkable architecture and through the airy plaças. Nestled along the sparkling Mediterranean Sea in northeastern Spain, Barcelona is a colourful melting pot of culture, full of world-renowned cuisine, legendary art, music, and more. Book a trip to this sunny city and you'll spend your days exploring the dynamic barrios, wandering along the beach, strolling through verdant green spaces, and discovering gem after gem—some well known, like Park Güell or Camp Nou, and some hidden, like Santa Caterina. By
The architecture alone is worth planning your trip around — from Gothic structures to Gaudí's modern wonders, design lovers could fill weeks exploring the stunning buildings, monuments, and sculptures throughout the city. Ultimately, Barcelona's unwavering energy and cultural elements result in a distinct immensity of spirit, unlike any other destination. The temperate climate, too, makes the weather quite pleasant for most of the year.
When vacationing in a new place — especially a historic city — it's easy to get caught up in the I-must-see-everything-as-quickly-as-possible mentality. And while Barça has no shortage of things to see and do, the city imparts a distinct sense of relaxation on those who pass through. Be sure to reserve time to experience life like the locals do, enjoying leisurely lunches followed by a siesta, vermuteria hopping on Sundays, and frequenting your neighbourhood bar for tapas and wine with friends.
Time Zone
Central European Standard Time
Best Time to Go
Early summer or autumn are the best times to visit Barcelona, as late summer tends to get hot and humid. Book your trip in May, June, September, or October for the most idyllic weather—you'll encounter plenty of sun and nice temperatures for swimming and walking about the city's stunning streets, parks, and markets.
Things to Know
Barcelona is the capital and largest city of Catalonia, where both Spanish and Catalan are the predominant languages spoken. The city is a transportation hub and one of southwestern Europe's economic centres—also known as Spain's leading biotech city.
Mealtimes are all generally on the late side in Barcelona. Restaurants are typically open from 1:30 pm to 4:00 pm for lunch, and from 8:30 pm until 11:00 pm for dinner. Many stores close for lunchtime siesta (2:00 pm to 5:00 pm), as well as on Sundays and public holidays.
Europe's largest stadium is Camp Nou in Barcelona with a capacity of over 99,000 occupants and is home to FC Barcelona (one of the most supported footbol teams in the world).
How to Get Around
Metro: The Transports Metropolitans de Barcelona (TMB) is the main transport system in Barcelona, operating both the metro line and select bus routes. Riders can purchase tickets at metro stations across the city. Single tickets cost €2.40 (INR 212) or you can buy a T-Casual ticket for multi-trip use.
Trains: The main railway station in Barcelona is the Barcelona Sants. The FGC is a network of trains in Barcelona and the surrounding suburbs which connects the city to other towns in Catalonia. The Renfe is an international high-speed railway line that connects Spain and France, allowing travellers to get to cities like Paris, Marseille, and Madrid quickly.
Buses: The TMB operates all throughout the city and travellers can purchase tickets both at stops and on the bus, although you're only able to purchase single rides on the bus. There's also the Aerobús BCN, which connects Barcelona Airport with the city centre.
Taxis: Typically affordable, accessible, and all over the city day and night.
Car service: While Uber operates throughout Spain, it is not currently available in Barcelona. Cabify is a favoured alternative for ride-sharing.
Best Hotels
Casa Bonay
Address: Gran Via de les Corts Catalanes, 700, Barcelona 08010, Spain
Phone: +34 93 545 80 70
Casa Bonay's bread and butter is creating simple, sustainable spaces that impart a sense of local culture and community to guests. With ample greenery and simplistic, chic interior decor (made in partnership with local designers), this 19th-century house-turned-hotel's light and airy atmosphere matches that of the city itself. Be sure to grab tapas at the property's rooftop restaurant (open to the public) and sunbathe on the neighbouring rooftop terrace, exclusive to guest use.
Cotton House Hotel (Eixample)
Address: Gran Via de les Corts Catalanes, 670, Barcelona 08010, Spain
Phone: +34 934 505 045
Cotton House Hotel, part of Marriott's Autograph Collection, is housed in the former headquarters of the Association of Cotton Manufacturers, giving the property's spaces a neoclassical foundation accented by soft, sophisticated designs. In addition to 83 comfortable rooms, the hotel features an elegant library, a restaurant and cocktail bar, a terrace, and a rooftop pool. Be sure to check out the property's unique spiral staircase, built-in 1957 — it's the only one of its kind in Europe.
El Palauet Barcelona
Address: Passeig de Gracia, 113, Barcelona 08008, Spain
Phone: +34 932 180 050
These six luxurious suites (each two-bedroom) epitomise Spanish elegance in hotel form. Located centrally along with the famous tourism and shopping hub of Passeig de Gracia, El Palauet is housed in Casa Bonaventura Ferrer, the iconic modernist building built by Pere Falqués i Urpí in 1906.
Hotel 1898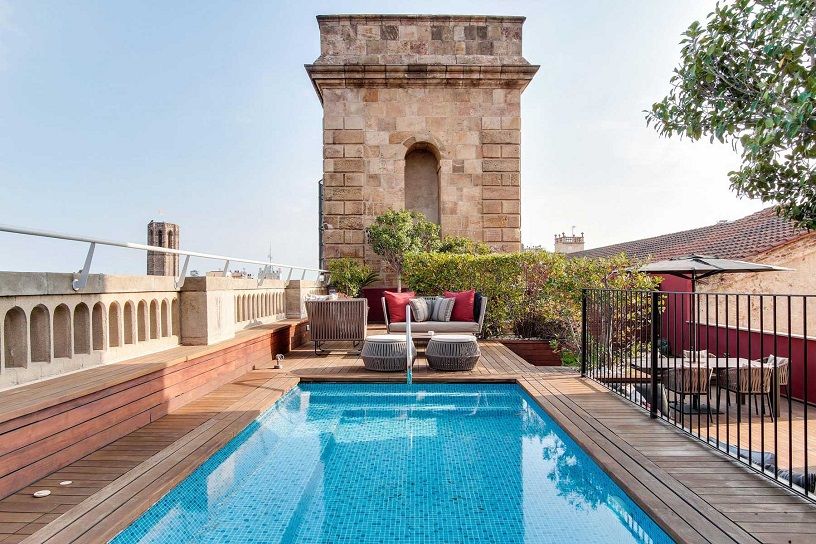 Address: La Rambla, 109, Barcelona 08001, Spain
Phone: +34 935 529 552
Located right along the tree-lined pedestrian stretch of La Rambla, as hinted in its name, Hotel 1898 has a long history. Originally the headquarters of General Philippines Tobacco Company, elements of the property's origins can be seen in the architecture and classical decor style. The comfortable rooms range from classic to deluxe, with two levels of beautifully appointed suite options available.
Hotel Arts Barcelona (La Barceloneta)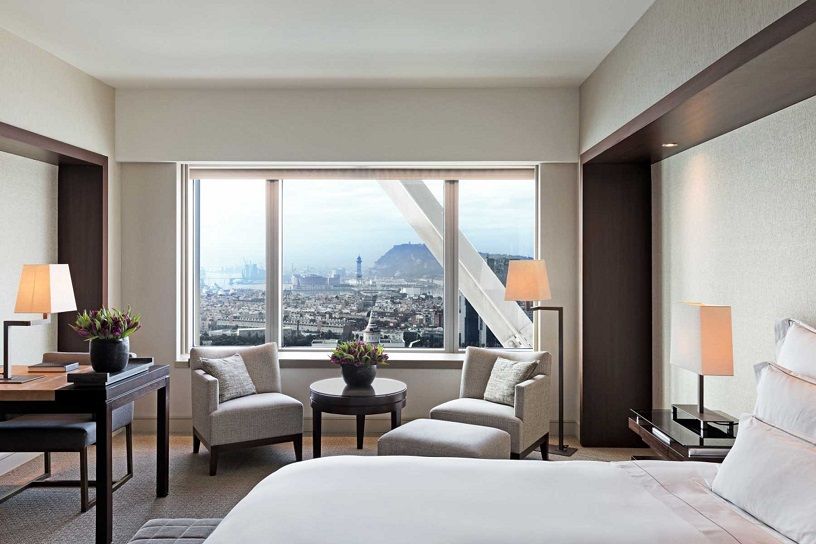 Address: Marina 19-21, Barcelona 08005, Spain
Phone: +34 932 211 000
Come for the striking glass design and amazing views, and stay for the property's two-star Michelin restaurant and breathtaking pool. Hotel Arts Barcelona offers five-star accommodations (rooms, suites, and penthouses) in elevated, modern interiors high above the Mediterranean and the city — so the views are as superb as the service and luxury amenities. Designed by architect Bruce Graham, the exterior's steel-and-glass build is one of the most distinct modern buildings in the city.
Hotel Brummell (Poble Sec)
Address: Nou de la Rambla,174, Barcelona 08004, Spain
Phone: +34 931 258 622
A stone's throw from the legendary site Montjuïc, Hotel Brummell offers 20 comfortable rooms in the trendy Poble Sec neighbourhood. Considered slightly off-the-beaten-path, this property is low-key and intimate with an imaginative, modern design, beautifully mirroring Barcelona's culture of cool. Features include a sunny terrace, an outdoor pool, an on-site sauna, and a restaurant and bar.
Hotel Neri (Gothic Quarter)
Address: Sant Sever Street, 5, Barcelona 08002, Spain
Phone: +34 93 304 06 55
This Relais & Châteaux property is located in two historic buildings — one of which is a restored 12th-century palace — in Barcelona's storied Gothic Quarter. The hotel's moody, chic atmosphere matches the neighbourhood it calls home, and proximity to attractions like La Rambla and the Picasso Museum make it an ideal home for those exploring the city for the first time. The 22 hotels and suites feature luxury amenities, some featuring balconies and terraces, others with sweeping views or gilded murals.
Majestic Hotel & Spa Barcelona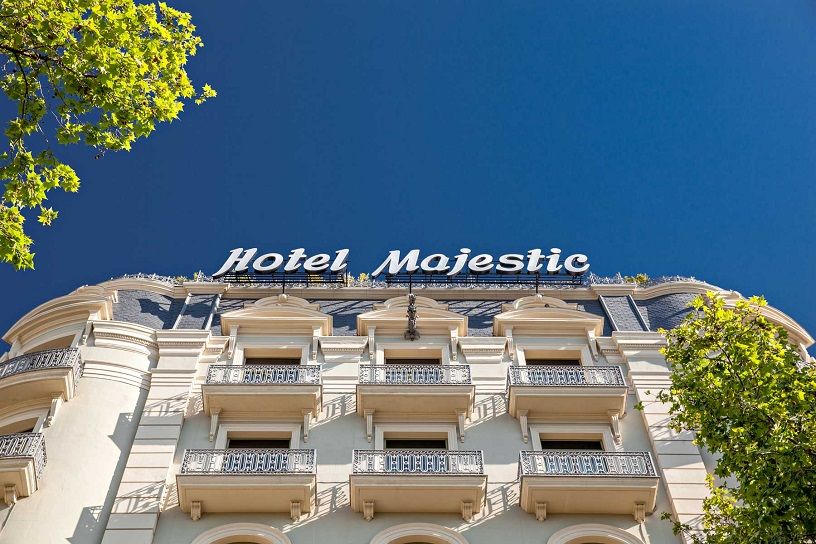 Address: Passeig de Gracia 68 – 70, Barcelona 08007, Spain
Phone: +34 934 881 717
Located in the heart of the Passeig de Gracia, Majestic Hotel & Spa Barcelona is a Neo-Classical icon dating back to 1918. Known for an exceptionally detail-oriented staff, the property epitomises timeless elegance, with light and warm tones accenting the 271 rooms, suites, penthouses, and apartments. Guests will enjoy proximity to many attractions, including Gaudí's architecture, upscale shopping, myriad restaurants, and Gran Teatre del Liceu, and more.
Mandarin Oriental Barcelona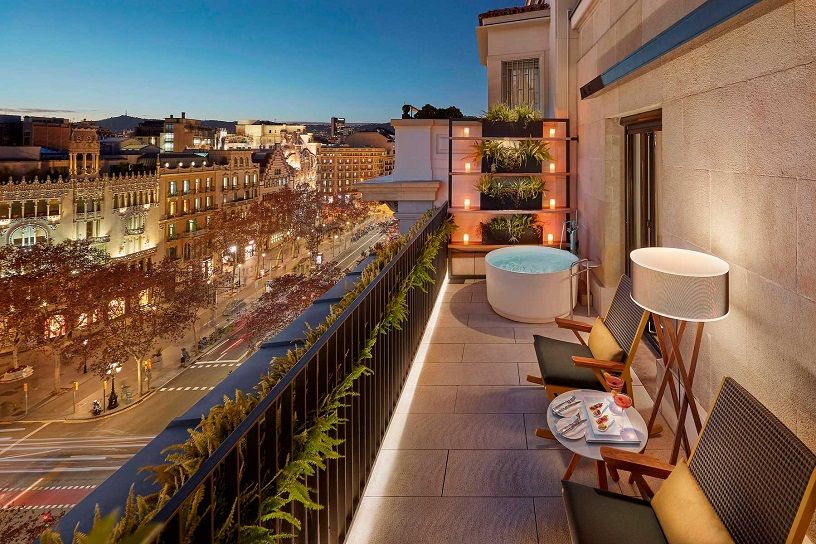 Address: Passeig de Gràcia, 38-40, Barcelona 08007, Spain
Phone: +34 93 151 88 88
This beloved hotel, situated on the bustling Passeig de Gràcia, is one of the city's most popular luxury hotels. Accommodations feature striking views of the property's immaculate gardens and the nearby Casa Batlló. Guests can expect five-star service, timeless room and suite design, and delicious meals at the hotel's Michelin-starred restaurant.
Mercer Hotel Barcelona (Gothic Quarter)
Address: Calle dels Lledó, 7, Barcelona 08002, Spain
Phone: +34 933 107 480
A stay at the Mercer Hotel is unlike any other in Barcelona, as the boutique property was built atop a wall of Barcino, the ancient Roman city, in what is now the Gothic Quarter. After a day of exploring the city, the elegant accommodations offer a refuge from the urban bustle, and travellers can look forward to lounging on the property's private terrace or taking a dip in the on-site plunge pool. Modern design enthusiasts and history buffs can anticipate medieval arches, 12th-century frescoes, 18th-century wooden ceilings, sleek furniture, and expressionist art by Agustí Puig.
W Barcelona (La Barceloneta)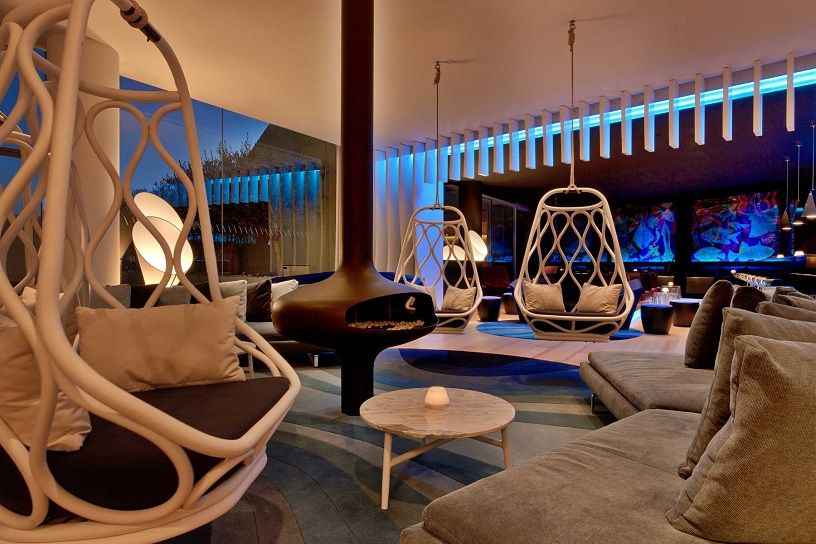 Address: Plaça Rosa del Vents, 1, Final Passeig de Joan de Borbó, Barcelona 08039, Spain
Phone: +34 932 95 28 00
One of the most iconic buildings in the city, the W Hotel's distinct, curved silhouette sits right where the sand meets the sea. The interiors are just as modern and sleek as the exterior, which was designed by legendary architect Ricardo Bofill. Guests can expect panoramic views of the Mediterranean from each of the 473 five-star rooms and suites.
Best Restaurants
Bar Cañete (Seafood, Tapas)
Address: Carrer de la Unió, 17, 08001 Barcelona, Spain
Phone: +34 932 703 458
Don't be fooled by this restaurant's low-key exterior — the menu's seafood from local Catalan fish markets and seasonal produce yields some of the freshest tapas in the city. Reservations can be made by phone, required only for parties of 12 or more.
Bar Leopoldo (Traditional Catalan)
Address: Sant Rafael, 24, 08001 Barcelona, Spain
Phone: +34 934 413 014
Formerly called Casa Leopoldo, this Raval-based Catalan restaurant has been a city icon since its founding in 1929. The culinary team is keeping the spirit alive, offering pre-ordered paella delivery and takeaway.
Caelis (Contemporary)
Address: Via Laietana, 49 (Hotel Ohla Barcelona), Barcelona 08003, Spain
Phone: +34 935 101 205
Chef Romain Fornell and his team serve up daring and inspired contemporary dishes on three different tasting menus at this Michelin-starred restaurant inside Hotel Ohla. Reservations are recommended (online or via phone), seating is indoors, and guests must adhere to a smart dress code.
Disfrutar (Contemporary)
Address: Carrer de Villarroel, 163, Barcelona 08036, Spain
Phone: +34 933 486 896
This Eixample-based restaurant serves up creative Mediterranean cuisine in an intimate space, decorated with ceramics and light hues to honour the city — and was founded by the famous trio of chefs that used to helm El Bullu. Reservations are available online or via phone.
Dos Palillos (Tapas, fusion)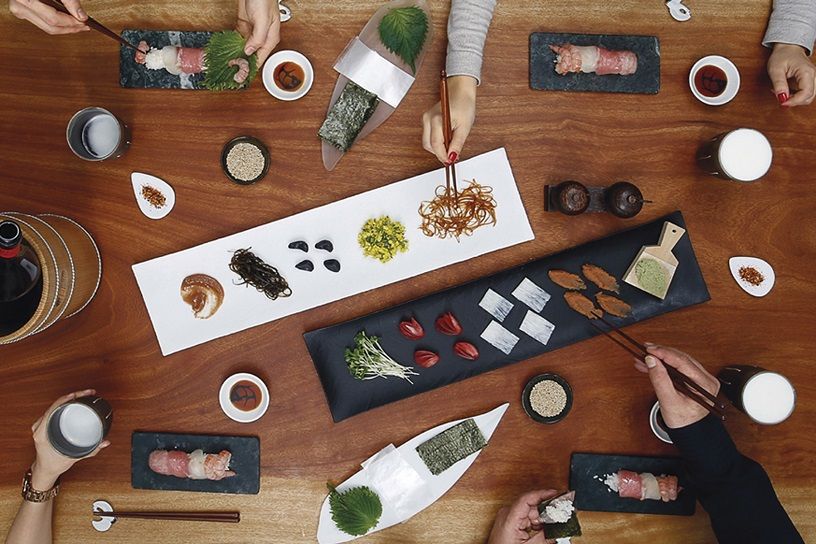 Address: Carrer d'Elisabets, 9, Barcelona 08001, Spain
Phone: +34 93 304 05 13
Based on Japanese, Chinese, and Southeast Asian cuisines, the fusion tapas at Dos Palillos are divine, so the tasting menu comes highly recommended (you'll want to make a reservation online or by phone). If you prefer to eat a la carte and try a cocktail, you can sit at the bar, no reservation required.
El Falafel de Shani (Falafel, Kosher, Vegan)
Address: La Rambla, 91 Mercat de la Boqueria, 133-134, 08011 Barcelona
Phone: + 34 692 967 297
It might be easy to miss this no-nonsense vegan and kosher falafel stand in La Boqueria, but it's worth seeking out—many consider it to be the best falafel in the city (and very affordable).
El Nacional (Iberian)
Address: Passeig de Gràcia, 24 bis 08007 Barcelona, Spain
Phone: +(34) 93 518 50 53
This spacious eatery has dynamic menu offerings that are just as impressive as the venue's eye-catching, glass-and-steel architecture. Guests can choose from four different cuisines or four different bars throughout the venue.
La Barra de Carles Abellán (Seafood)
Address: C/ Rosa dels Vents, 1, 08039, Barcelona (Planta E, Hotel W)
Phone: +34 93 295 26 36
Located within the striking Hotel W right on the shores of the Mediterranean, La Barra fittingly serves elevated seafood dishes in a sleek, two-bar interior, with all seafood cooked over the central charcoal grill. Reservations are required and can be made via phone or email.
Llambar (Tapas)
Address: Carrer de la Fusina 5, 08003 Barcelona, Spain
Phone: +34 933 19 62 50
Nestled in El Born, Llambar's menu is meant to be shared, complete with signature cocktails, an extensive wine list, and artisanal Spanish tapas. Reservations (not required but recommended, since the atmospheric spot is so popular) can be made online or via phone.
Suculent (Tapas, Mediterranean)
Address: Rambla del Raval, 45, 08001 Barcelona, Spain
Phone: +34 93 443 65 79
Helmed by El Bulli alum Toni Romero, Succulent has become a trendy Raval staple, known for reliably delicious tapas and a lively atmosphere. The culinary team serves up classics and reinvented Spanish and Mediterranean dishes with an emphasis on flavourful broths and sauces.
Things to Do
Basilica of the Sagrada Familia
Address: Carrer Mallorca, 401 Barcelona 08013
Phone: +34 932 080 414
Known worldwide as a symbol of the historic city, the Sagrada Familia is Gaudí's most celebrated work of art and architecture. The design and construction of the church began in 1882 and is ongoing to this day. It's recommended to book tickets online in advance to save time in lines when visiting.
Camp Nou
Address: Carrer d'Arístides Maillol, 12, 08028 Barcelona, Spain
Phone: +34 902 1899 00
Barcelona is home to one of the most beloved footbol teams in the entire world: FC Barcelona. So it is only fitting that Camp Nou is one of the most magnificent sports stadiums in Europe, boasting a seating capacity of 99,354. Do your best to book tickets to a game (bookable via the stadium's website or TicketMaster).
Casa Batlló
Address: Passeig de Gràcia, 43, 08007 Barcelona, Spain
Phone: +34 93 216 03 06
With its distinct marine-inspired façade, Gaudí's famous Casa Batlló (a UNESCO World Heritage site) looms high over Passeig de Gracia. It's one of Europe's best examples of modernist architecture and worth exploring inside and out.
Casa Milà
Address: Passeig de Gràcia, 92, 08008 Barcelona, Spain
Phone: +34 932 142 576
Nicknamed "La Pedrera" (stone quarry), Casa Milà in Eixample was completed by Gaudí in 1912, and is known as his final civic work. Its striking appearance takes inspiration from nature and was the famed architect's most advanced approach to a building.
Castell de Montjuïc
Address: Carretera de Montjuïc 66, 08038 Barcelona, Spain
Phone: +34 932 564 440
Many flocks to the Montjuïc barrio to explore the 17th-century Castell de Montjuïc or to catch the Magic Fountain light show from the steps of the stately National Museum of Art. Pro tip: don't miss out on the lesser-known but equally striking Jardí Botànic, located on the hillside. The spacious, verdant gardens offer a tranquil outdoor oasis as well as lovely views of the city.
La Boqueria
Address: Rambla, 91, 08001 Barcelona, Spain
Phone: +34 93 318 20 17
Arguably the best open market in the world, La Boqueria is a European icon. Though it gets very crowded (especially between 10 am and 3 pm) it features incredibly fresh produce, meats, cheeses, sweets, cafes, bars, and more. Pro tip: bring your camera.
Mount Tibidabo
Address: Tibidabo Square, 08035 Barcelona, Spain
Take the historic funicular up to Barcelona's highest peak, Mount Tibidabo, where in addition to a charming amusement park (the second-oldest in Europe) and Templo Expiatorio del Sagrado Corazón, you'll find panoramic views of the entire city, the Mediterranean, and surrounding mountains.
Palau de la Música Catalana
Address: Carrer Palau de la Música, 4-6, 08003 Barcelona, Spain
Phone: +34 93 295 7200
Designed by Lluis Domenech i Montaner and completed in 1908, Palau de la Música Catalana features one of the most opulent interiors in Spain. Make purchasing tickets for any musical performance a priority while in Barcelona so that you can experience grande Palau in person.
Park Güell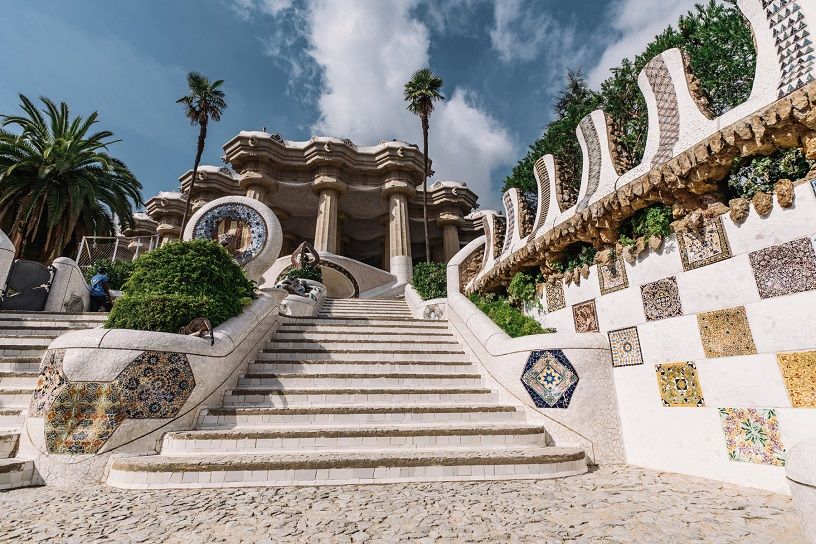 Address: 08024 Barcelona, Spain
Named a UNESCO World Heritage site in 1984, this whimsical masterpiece created by Antoni Gaudí is one of the most iconic parks in the world. It's full of colour, dynamic shapes, split ceramics, innovative architecture, and lush gardens — and overlooks a vast swath of the beautiful city.
Picasso Museum
Address: Carrer de Montcada, 15-23, 08003 Barcelona, Spain
Phone: +34 93 256 30 00
One of the primary art attractions in the whole city, the Picasso Museum helps viewers understand the formative years of Pablo Picasso. The permanent collection, made up of 4,251 works from a variety of time periods, helps to convey the artist's early career and special relationship with Barcelona.
Best Shopping
Colette Barcelona (Jewelry)
Address: Carrer de les Panses 5, 08003-Barcelona, Spain
Phone: +0034.93.170.81.23
You'll find sweet, feminine jewellery at Colette Barcelona, a design house and showroom in El Born that does all the brand's designing, dyeing, mounting, and ironing locally. The pieces have a distinct style, as the jewellery is crafted with mixed materials and textiles.
El Corte Inglés Plaça Catalunya (Department store)
Address: Plaça de Catalunya, 14, Barcelona 08002, Spain
Phone: +34 933 06 38 00
This iconic and centrally-located department store at the edge of Plaça Catalunya has everything from clothing and cosmetics to homeware, local delicacies, electronics, and much more — including a food court and supermarket.
Entre Latas (Specialty food)
Address: Torrijos, 16, 08012 Barcelona, Spain
Phone: +34 930 154 725
This gourmet shop is the place to go for canned and preserved foods. Entre Latas carries everything from local delicacies to imported products — think speciality vermouth, rare spices, tinned fish, paté, and preserves. You can even create your own personalised gourmet pack.
Iriarte Iriarte​ (Handbags)
Address: Carrer dels Cotoners 12, 08003 Barcelona, Spain
Phone: +34 933 198 175
Anyone who adores handbags must-visit Iriarte Iriarte. The brand uses traditional techniques and hand-dying to create stylish leather bags, handcrafted in Barcelona since 2009.
La Manual Alpargatera (Espadrilles)
Address: Carrer de Avinyó 7, 08002, Barcelona, Spain
Phone: +34 933 01 01 72
Since 1940, the design team at La Manual Alpargatera has produced sustainably crafted, timeless espadrilles, entirely handmade in Barcelona. La Manual is a staple for locals and travellers — in fact, the brand's storefront design is so iconic that it's said a customer addressed a letter to the company using a drawing of the store (rather than the physical address), and it arrived via the post just fine.
Llibreria Altaïr (Books)
Address: Gran Via, 616, 08007 Barcelona, Spain
Phone: +34 93 342 71 71
This vast bookstore is one of the very best in the city, known for specialisation in books about travel, language, culture, and exploring the world. A meeting point and lively cultural space, you'll want to spend a good chunk of time exploring the many titles — and be sure to grab a bite at the store's sweet cafe, too.
Santa Eulalia (Designer fashion)
Address: Passeig de Gràcia, 93, Barcelona 08008, Spain
Phone: +34 932 15 06 74
Founded in 1843, this historic and design-forward clothing store features a myriad of high-end labels such as Tom Ford, Dior, Lanvin, and the like. It also boasts its own ready-to-wear collection for women and a bespoke shirt-making service for men.
Zara Flagship (Fashion)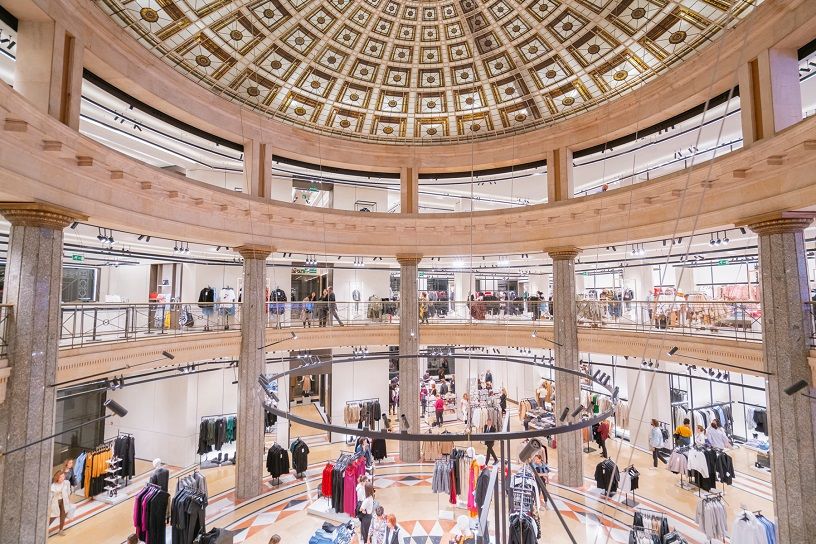 Address: Passeig de Gràcia, 16, Barcelona 08007, Spain
Phone: +34 933 18 76 75
Spanish-based fashion empire Zara, a wardrobe staple for many across the globe, is housed in a stately flagship store flanked by columns on bustling Passeig de Gràcia. Pop inside to find the latest ready-to-wear, couture-inspired clothing, with styles for men, women, and children ranging from timeless to trendy and everywhere in between.
Neighbourhoods to Know
Eixample: Broad boulevards, courtyards, ample trees, and excellent shopping and dining options make Eixample a wonderful home base when visiting BCN. You'll find Gaudí's classics like Casa Battló, Casa Milà, and the Sagrada Familia in this neighbourhood, alongside other great works of both traditional and modern architecture.
El Born: Like the neighbouring Gothic Quarter, El Born is known for the narrow, meandering medieval streets, but it's slightly less busy. Here, travellers will discover especially good shopping (think stylish boutiques), artsy vibes, wonderful restaurants and bars, and close proximity to the beach.
El Raval: Located about a 10-minute walk from Plaça Catalunya, El Raval is a vibrant neighbourhood known for its character, authentic restaurants and bars, and the impressive Museum of Contemporary Art. Two streets in particular, Carrer dels Tallers and Carrer de La Riera Baixa, are especially good for vintage and second-hand shopping. Those in search of an authentic taste of Barcelona life will enjoy exploring this barrio, but be mindful of your surroundings, as parts of Raval can be a bit shifty (avoid unlit alleys or walking alone at night).
Gothic Quarter: Known by locals as Barri Gòtic, this charming old town neighbourhood is full of legendary Gothic architecture nestled along narrow, medieval-era streets. In addition to checking out the trendy restaurants, bars, and boutiques, see remains of the old Roman city at the Museu d'Història de Barcelona.
Gràcia: Vila de Gràcia is the epitome of an authentic, leisurely life in Barcelona. The neighbourhood is a bit quieter than its more centrally-located counterparts, and you'll find its chock full of beautiful plaças, atmospheric restaurants and bars, eclectic galleries, and independent boutiques. You can easily spend all day in this uncrowded, village-like neighbourhood.
La Barceloneta: Nestled right by the sea, La Barceloneta is an energetic and historic beachside neighbourhood that offers more than a touristy stretch of sand if you know what to look for. Come for the seafood (ahem, paella) and stay for the hopping bar scene.
Poble Sec: Bordering scenic Montjuïc, Poble Sec is one of the most lively neighbourhoods in Barcelona, adored by locals and thus slightly less touristy. Boasting dozens of small bars, restaurants, and boutiques, this upbeat area has wonderful dancing and theatre options, too.
Weather
True to the Mediterranean, Barcelona sees mild temperatures for the majority of the year. August is the city's hottest and most humid month, with temperatures averaging 25°C, and January is the coldest month, with averages around 9.4 °C. Precipitation hovers around 25 inches annually, with October being the wettest month.
The following are average Celcius lows and highs by month.
January 5 – 14
February 5.5 – 14.4
March 7.7 – 10.5
April 10 – 18
May 14 – 21
June 17.2 – 25
July 20 – 28
August 20 – 29
September 17 – 26
October 14 – 22
November 9 – 18
December 6 – 14
Apps to Download
TMB: Maps and access to Barcelona's metro, buses, trains, and more.
Renfe Cercanias: Regional and country-wide train maps, tickets, timetables, and more.
Google Translate: Quick and downloadable language translation service.
Related: Bookmark This Ultimate Paris Travel Guide For Your Future Holiday