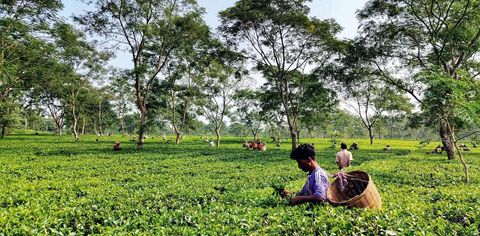 Nestled in prime tea country at the foothills of the Eastern Himalayas, Balipara in Assam invites you to experience the laid-back plantation life and unique conservation efforts. By Satarupa Paul
Here's what the plantation life in Balipara looks like
"It feels like a new lease of life," Maa said with a smile, as she sipped on a piping hot cup of freshly brewed tea, while looking out at endless tea gardens. Beside her, my octogenarian grandma nodded in agreement and dunked a cookie in her tea. My father, on the other hand, had gulped his beverage down in no time and was now roaming about, clicking photos. Being able to step out for a few days after months of lockdown and self-confinement was reason enough for my family to feel elated. As for me, I was content just pulling off this family trip in the midst of a raging pandemic.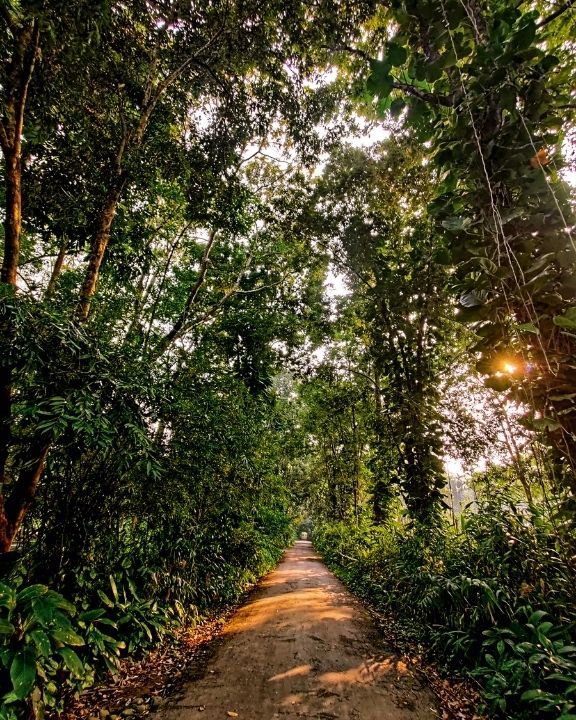 Travelling with family isn't easy, especially if it involves elderly members with chronic ailments. Add pandemic-induced travel restrictions and safety hazards to the mix and you're in for quite a ride. However, with some foresight and planning, you can end up having a great time. Just as we did in the town of Balipara, which is nestled in the prime tea-growing belt of the Brahmaputra Valley in Assam, and bordered by the Eastern Himalayas to the north.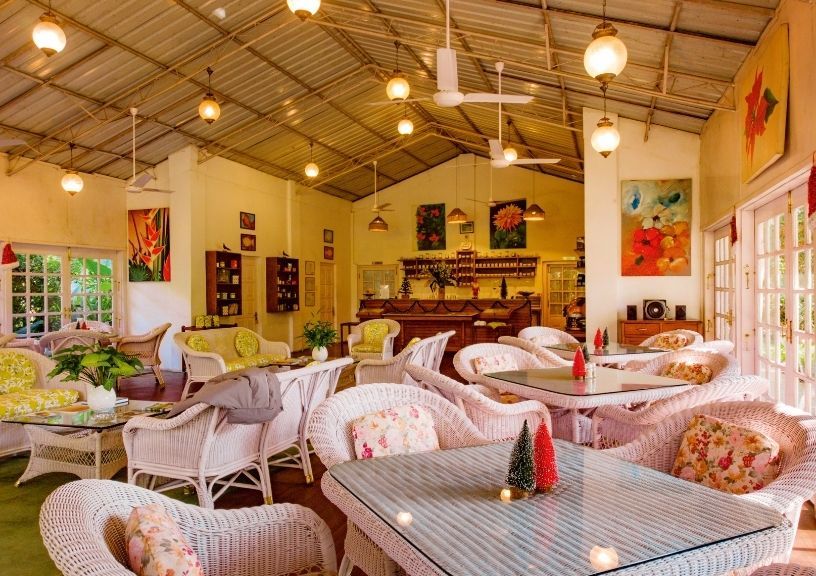 The four-hour drive from Guwahati was everything we had hoped for—smooth and picturesque. The typical Assam countryside of lush paddy fields, coconut and areca palm clusters, and cottage-style houses with sloping roofs, was punctuated by views of the mighty Brahmaputra River. Somewhere along the route, this landscape melted into emerald swathes of tea plantations, with intermittent rows of shade trees standing out like towering sentinels. About an hour away from our destination, we stopped for refreshments at the Misa Polo Club, a gorgeous throwback to the past neatly tucked in the sweeping Kellyden Tea Estate. Built in 1888 as a social polo club for British planters, it features a nine-hole golf course among other offerings. Lounging in its grand dining hall, walking through its Instagram-worthy verandahs and lawns, and sipping tea that was most likely plucked from the plantation around it, set the tone for the days ahead.
The tea gardens kept us company for the rest of the way, as we bypassed the city of Tezpur and arrived in Balipara. Much like any other small-town centre in India, it has a traffic crossing with a few decrepit shops, a bus stand, and couple of eateries. The only standout here is the roundabout, built as a replica of the Assamese xorai (or sarai, a traditional state symbol)—and the fact that the town is surrounded by sprawling tea estates as far as the eye can see. We soon found ourselves at the gates of the Eastern Himalayan Botanic Ark, within which lie the beautiful heritage bungalows of Wild Mahseer.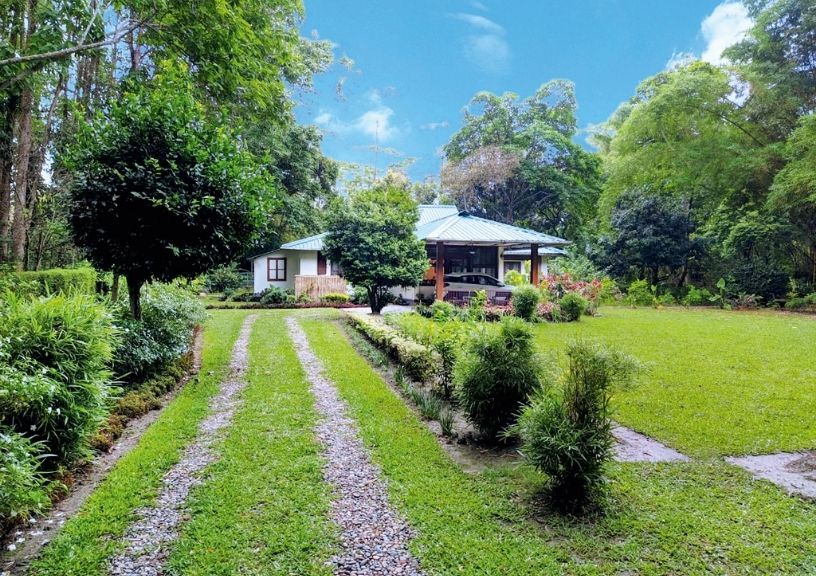 A quick mandatory temperature check at the gate, and we were on a straight long driveway bordered by some of the densest foliage we had seen in a while. Besides the profusion of green, what struck us was how utterly quiet and serene it was inside. The only sounds were the calls of birds and the chirping of insects. A signage directed us towards our bungalow, and as we rested our eyes on the quaint white structure with sloping green roofs and a landscaped lawn, my mother said, "Now this is a place I'd love to call home."
Spread over 22 acres, Wild Mahseer consists of six heritage bungalows that once served as the living quarters of various officials of the grand old Addabarie Tea Estate, which dates back to 1850. The pièce de résistance here is the Burra Bungalow, over 150 years old and once the official residence of the visiting agents of the tea estate, or 'Burra Sahibs', as they were locally called. Today, it has been certified as a heritage building by the Directorate of Archaeology, and it preserves the legacy of the tea gardens and plantation culture of Assam. The Burra Bungalow has been carefully maintained and turned into a luxurious stay; its sprawling courtyards, majestic bedrooms, and glamorous dining rooms double as a gateway to the past, with curated furniture, artefacts, and paintings showcasing the laid-back lifestyle of the planters. Five other bungalows, which used to be the residences of estate managers, doctors, accountants, and other officials, now make for charming and comfortable stays. They have been renovated and redesigned, each with a unique theme and style, and named after certain aspects of tea—Golden Tips and Silver Tips refer to the unopened leaves of the tea plant; Ambrosia is named after the rare white tea that grows in China; and so on. A grand dining pavilion called First Flush, referring to the first season when tea leaves are harvested (there are generally four flushes through the year), serves wholesome buffet meals. Ask around and they will tell you that this airy, serene space with magnificent French windows and expansive high roofs was once a shed for tractors and farm equipment.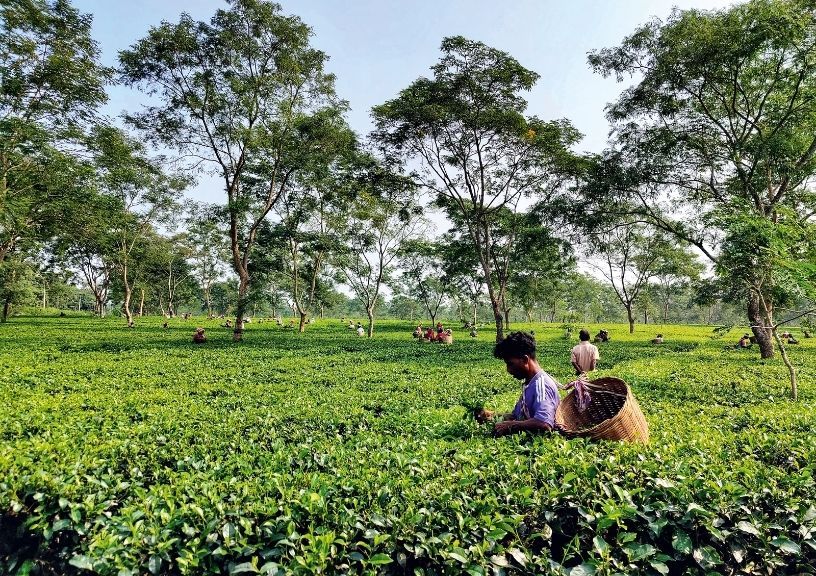 Besides the obvious appeal of a plantation bungalow stay, the other attraction here is the Eastern Himalayan Botanic Ark. A one-of-its-kind conservation initiative of the Balipara Foundation, the Botanic Ark is a living museum that conserves and showcases the biodiversity of the Eastern Himalayas with over one lakh endemic plants, 75-plus species of birds, and more than 72 species of butterflies. The Balipara Foundation also works towards securing the future of the community in the region through the concept of Naturenomics—benefitting both nature and culture, and generating some income in the process.
For visitors, it means a slew of immersive experiences during their stay at Wild Mahseer. Our days would begin with nature walks through the Ark with young, informed resident botanists of the Foundation such as Sangeeta and Sushil. Not only did we learn a great deal about indigenous plants, trees, herbs, ferns, plants, and orchids that call the Ark home, but we were also privy to pet projects undertaken by these budding talents—such as Sangeeta's repository of an astounding variety of leafy greens grown locally in Assam, and Sushil's attempt at cultivating the freshest and most delicious oyster mushrooms.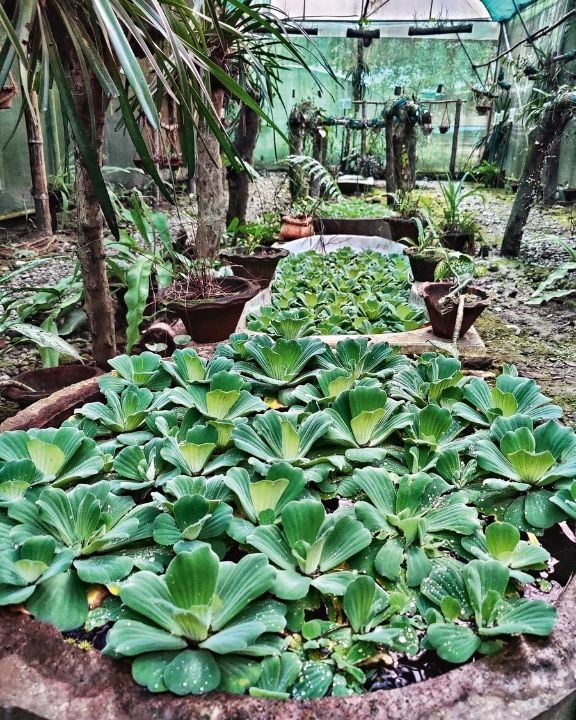 During these walks, we took frequent pauses, sometimes to simply appreciate the beauty of the flora, at other times to indulge in therapeutic experiences like tree-hugging and forest- bathing. Afternoons were dedicated to trying our hand at ethnic cuisine at a community kitchen housed within the premises, or exploring the nearby tribal village of Baligaon Miri. Certified as a green village, it showcases the culture and lifestyle of the resident Mishing community. Evenings were usually reserved for elegant high teas served within the comfort of our bungalow, or elaborate tea treks and tastings held in the tea estate. And just like a cup of tea refreshes and awakens the drinker, a trip to Balipara enlivened my entire family from monotony, sending us off with fresh energy and memories for a lifetime.
Getting There
A homestay in the nearby Baligaon Miri village displaying the local architecture of the resident Mishing community.The airport closest to Balipara is at Tezpur, about 20 minutes away. Tezpur is served by a few direct flights and many connecting flights from major Indian cities.
Stay
Wild Mahseer is the only upscale property in the area; it's located within the Addabarie Tea Estate, about 10 minutes from the Balipara town centre (starts from INR 7,800/USD 107).
When
All seasons except the monsoon are enjoyable; winters (November to March) are cool and pleasant, whereas summers (April to September) are crisp and delightful.
Ideal For
Family vacations and couple getaways.
Discover
Nameri National Park, located 16 km away on the Arunachal border at the Eastern Himalayan foothills, is home to animals like tiger, leopard, bison, sambar, Himalayan black bear, and capped langur, and over 300 species of birds. Kaziranga National Park, known for its one-horned rhinos, is just 77 km away. Go on a traditional country boat ride on the Brahmaputra, and if you're lucky, you might spot the elusive Asiatic river dolphin.
Related: We Went On A Tea Trail In Assam & Here's What We Experienced!
Written By