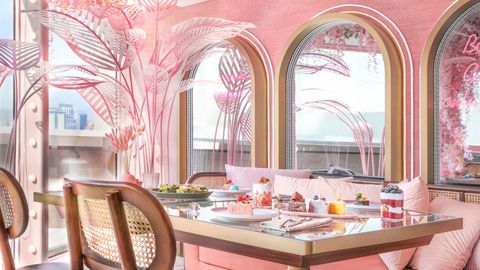 All eyes are on the highly-anticipated Barbie The Movie as it finally hits theatres. Barbiecore is here, and it's here to stay. With all the hype around the film and viewers putting on their best Barbie looks, visiting places that scream "Barbie" only feels right! We're talking about pink photo spots right here in Hong Kong. See our picks below!
Barbie is taking the world by storm. From brand collaborations to Barbiecore outfits, and endless memes, there's really no escaping Barbie Land. While there are plenty of hotels and tourist places worldwide to live out your pink fantasy, you don't need to go too far to see them. In Hong Kong, numerous photo spots are perfect backdrops for all your dreamy Barbie-inspired snaps — whether it's Instagrammable restaurants (with fantastic food), historical buildings, or flyovers. Keep reading to find out where these Hong Kong pink photo spots are! You're truly in a Barbie world, even here in the city.
The hottest pink photo spots in Hong Kong for Barbie fans
1. Jaja
View this post on Instagram
Jaja takes "Instagrammable" to a whole new level. It's difficult to find a spot in this vegetarian restaurant that isn't photogenic—right down to its dishes. Covered in pink, Jaja is a whimsical space located inside Hong Kong Arts Centre. A vegetarian menu, including maki platter and smoky corn ribs, encourages diners to enjoy veggies in a fun way! The intricate details of the restaurant are an added plus.
Address: 2 Harbour Road, Wan Chai
2. Pane e Latte
View this post on Instagram
Love sweets and pink? You'll be able to get that combination at Pane e Latte. The name stands for "bread and milk" in Italian, so expect some home-style comfort food. The restaurant offers breakfast, lunch, and dinner with baked goods as the speciality. The sweet section has everything from pastries and cakes. Moreover, the pastel pink decor is just the suitable backdrop for all those Instagrm-worthy pictures. Oh, life's fantastic!
Address: 25 Stanley Market Road, Stanley, Hong Kong
Book your stay at The Ritz-Carlton Hong Kong via Booking.com
Book your stay at The Ritz-Carlton Hong Kong via Agoda.com
3. Hotal Colombo
View this post on Instagram
Missing Hotal Colombo's vibrant pink exterior and food display is difficult. In addition to the pink decor, you get to experience a delicious Sri Lankan feast. The restaurant takes inspiration from the casual eateries across Colombo's streets —with added pink surroundings! Crabs are stars here (think fresh mud crabs and crab kari).
Address: 31 Elgin Street, Central, Hong Kong
4. Wavell House, Hong Kong Park
View this post on Instagram
Wavell House is part of the Old Victoria Barracks, one of over thirty British military compounds in Hong Kong. Among those still existing is Wavell House, originally built in the early 1900s. Today, it's used as the Hong Kong Park Aviary Support Centre or Education Centre for students to learn about birds. While the exterior wasn't originally in pastel pink, it was re-painted later in the fairy-tale hue with Edwardian Classical Revival style paint. The building echoes a storybook setting with its pink walls.
Address: 19 Cotton Tree Road, Admiralty, Hong Kong
Shop the best travel experiences here
5. Shek Lei Estate Flyover
View this post on Instagram
Who would have thought that a flyover could be that Instagram-worthy? In fact, Shek Lei Estate Flyover is just one of the many photogenic flyovers in the city. A treat for those who love the bubbly colour, the flyover is entirely decked in pink—from the ceiling to the railings. The vibrant flyover is a striking spot among the surrounding concrete building blocks.
Address: Shek Lei Estate, Kwai Chung (next to Shek Tai House), Hong Kong
6. Second Street Public Bath House
View this post on Instagram
While Hongkongers no longer need to visit public bathhouses, there are still about 25 public houses for use in the city. Built-in 1925, Second Street Public Bath House is one of the few existing public bathrooms constructed before the war in Hong Kong. The chimney that was used to exhaust hot water is still in place. Now, that's an excellent spot to take a trip down memory lane and admire the pink tiles!
Address: 94 Second Street, Sai Ying Pun, Hong Kong
7. Portland Street Rest Garden
View this post on Instagram
This micro-park was originally built in the 1980s recently underwent a facelift. The result is a new hot pink rest garden! It retains its original layout but has new and unique features like seating and improved lighting. The radiant pink makes for a fantastic backdrop for all your Barbie poses!
Address: 47-53 Portland Street, Mong Kok, Hong Kong
8. North Point Fire Station
View this post on Instagram
North Point Fire Station is a photo spot for Barbie fans and a visual treat for those looking to recreate the Wes Anderson trend. While the station is a Fire Services building, it isn't a fire hall but an administrative office. The actual fire station is the neighbouring three-storey building. For those aware, this spot has appeared on numerous Instagram photographers' feeds, and you can probably tell why.
Address: 38 Healthy Street East, North Point, Hong Kong
How many of these dreamy spots have you visited?
Book your stay at Regal Hong Kong Hotel via Booking.com
Book your stay at Regal Hong Kong Hotel via Agoda.com
This story first appeared here.
Hero image credit: Jaja; featured image credit: hotalcolombo/Instagram
Related: Pretty In Pink:15 Places Around The World To Live Out Your Real-Life Barbie Fantasy
Frequently Asked Questions (FAQs)
Question: Which are some interesting places to take selfies in Hong Kong?
Answer: There are many interesting places to take photos in Hong Kong, not just selfies. For instance, Yik Cheong Building and Montane Mansion have been featured in movies as well.
Written By