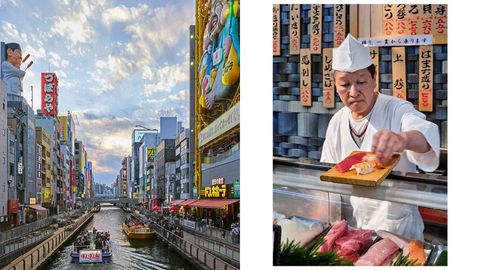 Through an unblinking black eyeball, a 20-foot-high scarlet octopus ogles my lunch.
She lords over the second floor of a restaurant in Osaka's Shinsekai quarter, a pastiche of Paris and Coney Island erected in the early 1900s, neglected by the midcentury and respected today for its retro-futurist architecture and first-class fast food. Ursula-san already clutches takoyaki (octopus fritters) and kushikatsu (deep-fried skewers) in her white-suckered tentacles but, unsurprisingly for a native Osakan, she's still hungry.
Between us is a checkerboard lane and a monsoon. Seated by a rain-lashed window, my guide, Noriyuki Ikegami, and I are safe inside Tsuruhashi Fugetsu, a chain specialising in another Osakan treasure, okonomiyaki. With the muscle memory and blasé demeanour of someone who has done this ten thousand times, our server dumps a bowl of shaved cabbage and batter onto the hot, hissing grill built into our table. Over the next 20 minutes, she periodically reappears to add shrimp, steak, and pork; flip the pancake and paint it with mayo and a sweet, tangy brown sauce; fry up a sunny-side egg to slide on top; and finally, bury it all in dancing bonito flakes. Okonomiyaki is a delicious mess. As is Osaka.
A guide to eating and drinking at the best places in Osaka You can't just call Japan's third-largest city a food town. Two syllables cannot encompass the diversity and quality of the cooking, from hot and saucy takoyaki on the street to tradition-steeped kaiseki at the Michelin-starred Nishitenma Nakamura, where chef-owner Akemi Nakamura tenderises squid sashimi with knife strokes as delicate as calligraphy. Osakans dine with athletic fervour and passion, and everyone I meet wants to know — demands to know, really — the same thing: "What have you eaten?" I tell them:
—The Netflix-famous Izakaya Toyo's blowtorched tuna cheeks, which make for good TV but butane-flavoured tuna; my meal is saved by chain-smoking chef-owner Toyoji Chikumoto's zany showmanship and his chutoro maki rolled up as casually as a yoga mat with gutsy tears of shiso.
—Raspberry cake cloaked in seed-speckled glaze, a plush fig muffin, several single-origin chocolate bars, and an Ethiopian pour-over at Yard, a sleek café and cocoa lab on the edge of peaceful Tennoji Park.
—Steamed monkfish liver, craggy fried chicken, and wasabi-pickled mountain yam at Sumiyaki Shoten yo Ohatsutenjin, a rambunctious izakaya down a nocturnal alley near Umeda Station, washed down with passion-fruit-sake spritzes.
Add too much okonomiyaki to the list. Ikegami eyes the second helping on my plate and gently reminds me, "We have a lot more to eat."
Here's what you've probably heard about Osaka — if you've heard anything at all, given Tokyo's and Kyoto's decades of tourism dominance. It's chaotic. It's gritty. It's not very pretty. None of that is untrue, particularly in and around Shinsekai. The name means New World, an optimistic prophecy for a Western-inspired future epitomised by Tsutenkaku Tower, which at 210 feet was the tallest building in Asia when it was constructed in 1912. But a fire destroyed it during World War II, and the new world began a slow slide into an underworld. Today, Shinsekai is rough around the edges but perfectly safe, though it does help to have a guide like Ikegami, who leads culinary tours of the area for Arigato Travel.
"Osakans dine with athletic fervour and passion, and everyone I meet wants to know — demands to know, really — the same thing: 'What have you eaten?'"
Shaking our umbrellas, we push into Yamatoya, a hideout populated by pachinko pit bosses and ladies with soft packs of cigarettes clutched in sharp sets of nails. Yamatoya specialises in pressed and square-cut box sushi, traditionally made with thrifty cuts that could be cooked, preserved, or treated to last in the lunch pails of the labourers who flocked to Shinsekai in 1956 to reconstruct Tsutenkaku.
Shop the best travel experiences here Ikegami orders the mackerel, and within minutes, Chef Doi-san passes the sushi across the counter. It looks like a mosaic of iridescent tiles and hits with comic-book ZAPS! and POWS! of vinegar and brine — flavours insistent enough to, however briefly, rouse those workers from an endless grind of hard days. Once the "new" tower was complete and employment in Shinsekai evaporated, many of the construction workers became homeless. The acclaimed photographer Daido Moriyama grew up in Osaka around that time; so iconic was the rebuilt Tsutenkaku, he would later put it on the cover of his 2016 book, Osaka, a blinding white rocket against a nighttime sky.
I find that book in the library of the Flag, a boutique hotel in Shinsaibashi. "I hated the smell of the town, the way people talked," Moriyama wrote in "Dark Picture," a 1996 essay republished in Osaka. "Typically, I was enamoured of Tokyo, interested only in its illusory smartness depicted in songs and books and movies, and the gap between that and the image of the Osaka I was actually in touch with was so extreme that Osaka seemed disagreeable."
"Dark Picture" brightens into a love letter to a complicated muse, a city that luxuriates in, and then subverts, its own stereotypes: here a sketchy alley, there a Louis Vuitton. This entertaining split personality shines when seen on foot, and with the Kita (north) and Minami (south) areas of the central tourist corridor mostly following a grid, Osaka is extremely easy to navigate. When I'm not hungry, I walk. And walk and walk and walk, until I'm hungry again.
That's my post-Shinsekai dinner plan. The Flag is around the corner from the humming Shinsaibashi shotengai (shopping street) that funnels a river of pedestrians onto Osaka's most famous photo op, the Ebisubashi bridge, and onward to Dotonburi, or, as I like to call it, the San Antonio River Walk on cocaine. Sightseeing riverboats glide beneath the bridge, their passengers gawking at the neon canyon above. The electric billboards stare back, reflecting on the water in shimmering distortions of ice blue, hot pink, and ultraviolet. Ramps and stairs stitch the bridge and upper streets of Dotonburi to the crowded cafés and convenience stores along the canal. People everywhere. Lights everywhere. Food. Everywhere. Tonkotsu ramen, takoyaki, bubble waffles, matcha crêpes, Kobe steaks — I want nothing, but I want it all. The feeling encapsulates the Osakan expression kuidaore, which means "to eat oneself to ruin."
Tomofumi Fujimaru waits at the Andō train station. Skinny jeans. Ivory turtleneck. Black Range Rover.
It takes 30 minutes to get from Osaka to the wellspring of its new-wave wine scene. The train trundles out of downtown and backwards in time, piercing skyscrapers shrinking to concrete apartment blocks to single homes with vegetable gardens and bedsheets on clotheslines. "Eighty years ago, Osaka was the number one grape producer in Japan," Fujimaru says as we zip through Kashiwara, where the hills outside of town once housed 119 wineries. Very few remain.
The 46-year-old Fujimaru is considered the consigliere of natural wine in Japan, a country in thrall to the category, if not to its own wine-making abilities. "A lot of people say foreign wine is superior and that Osakan wine is tasteless or really sweet," he says. "I wanted to make wine for a meal, dry and fully matured."
Fujimaru parks on the side of a switchback gets out of the car, hops the metal barricade, and gestures for me to follow him into the forest. A short walk brings us to a clearing, where a fairy-tale tunnel disappears into a jumble of bamboo. On the other side, we emerge onto a path that long ago crumbled into a ravine. A narrow metal plank forms a makeshift bridge across the 10-foot gap. Fujimaru trots across, landing in one of nine vineyards that provide grapes for the 15,000 bottles he produces annually of his cult label, Cuvée Papilles.
Book your stay at Conrad Osaka via Booking.com
Book your stay at Conrad Osaka via Agoda.com "Each meal in Osaka seems to be better than the last. Nothing will top that pasta, I think as I walk to Yohaku, a new bakery-by-day, restaurant-by-night I found on Instagram."
What this formerly abandoned vineyard lacks in access, it makes up with sunny southwestern exposure, cool nights, vine-friendly sand-and-clay soil, and a magnificent view of a miniature village in the distance framed by an amphitheatre of unruly evergreens. The field slopes down gently, giving the sense that if you cleared the wild growth and tucked yourself into a burlap sack, you could glide all the way down to the Yamato River as if you were on an amusement park super-slide.
Fujimaru touches the trellised vines. "Before, this was all Delaware," he says, referring to the American variety that makes up 70 percent of the grapes grown in Osaka Prefecture. "But this place is good for Merlot." We're between harvest and first frost, so while the Merlot clusters have since journeyed down the mountain and toward the city, their papery leaves remain, all chartreuse and amber, curling in on themselves like old sticky notes.
These are some of the best places to drink wine in Osaka We follow the fruit's reverse commute to Shimanouchi Fujimaru, the first urban winery in Japan. Fujimaru's second in command, Atsushi Tanaka, shows me around the first floor of this nondescript building, where first-of-their-kind experiments include Delaware grapes macerating in rotund earthenware vessels. Then we head upstairs to the cosy restaurant for house-made fettuccine with sweet potatoes and allspice-laced braised beef. A strange and pleasant grittiness runs through the pasta. "The pomace from the winemaking," Tanaka says, explaining that the grape seeds and skins are dried, ground, and folded into the dough like coarsely cracked peppercorns. This vineyard spice brings nuttiness and tannins and connects the life cycle of the wine in a closed loop.
Tanaka pours a cascade of Cuvée Papilles Osaka Red. Composed primarily of Fujimaru's Merlot gamble, the blend is a vivacious geyser of blackberry and plum. Some wine pairings lean into their food. This one is all contrasts, with the wine's wild-yeast edge, energetic juiciness, and savage acidity countering the sonorous richness of the pasta like a DJ mashing up Cardi B and Luther Vandross.
Each meal in Osaka seems to be better than the last. Nothing will top that pasta, I think as I walk to Yohaku, a new bakery-by-day, restaurant-by-night I found on Instagram. Just inside the shoji doors, bronzed canelés, boxy banana gâteaux, and white-chocolate-and-yuzu sablés shine under glass. On the floor, three empty wine bottles communicate Yohaku's liquid affinities. The room is dark, but I can make out the exuberant cerise and viridian watercolours on the Osaka Red label. Much as I'd happily crush another bottle, I try a musky orange Alsatian Gewürztraminer and settle in at 33-year-old Yoji Arakawa's 10-seat counter.
"Osaka's personality is chill by Japan standards, but its artisans share the countrywide attention to craft and detail, whether making soba, throwing pottery, or brewing matcha"
Arakawa is among the young chefs who've cooked in Tokyo and abroad but decided to do their own thing in Osaka, which is the hometown of his wife and business partner, Tomoko Arakawa, a Paris-trained pâtissier. "In Osaka, you can eat the same level of food at about sixty percent of the prices in Tokyo and Kyoto, and customers are strict about quality and price," Arakawa tells me. "Shops that are low quality or not worth the cost do not last long, so in Osaka you can be satisfied no matter where you eat."
That tracks. Yohaku, however, inhabits another plane. Creative joie de vivre, can-do scrap, and yes-chef precision underpin Arakawa's menu, which expresses Japanese ingredients through French technique and fermentation. He cooks every single dish himself, in a workspace smaller than a New York studio kitchenette. "Until now I have worked in large restaurants with more than 15 chefs. I want to make a simpler store," he says. "Since I'm working alone, I'm limited in what I can do, but I cherish the ideas that are born only when there are restrictions and rules."
Man, those ideas. My stool is inches from their execution, close enough to feel the heat when Arakawa brûlées reef squid to stack with fresh pear and foie gras confit on an altar of sous-vide leeks, close enough to hear a half-dozen vacuum-sealed bags exhale when he slits them open to furnish an epic pickle plate. With all of Arakawa's equipment and mise en place within reach, it seems like only his upper body moves, like a car dealership inflatable dressed in an indigo tunic. He fits a wedge of sudachi on the rim of a bowl bearing tagliolini, matsutakes, conger eel, and pink shiso blossoms and slides it across the counter, gesturing for me to squirt the citrus over the pasta. The simultaneously fatty and luminous result presents an alternate history in which Japanese chefs invented beurre blanc.
Simple pleasures (house-baked rye, a Hokkaido cheese plate with fermented pineapple) complement the big swings. Sprightly yuzu-pineapple kombucha and silky lattes complement the wine service, and dessert sees fat amethyst figs sunk into vanilla-bean rice pudding, crowned with the palest jade egg of wasabi ice cream and cilantro flowers. The canelés follow me back to the hotel.
Nothing will top this, I think. Of course, I'm wrong.
Sukuna Ueda beats the matcha with his bamboo whisk, peers deep into the frothy liquid like it's going to tell his future, and shakes his blue-beanie-capped head. "I'm sorry," he sighs. "I'm going to do it over."
Book your stay at Imperial Hotel Osaka via Booking.com
Book your stay at Imperial Hotel Osaka via Agoda.com
A culinary trail through Japan's food city Osaka's personality is chill by Japanese standards, but its artisans share the countrywide attention to craft and detail, whether making soba, throwing pottery, or brewing matcha at Wad, a stylishly austere café in the west end of Minamisenba. Ueda is the ochaban, head of the tea service. After studying jazz in San Francisco, he returned to his native Osaka with the desire to "delve more into Japanese culture." Tea became his medium.
When you order matcha at Wad, Ueda invites you to pick your bowl; the selection rotates based on which artists have just shown in the upstairs gallery. My vessel has a sapphire lip and air bubbles suspended in its curves and looks like it belongs on a coral reef. "Good choice," Ueda says, then gets to work preparing my matcha, twice.
I lift my bowl with both hands, inhale, and sip the grassy, ethereal tea. The experience is borderline eucharistic, and I give the matcha its due reverence before jumping into another kind of tea ceremony. Wad makes its own uji syrup (uji is a type of matcha) for a can't-miss dessert. The kakigori, an emerald mountain of shaved ice, arrives looking like a scale model of St. Lucia's Gros Piton. The fine fluffy crystals drenched in sweet (but not too sweet) syrup are incredible. Could it be the best thing I've eaten in Osaka?
I consider that question at my second hotel, Japan's first W, a mirrored onyx Tadao Ando tower on Midosuji, Osaka's Fifth Avenue. From my 27th-floor suite, I study the silent silver stitches of southbound traffic migrating through the skyscrapers before bed, where instead of counting sheep I count snacks: perfect latte from standing-room-only indie roaster Mel; magenta mochi with a juicy raspberry centre at Mochisho Shizuku, where the traditional wagashi confectioneries resemble precious stones; a supple vanilla Swiss roll in the company of a hundred houseplants at Pyroc Coffee & Bar.
All these delicacies live in Shinmachi, the W's backyard and "the very best area of Osaka," according to Masuhiro "Julian" Yokota, whom I find behind the counter at the micro-bakery Yotsubashi Pain. Shinmachi has always been a place to buy and sell. From the early 1600s through World War II, when it was Osaka's red-light district, the commodity was sex. Then came women's wear, real estate, plastics, and more when corporations moved in and erected mid-rise office buildings. And today there are eccentric rubber stamps, vintage Starter jackets, and Yokota's furutsu sando, the specialty at Yotsubashi Pain.
Like most Japanese kids, Yokota grew up with this trinity of fruit, cream, and white bread, and wanted to make a "more delicious and lovely" version for his nostalgic fellow millennials. Each weekend, he lines the case with vibrant glow-ups: grapes and coconut milk cream; pomegranate-beaded chocolate cream on cocoa bread; and mango, passion-fruit jam, and whipped yoghurt cream cheese. Late afternoon, I snag the last sandwich, Earl Grey cream inlaid with half-moons of glistening tangerine. The sweet acid of the citrus cushioned in the airy dairy gives big Creamiscle energy, with a grown-up whisper of fragrant bitterness. The house-baked white bread is so soft I leave fingerprints on it, then devour the evidence. I think this could be the best thing I've eaten in Osaka. In the end, it's Yokota who sabotages his own victory. He is the one who recommends Noodle Fishtons, less a hole than a crack in the wall. A hulking vending machine takes my order and spits out a ticket, which I pass to a cook, who directs me to a stool at the end of the counter, by the bathroom, to marinate in the white noise of the lunch rush: eager slurping, the hollow tink of plastic spoons on ceramic bowls, and the microwave's intermittent beep. "If you would like to reheat, please feel free to ask the staff," says one of many notecards laminated and posted around the ramen-ya. Requests another, "Please refrain from eating while looking at your mobile phone." I feel attacked. Fishtons's thing is tsukemen, or dipping ramen — noodles that are eaten after being submerged in a separate bowl of broth. They do about half a dozen styles, including the version I order, flavoured with barrel-aged soy and aimori (red vinegar). It comes on a tray in a constellation of bowls. The largest contains marbled pink slices of roasted pork folded over two types of noodles: thin, soft yellow ones made from Japanese white flour, and thicker, darker ones made from nutty Kyoto wheat.
The next-largest bowl holds the dipping sauce, a profound brown elixir of pork and fish stocks, strips of braised pork belly, scallion, and powerful soy sauce aged the old way, in timber casks. Condiments fill the other saucers: briny kombu tea, fresh sudachi, spicy miso, Okinawan sea salt, wasabi, and fruity-sharp aimori. You mix and match to create different sensations and flavours. I collect some noodles and pork, splash them in the vinegar, plunge them into the broth, then my mouth, and depart from my body.
Have you ever eaten something that wholly possesses you? I mean muscles-spasming, speaking-in-tongues, call-the-exorcist possession. At that moment, in that restaurant, I don't know the words I'm forming to describe the tsukemen — the springiness of its duelling noodles, the luscious fat rippling through the pork, the broth's audacious acidity and umami, as inescapable as a riptide. I do know that whatever small coil of my brain remains autonomous has made its final commendation: the aimori tsukemen at Noodle Fishtons is the best thing I've eaten in Osaka.
My ecstatic babble draws an interruption from a cook, who seems both irritated and alarmed. "Excuse me," he hiss-whispers. "Can you please be quiet?"
About the food in Osaka? Not a chance.
Where to stay
Hotel The Flag
Stylish minimalism in the shopping haven of Shinsaibashi.
Book your stay at HOTEL THE FLAG Shinsaibashi via Booking.com
Book your stay at HOTEL THE FLAG Shinsaibashi via Agoda.com
W Osaka The slick brand's first hotel in Japan. Generously sized suites have incredible views and Nintendo-wallpapered closets.
Book your stay at W Osaka via Booking.com
Book your stay at W Osaka via Agoda.com
Where to eat
Izakaya Toyo: A ton of waiting and a ton of fun, with great food (except for the torched tuna cheeks made famous by Netflix).
Mel Coffee Roasters: Perfect coffee drinks on a busy Shinmachi corner.
Mochisho Shizuku: Like a modern art gallery for traditional Japanese sweets.
Nishitenma Nakamura: This cerebral, seasonal Michelin-starred kaiseki seats just a handful a night, which means reservations are essential. 81-6-7506-8218
Noodle Fishtons: Grab a seat at the counter for transcendent tsukemen (dipping ramen).
Pyroc Coffee & Bar: This place doesn't know if it wants to be a café or a greenhouse, which is not a problem at all.
Shimanouchi Fujimaru: The first urban winery in Japan, with an excellent upstairs restaurant that pours proprietary natural wines.
Sumiyaki Shoten yo Ohatsutenjin: From happy hour to early morning, this place rocks with feisty sake and shochu cocktails.
Tsuruhashi Fugetsu: Hearty okonomiyaki at branches all over Osaka; the Shinsekai outpost looks like a Wendy's from the 1980s (a compliment!).
Wad: A masterful tea program and towering bowls of kakigori (shaved ice) that will blow up your social media feeds.
Yamatoya: Colorful Shinsekai characters show up for box sushi and other Osakan favourites.
Yard Coffee & Craft Chocolate: Third-wave coffee and alluring confections (including house-brand chocolate bars) on the edge of Tennoji Park.
Yohaku: Baking by day and cooking by night in a tiny kitchen that radiates creativity and ingenuity.
Yotsubashi Pain: The signature item at this offshoot of famed Osaka pâtisserie Le Sucré-Coeur is the fruit-and-cream sandwich.
How to book
Arigato Travel: This company specialises in insightful food-focused and customized tours for small groups and individuals in various Osaka neighbourhoods. I took a walking tour with Arigato; the company can also plan multiday itineraries.
(Hero image credit: papilles.net, feature image credit: Image Credit: Andrea Fazzari)
This story first appeared on travelandleisure.com
Related: Godiva Combines Chocolate And Fruit With Traditional Japanese Daifuku
Written By