The Côte d'Azur is synonymous with a lavish lifestyle and indulgent holidays. But through the centuries, the French Riviera has also been home to many legendary artists, who came for its views and stayed for the inspiration. An art residency allows this writer the unique luxury to contemplate iconic artworks surrounded by the landscapes that inspired them. By Arushi Vats
Exploring art around the landscapes that inspired them in the French Riviera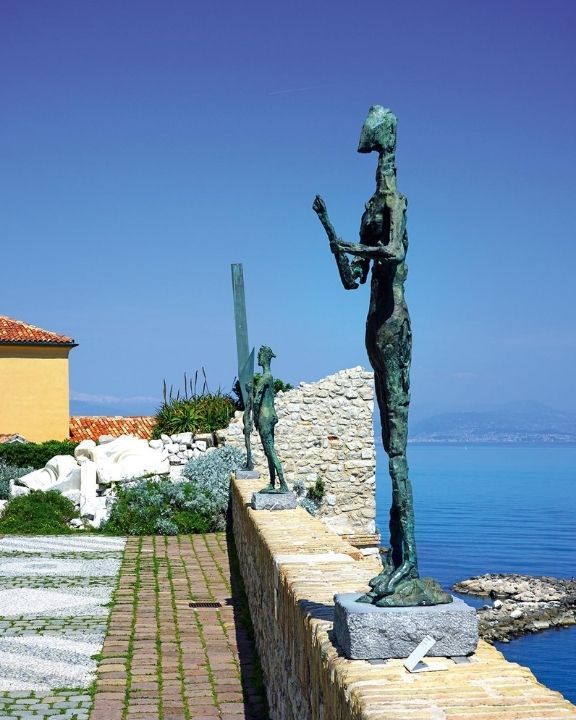 A black topsy-turvy boat floats on the Mediterranean Sea, and a girl with a blue tongue licks an ice-cream cone on the shore, her other pale hand holding the outlines of a bicycle. I could be describing a scene from a surreal dream, but this is a moment in Pablo Picasso's famed Night Fishing at Antibes (1939). As I stood before this monumental tapestry, a lesser-known medium in Picasso's oeuvre, the pristine blue waves that were lashing against the coast of Antibes spilled into the room and I could breathe the scent of the nocturnal sea that inspired him to paint and weave this scene. Night Fishing at Antibes hangs majestically in the same castle where Picasso spent six months making a breathtakingly new body of works in 1946, along with other works made by him in this period. The Musée Picasso in Antibes is housed in Chateau Grimaldi, a 12th-century castle that so entranced Picasso that after his visit in 1946, he continued to stay in the south of France until his death in 1973. The castle overlooks the sea, with a balcony that is springing with overgrown and flowering cacti, and sculptures by Joan Miro and Germaine Richier, among others. Picasso wasn't the only artist seduced by the Côte d'Azur, the list of painters and writers who visited and prolonged their stay along the coast is luminous, featuring icons like Vincent Van Gogh and James Baldwin. And to our great luck, towns that hosted these artists have preserved their remarkable legacy in museums and cultural centres where art is never too far from reality—one simply has to walk out of the door and gaze at the landscape to find the source that inspired the works on display, a rare luxury that even the biggest metropolitan museums in the world cannot provide.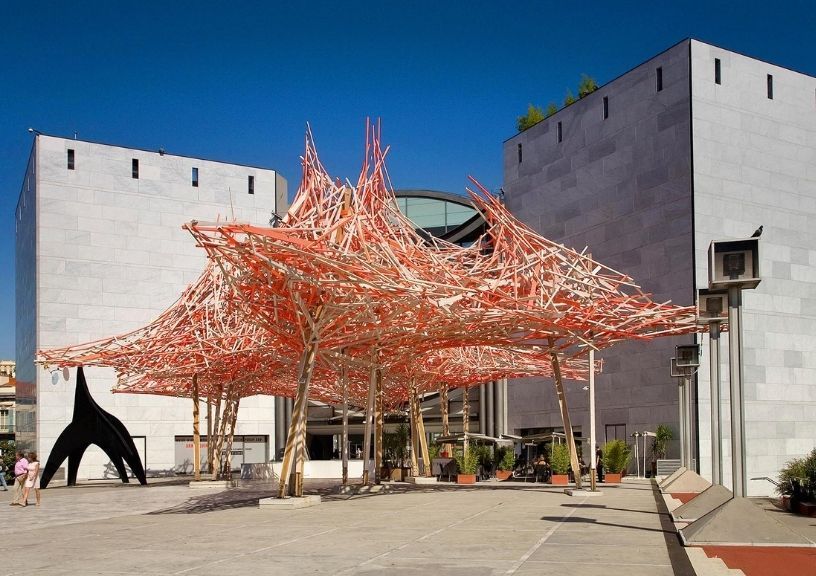 The South of France has been famous for its lavish, decadent lifestyle. From the beaches of St Tropez to the kingdom of Monaco, for many a vacation in the Côte d'Azur is shorthand for exclusive parties and luxurious indulgence. Yet, as an art writer and critic, I was visiting the coast for vividly different reasons—I was a resident at Chateau de la Napoule, a historic castle with an artistic lineage that it sustains by hosting artists and writers from around the world. And in my four weeks at La Napoule, I discovered what made the coast so irresistible to artists across centuries. It wouldn't be an exaggeration to say that the very pace of time is transformed in these cities and towns. An alchemy of the sea breeze, the constant acoustic thrumming of waves, shades of aquamarine so powerful that the sky melts into the water, the grandness of mountains that envelop the beaches, and the unhurried joy of people who live here will make sure that you, the visitor, too will bend your body and mind to this new pace. And as you find yourself loosening your limbs and savouring even the simplest act of breathing, the towns will reveal another dimension of inspiration—extraordinary, incomparable collections of art. Mandelieu La Napoule is a 10-minute train ride away from Cannes. The train runs along the sea, with large windows that let you fix your gaze on the unbroken lace of blue. From the Cannes train and bus depot, cities such as Nice, Antibes, Grasse, Mougins, and Èze are only 20-30 minutes away. In each of these beautiful and unique towns, there are museums devoted not just to art but also the histories of the region—perfumeries, olive plantations, wineries, gardens to rest and breathe in the beauty of exotic flowers and the gentle drape of cherry blossoms, and grand cathedrals that house paintings and sculptures. Navigating the exceptionally well-connected public transport in the region is made easier by online applications that help you book tickets, and the wonderfully sunny people of the coast, who are happy to assist waylaid travellers who struggle with the local language. With my French vocabulary spanning just the basics (bonjour, merci, pardon!), I was able to travel through the length of the coast and further into wine country with incredible ease and joy.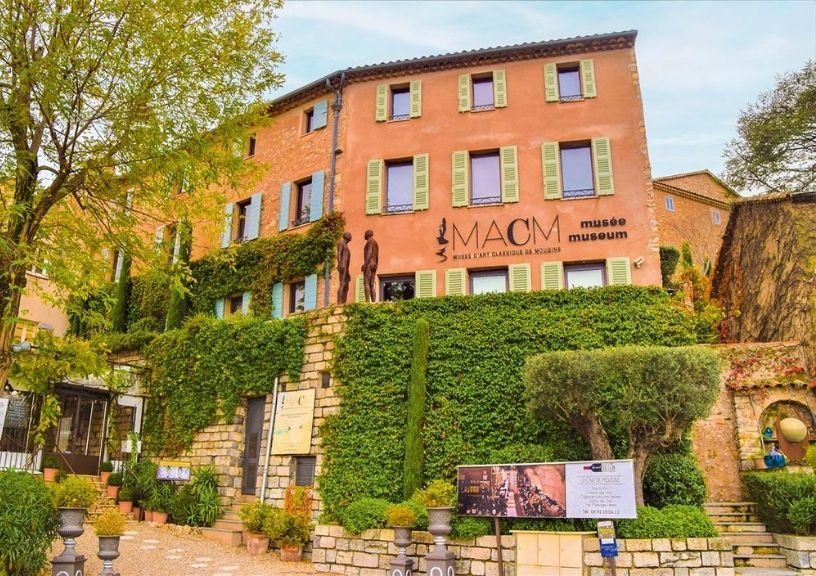 In the town of Mougins, a sprightly trek up the hills leads you to the small but impeccably designed Mougins Museum of Classical Art, with a medieval exterior and an interior renovated to state-of-the-art museum facility. Endowed with masterpieces from the private collection of Christian Levett, the museum has adopted an interesting way of presenting artworks and artefacts thematically, instead of chronologically. This gives you a rare chance to see how the same ideas and forms have been interpreted and rendered in the distinct language of artists across centuries. One can see Egyptian, Greek, and Roman artefacts with their modern and contemporary counterparts—ancient statues of Venus are showcased with works by Yves Klein's Blue Venus, Andy Warhol's The Birth of Venus (taken from Botticelli's famous painting), and Salvador Dalí's sculpture on the mythical figure. One can see how dexterous details from the classical genre were simplified and reimagined in the abstract and conceptual works of Elaine de Kooning, Keith Haring, Damien Hirst, and Alexander Calder. A personal treat is to see how different artists depict the same scenes and colours so differently—Elaine de Kooning's Bacchus and Marc Chagall's Bacchanalia give us glimpses of how the colour green can have so many dimensions.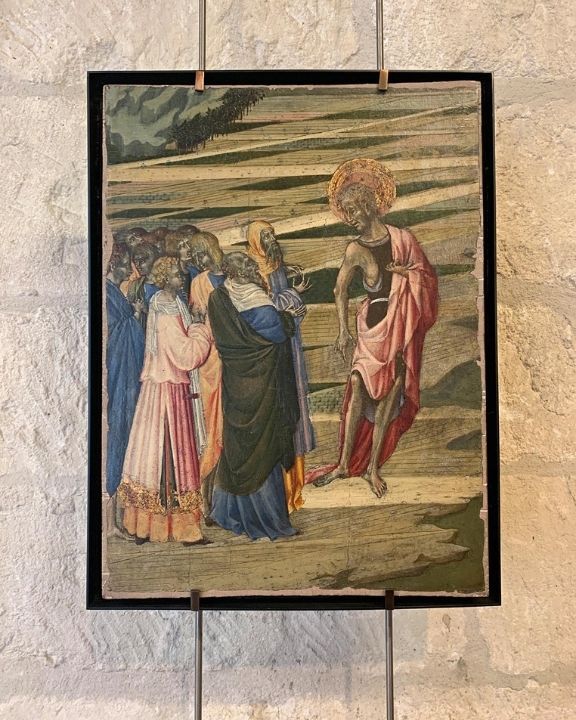 In the city of Nice, one can pick up these threads of modern and pop artists in the spectacular collection of the Museum of Modern and Contemporary Art (MAMAC), which hosts large works by Yves Klein, Niki de Saint Phalle, Jasper Johns, Frank Stella, Christo, and Robert Indiana, to name a few. A remarkable structure, the museum hosts temporary exhibitions along with its permanent collection and a rooftop garden that gives an aerial view of the gorgeous, red-tiled roofs of the city of Nice, leading up to views of a cemetery nestled in the hills, and the shoreline. At Cafe Turin, a short walk from the museum, Mediterranean and Atlantic oysters are served on ice, and there is ample time to contemplate the great art viewed, while walking around the old city on a Sunday morning will yield a delightful array of cheeses, chocolates, seafood, meat delicacies, and flowers. Besides MAMAC, Nice is home to two single-artist museums: Musée National Marc Chagall and Musée Matisse. The museum devoted to Marc Chagall is perhaps the best showcase of the artist's exceptionally large canvases, which are bathed in natural light from tall glass windows. Paintings that span the length of walls are arranged by series, leading to an immersive experience of being drenched in hues of green, blue, and pink. A small cafe in the gardens of the museum complex is a great place to stop for a drink or a meal, while gazing at Andre Hermant's poetic design of the museum. The Matisse Museum, which is situated in a 17th-century salmon-coloured villa, stands next to the ruins of a Roman arena, a lush park and gardens that lead to the Cimiez Monastery, which also houses artworks by Louis Bréa. A trip to the Matisse Museum guarantees you a journey through the artist's striking works on canvas and sculpture, and a stroll under the large trees invites you to pause in their shade, where many young artists sketch and paint.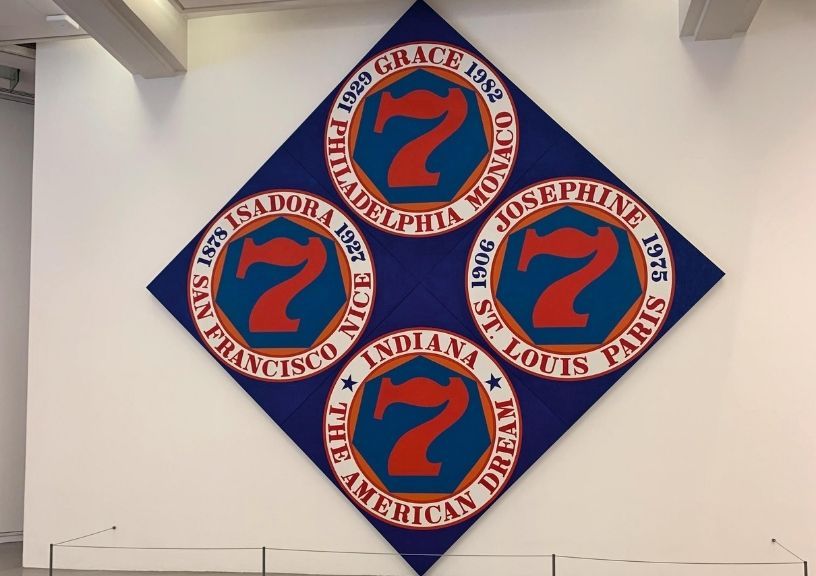 Travelling inland to wine regions, the cities of Avignon and Aix-en-Provence are bursting with natural beauty, excellent wine, and both classical and contemporary art. In Avignon, the Palais des Papes holds a room full of Botticelli, lit to dim and powerful effect under the tall, arched ceilings of the palace. Most museums in Avignon offer free admission, and the city has a rich collection of antiquity and spiritual art. Built in the 14th century, the Pope's Palace overlooks the Rhine river, and has incredible frescoes, paintings, and engravings depicting scenes from the New Testament. A particular joy of walking in this part of Avignon is the evening light, which falls upon the city as a cloud of gold—making every corner resplendent and divine. A lesser-known art centre in Avignon is Collection Lambert, which, in stark contrast to the Palais des Papes, offers cutting-edge contemporary works in new media by legends such as Jenny Holzer, Cy Twombly, Anselm Kiefer, and Jean-Michel Basquiat, to entire walls painted by Sol LeWitt and Niele Toroni. Opposite Collection Lambert is a delightful restaurant named Bèou Bistrot, where you can rest your feet and sip local wines that taste like elixir.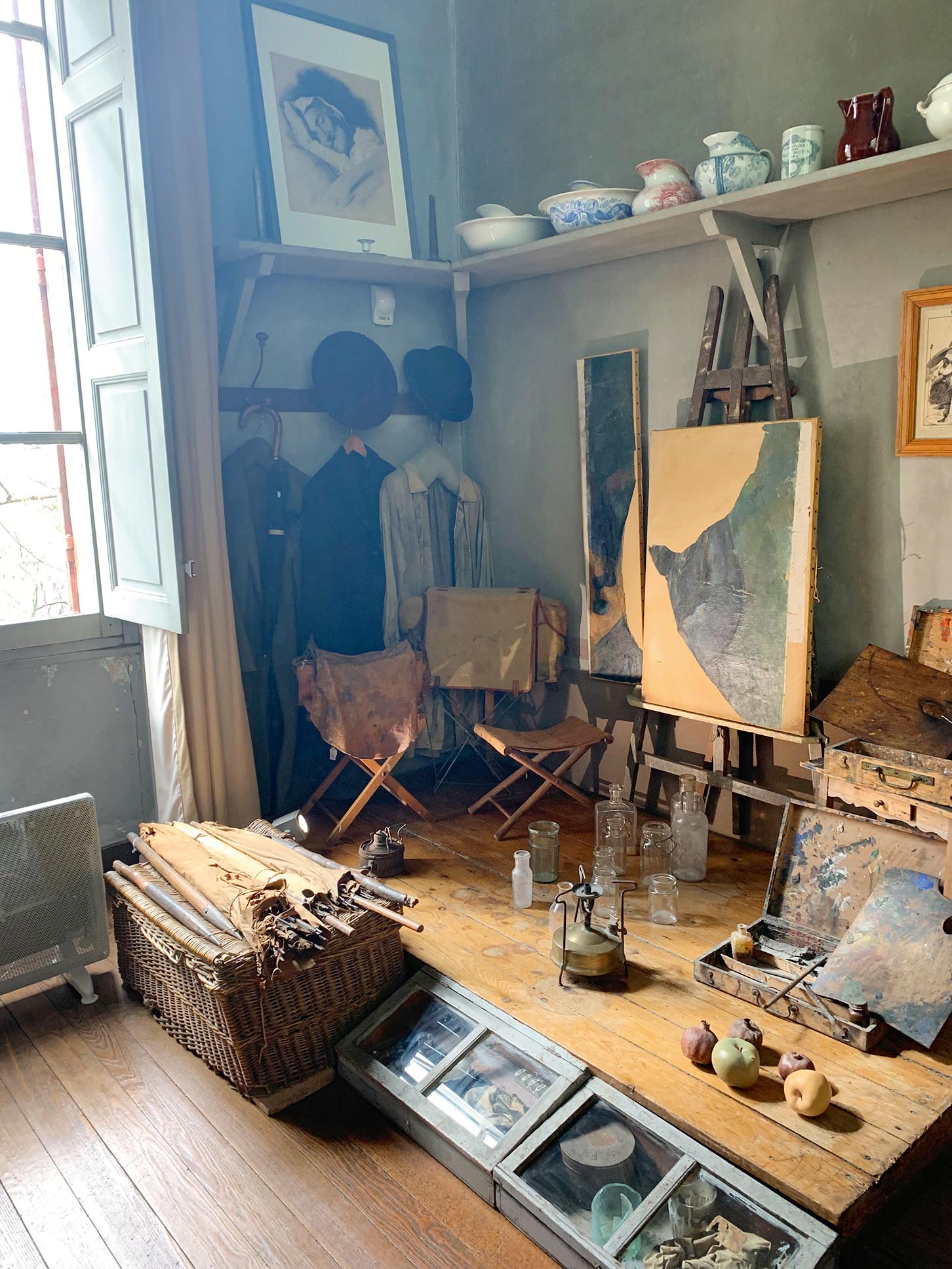 Heading to nearby Aix-en-Provence, the one unmissable spot is the artist Paul Cézanne's atelier, which has been kept intact since his death in 1906. In a tour through his studio and gardens, one can see all of his painting equipment, early sketches, letters to artists like Monet, studies, and scenes that inspired his works. A short trek from the atelier leads to the spot where Cézanne gazed at, painted, and immortalised the peak of Mont-Sainte Victoire. To describe the feeling of standing in the exact spot and beholding the same peak, two centuries apart, in the company of trees and birdsong, is humbling. Time stills in places of deep reflection, where boundaries between the world and soul dissolve.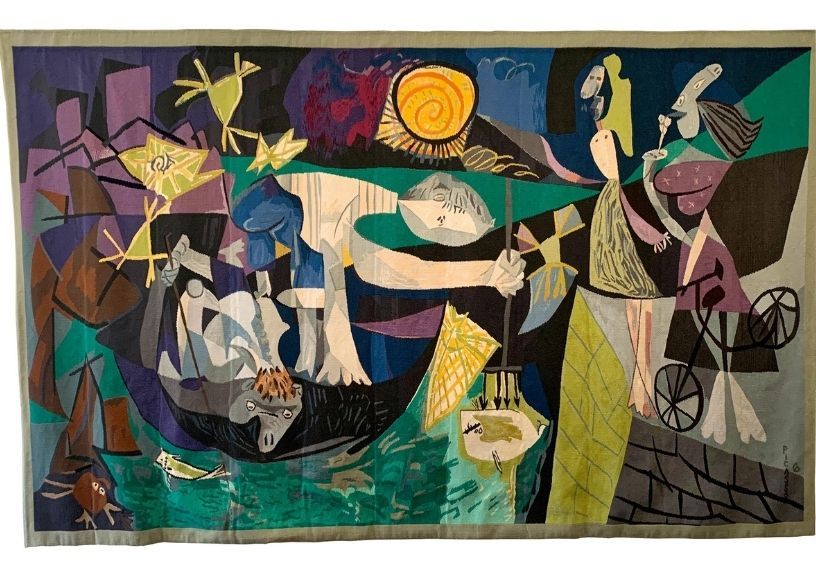 Artistic Pursuits in the South of France
Getting There and Around
Air India and Air France provide great connections from major Indian cities to Nice. In Nice, the SNCF & TGV train lines will connect you to nearly any part of the coast.
Stay
Nice: Hôtel La Villa Nice Victor Hugo is a lovely boutique hotel merely minutes away from all the museums listed. From INR 17,900 per night
Aix-en-Provence: Hôtel Le Pigonnet offers five-star luxury, delicious cuisine, and a historic secret garden. From INR 30,000
Mougins: Les Rosées is an inviting guest house located opposite the picturesque medieval village of Mougins. From INR 23,000
Museums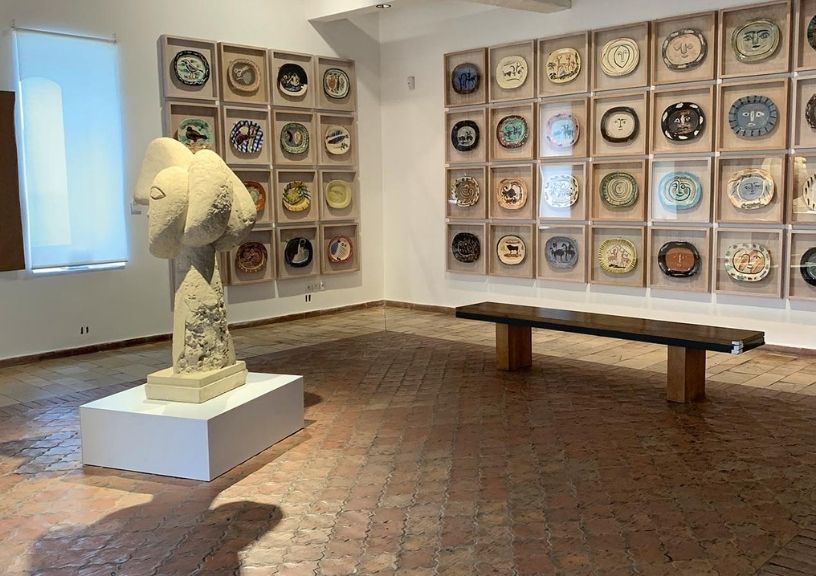 Antibes
Musée Picasso is the place for a survey of Picasso's complete artistic practice.
Mougins
Mougins Museum of Classical Art showcases nearly every major artist from the West, and an exhaustive survey of ancient Greek, Roman, and Egyptian artefacts.
Nice
The Museum of Modern and Contemporary Art is a must-visit stop for its large halls and strong collection of works on pop-art, conceptual art, and modern art.
Musée National Marc Chagall's high ceilings and light-washed walls will make you fall in love with the hues of Chagall's canvases.
Musée Matisse is nestled in a stunning villa, and faces a park and a Roman-era arena. It invites viewers to explore both the art and its verdant surroundings.
Villa Arson is the go-to place in Nice for cutting-edge practices in art with a focus on video, emergent media, installations, and immersive experiences.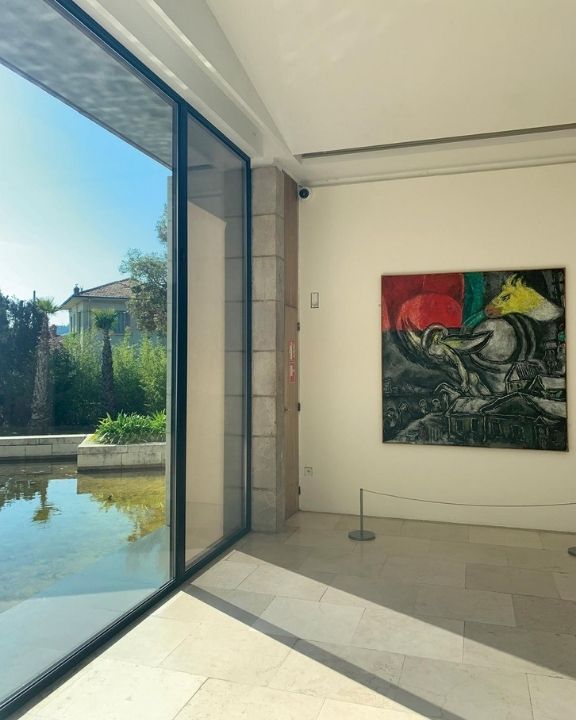 Aix-en-Provence
Atelier de Cézanne lets you step into the shoes of the artist, with objects, letters, and even the colour of the walls kept in the same condition. Book a spot in the studio tour in advance on the Aix-en-Provence tourism site.
Musée Granet has an incomparable collection of sculptures and paintings. Don't miss the Collection Jean Planque, housed close to the main museum, in the Chapelle des Pénitents Blancs.
Vasarely Foundation – Architectonic Center hosts a stunning collection of the artist's most exciting works.
Avignon
Collection Lambert features the biggest names in contemporary art today and is ideal for those seeking a bit of tongue-in-cheek humour.
Palais des Papes is a 15th century palace that lends its etheral air to a beautiful collection of divinity.
St Paul de Vence
Fondation Marguerite et Aimé Maeght is a paradise in the hills, with an outdoor sculpture maze showcasing works by Joan Miro to indoor galleries that take your breath away. fondation-maeght.com
Residency
The La Napoule Art Foundation hosts successful applicants in residency cycles for artists and writers throughout the year.
Related: India Art Fair 2022: Art Maven Shalini Passi Picks 8 Women Artists You Should Know About