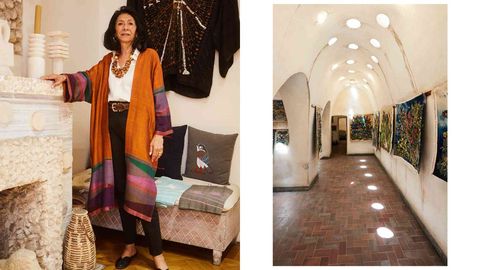 Cairo, it seems, is having a major moment. As the city gears up for the debut of the Grand Egyptian Museum — a gargantuan cultural institution that will house, among its expected 100,000 artefacts, all of the King Tut treasures — it's become a magnet for creatives from around the world.
They're drawn to the pharaonic history and art, of course, but also to the more contemporary galleries and studios that today form Cairo's design scene.
A guide to shopping in Cairo Nakhla
One of the most established in this world is Laila Neamatalla, who, along with her husband, Ikram Nakhla, founded the popular jewellery brand Nakhla, which has an outpost at the new museum. Since then, she has launched a homewares brand, Siwa Creations, and has been a champion of local artisans and a mentor to the city's up-and-comers, making it one of the best places for shopping in Cairo. Here, Neamatalla shares some places to get a glimpse of Cairo's artistic side.
Ramses Wissa Wassef Art Centre "Founded in 1951 by architect Ramses Wissa Wassef, this textile school, studio, and shop is now run by his daughter, Suzanne. It's located in a stunning mud-brick complex near the Pyramids in Giza, and has inspired those who have visited to undertake craft projects around the world."
Nuniz
"I have always loved the leather handbags from this brand, which was founded by Nadia Zarkana. They're handmade by female Egyptian artisans and have clasps in the shape of lotus flowers or scarabs—my favourite detail. There's a shop in the leafy neighbourhood of Maadi.".
Diwan
"This excellent bookstore has locations throughout Cairo—including Zamalek, a neighbourhood on Gezera Island in the Nile, and a planned outpost in the Grand Egyptian Museum. Diwan carries everything from contemporary fiction to art and design books. They also host regular author events.".
Udjat "One of the best places for shopping in Cairo, this is a pharaonic-inspired clothing and textile company created by Louis Barthelemy—a French illustrator and designer who has lived in Cairo for many years. He makes large, colourful tapestries with the artist Tarek Abdelhay Hafez Abouelenin that are sold in the Souk Al-Khayamiya, a market that specialises in textiles. His products will also be sold in the new museum's gift shop.
Siwa Creations
"My brother, Mounir, and I launched Siwa Creations in 1999 to keep traditional Egyptian craft alive. This country doesn't have a global reputation when it comes to craftsmanship, but it's full of talented artisans. At our showroom in Zamalek, you'll find hand-embroidered galabias (traditional gowns), abas (cloaks), shawls, and linens, as well as jewellery and candleholders carved from desert salt blocks."
Shop the best travel experiences here
(Hero image credit: nakhlaofficial/Instagram, feature image credit: Manuel Obadia-Wills)
This story first appeared on travelandleisure.com
Related: Unplug And Reconnect With Yourself In The Ancient Oasis Of Siwa In Egypt
Written By