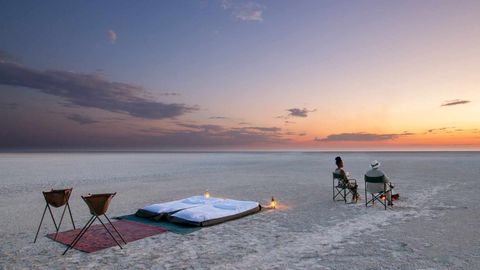 There's nothing quite like sleeping out under a wide expanse of sky, and that's even more special when it's on a gorgeous stretch of salt pan in Botswana.
That's where Desert & Delta Safaris comes in, offering guests the chance to spend the night open to the elements on the Makgadikgadi Salt Pan (part of the largest series of salt pans in the world, according to UNESCO). The unique experience, which is set up on a comfortable "bedroll" with a duvet, pillow, and extra warm blankets, includes an open fire and a bush menu "traditionally prepared and cooked under the stars" (think: grilled lamb chops and African boerewors sausages), the company told Travel + Leisure.
This safari experience in Botswana offers the chance to sleep under the stars "The salt pans are a place where people can feel humbled by the expanse of the universe. There is nothing between you and the African night sky," Andrew Flatt, the director of marketing for Desert & Delta Safaris, told T+L. "This is a place completely off the grid, where guests can really feel the earth's presence in all her glory, and recognise how small we are as humans within a larger ecosystem."
The experience is offered as a complimentary add-on for guests who stay three nights or longer at the company's Leroo La Tau lodge. The experience is available for six guests at a time and must be pre-booked before arrival. And there is no Wi-Fi or cell phone reception, making it the perfect spot for a digital detox.
Flatt said the sleep-out experience, which was fully launched last summer, allows guests to "see 'forever' off into the horizon." To get there, guests drive over bumpy roads and across the Boteti River for about five to six hours or can choose to upgrade to a 30-minute open-door helicopter experience. In the morning, guests wake up to eggs cooked to order, bacon, sausage, honey and cinnamon oats porridge, and more, before heading back to the main lodge.
"It is quiet. It is profound. It is romantic. It is life-changing," Flatt added. "This is a place to examine what is important in life. " The experience is offered during Botswana's dry season from July 15 through October 31 each year. The experience is complimentary for guests staying three nights or longer but can be booked as a private experience for guests staying less than that for USD 750 (INR 61,390).
Shop the best travel experiences here
(Hero and feature image credit: Desert & Delta Safaris)
All currency conversions were done at the time of writing
This story first appeared on travelandleisure.com
Related: The 55 Most Beautiful Places In The World
Written By