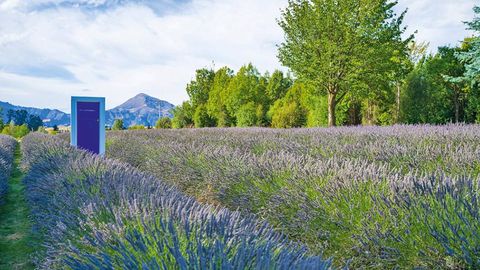 A trip to the Pacific country of New Zealand opens up an enchanting world of adventure, stunning views, and the perfect wine.
Having grown up in a cricket-crazy country, the little that I knew of New Zealand was through cricket matches. The Kiwi cities in which India played against the home country looked beautiful on screen and I didn't think much beyond that. However, a trip to the Pacific country in March introduced me to the contrasting wonders of its North and South Islands, and I came back with some unforgettable memories. Here's a short account of my transformative journey through some of the most spectacular sceneries in the world.
The Journey Begins
An almost six-hour flight from Delhi took me to Singapore and thereon I boarded the Air New Zealand aircraft for Auckland. A sense of relaxation engulfed me the moment I set foot on the aircraft.
The friendly staff, ambient lighting, and plush leather seats that turn into lie-flat beds in the Business Premier Class made the journey utmost comfortable. The airline impressively showcases Kiwi traditions and culture. From the on-board safety video that talks of Tiaki and the guardians of Māori culture to emphasise the importance of caring for the land, the sustainable measures practised in the aircraft to the in-flight food, which was a curation of indigenous ingredients and flavours, my flight seemed like a curtain raiser to things that were to follow. The thoughtful wellness initiatives that the airline has in place deserve a special mention. The in-flight entertainment system has a series of stretches, exercises, and meditation techniques that one can do from the seat. If you are worried about not catching enough shut-eye, ask the flight attendant for the sleep ritual like I did. I was treated to chamomile tea, almonds, and passionflower sleep balm that lulled me into a peaceful slumber till I landed in Auckland.
North Island
of New Zealand It was a bright sunny day in Auckland. As we drove into the New Zealand countryside, I noticed that the sunlight was peculiarly bright here and put everything in a high contrast mode. The skies were bluer than usual and provided an apt backdrop to white cottony clouds; the shadows appeared darker and the grass that covered the hills of the North Island looked very lush. It made absolute sense why director Peter Jackson decided to film The Lord of the Rings trilogy in New Zealand. And it was the Hobbiton Movie Set that I was headed to. Green meadows and hills dotted with sheep passed by and I finally arrived at the Hobbiton set located on a farm spanning 12 acres.
Without much ado, our tour guide took us to a rustic entranceway, the point beyond which the magical Middle Earth came alive. We walked through winding paths, past iconic Hobbit holes only to stop at Bag End, the famous Hobbit hole that belonged to Bilbo and later Frodo Baggins. We saw the arched bridge, mill, and the Green Dragon Inn, where the Hobbits in the movie gathered to grab a drink. The cosy wooden interior and antique furniture looked just the way they did on the big screen. After gulping down a glass of ginger ale, I was good to embark on my next adventure, just like Frodo. New Zealand is home to many intriguing forests and one such forest is Redwoods. The easiest way to see the forest closely is to sign up for Redwoods Tree Walk, where an array of bridges suspended high up in the forest canopy allow you to soak in the stunning views of the forest and the surrounding hills. As I treaded carefully on the wobbly bridges, I couldn't stop admiring the sheer variety of the majestic trees native to that region.
It had begun to get dark by the time I got out of Redwoods. Tired and hungry, I headed to Atticus Finch in Rotorua for a quick supper. As I slowly dug into a cheesy pizza, night descended on Rotorua and my first day in New Zealand came to a fruitful end. The next morning, I made my way to Waimangu Volcanic Valley, which is home to the world's largest hot spring known as the Frying Pan Lake. The valley has beautiful nature trails that take you along geo-thermal springs, geysers, and the pretty-as-a-picture Lake Rotomahana. I hopped on a boat for a cruise around the lake and was treated to steaming cliffs and endless forest views. The geo-thermal experience ticked off my bucket list, it was now time to experience the Māori way of life at Te Puia that houses Māori Arts and Crafts Institute and showcases traditional Māori musical performances.
Te Puia is like a time capsule, where tattooed Māori men and women warmly let outsiders get a glimpse of their traditions. They put up a show for the audience and their synchronised singing, dance moves, and assertive expressions didn't closely resemble anything that I had seen before.
South Island I left North Island thinking nothing could beat my experience in New Zealand, but the country's wild and rustic south offers incomparable natural grandeur that one must see to believe. I landed in scenic Queenstown, the adventure capital, the getaway to adrenaline rushes and countless thrills. It is home to the world's first commercial bungee-jumping site established in 1988 over the Kawarau River. However, owing to my soft spot for quaint, well-preserved historic towns, I travelled straight from Queenstown to Arrowtown for lunch. This former gold-rush town is known for its restored miners' cottages and cosy family-run restaurants and bars. A sumptuous lunch at Provisions Café set in a historic cottage with a garden wrapped around its veranda felt like dining in a bygone era. Up next was an off-roading adventure around abandoned gold mining areas near Arrow River. I had signed up for a Nomadic Safari tour that took me along a gold mining road to the river, where our driver showed me how to look for gold in the waters, and indeed I spotted specks of gold dust.
I stayed at Cromwell, a scenic small town that's a short drive from acclaimed wineries and golf courses.
Getting to
New Zealand
Singapore Airlines operates multiple flights from major Indian cities to Singapore. Thereon, Air New Zealand has multiple connecting flights from Singapore to major New Zealand cities. The carrier also has a strong domestic network connecting 20 cities within the country.
Stay
In North Island, Rydges Rotorua is near the Redwoods Forest and overlooks the Whakarewarewa Thermal Valley. Doubles from INR 10,000; In South Island, Central Park Apartments in Central Otago offers a unique stay amidst nature. A studio unit for two starts from INR 9,500.
Related: These New Train Tours Might Be The Most Stunning Way To See New Zealand
Written By