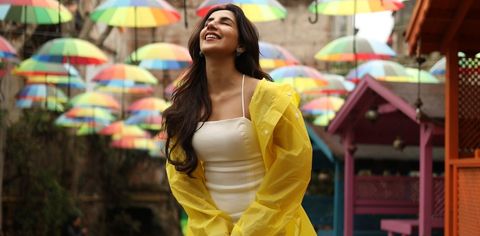 Shopping is always fun, especially when travelling. While you explore the vast lands, picking up the latest fashions from the region and buying traditional goods and sweets is a must. Actor, influencer and CEO and Founder of Nish Hair, Parul Gulati, was recently in Turkey, and she shared her top shopping destinations with us. By Anushka Goel
If you've ever visited the Trade Fair in Delhi, you'll know that among the most popular (and the prettiest) international stalls are the ones from Turkey. Traditional glass lamps, arrays of evil eye products, beautiful carpets and a lot more line these stalls, and the overall vibe of these pop-up stores are enough to make one want to pack their bags and head to Turkey to experience the beauty in all its grandeur.
So, when Parul Gulati, actor, influencer and CEO and Founder of Nish Hair, was in the country, we couldn't help but turn to her for some shopping recommendations in the country. Check them out below!
Parul Gulati's guide to shopping in Turkey
Grand Bazaar, Istanbul
View this post on Instagram
Among the most popular markets in Istanbul, Grand Bazaar has been around since the 15th century AD and is probably among the world's oldest shopping malls (or a medieval version of the malls we see today). The bazaar is among Istanbul's top attractions and is great for shopping – it has warehouses and caravanserais and a total of 4,000 stores, bustling with activity and filled with exciting local goods that you'd want to take back home for yourself and your loved ones.
Egyptian Spice Bazaar, Istanbul
View this post on Instagram
Among the most special things about Middle Eastern countries is its food, and local, whole spices play an important part here. Right from imparting a delicious fragrance and flavour to the food to amping up its visual appeal, spices are integral to the local cuisine, and if in Istanbul, a visit to the Egyptian Spice Market is a must! This is among the popular shopping destinations in Turkey where you can find rows of colourful, fragrant ingredients to add to your food, edible flowers, dried fruit, herbal teas and a lot more, and these make for great souvenirs, too.
Arasta Bazaar, Istanbul
View this post on Instagram
Located behind the popular Blue Mosque (Sultan Ahmet Mosque), Arasta Bazaar is a great place to visit if you want to buy some ceramics and textile goods. The place is smaller and easier to navigate than Grand Bazaar and is often visited by tourists, and one can find some great buys when it comes to local handicrafts, hand-painted Iznik tiles and a lot more. Also, close by are textile emporiums to buy traditional Turkish carpets, too!
Istiklal Caddesi, Istanbul
View this post on Instagram
Another popular place to go shopping in Turkey is Istiklal Caddesi, which is also a must-visit according to Parul. The place threads across the hill and makes for some stunning sights, and is the perfect blend of modernity and tradition. From high-end street fashion brands to fast food outlets, there's nothing you won't find here when it comes to fashion. What also makes it special is the arcade passages inside the neoclassical buildings, the Flower Passage selling shawls, ceramics and more, quaint cafes that boast of late 19th-century architecture, and the antique tram, which is probably among the most famous sights here.
Other shopping destinations to check out in Turkey
Bagdat Street, Istanbul
View this post on Instagram
Turkey is as much a fashion destination as any other place, and if you are looking for luxury goods, Bagdat Street is a great place to start. The street is lined with shopping malls, luxe stores, posh restaurants and a lot more, dealing in designer clothes, exquisite jewellery, stunning glassware, paintings and some of the most delectable cuisines you can find.
Terracity, Antalya
View this post on Instagram
Another great destination for luxury shoppers, this place in Turkey makes for a shopping paradise. Opt for Turkish textiles to tailored suits and designer clothes to take back home and make the most of your trip, and don't forget to bring back something for your close ones from the 180 or so stores here!
Oscar Bazaar, Kemer
View this post on Instagram
Located in Kemer, a seaside resort town in Turkey, Oscar Bazaar sells everything from local produce to dry fruits, glassware and more. But what you must look for and bring back home from here is their beautiful needlework goods!
Hero and Featured Image: Courtesy of Parul Gulati
Related: Actor And Influencer Parul Gulati's Guide To A Delicious Meal In Turkey
Written By