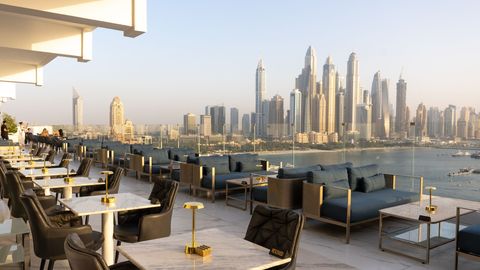 Short on time during your visit to Dubai? Here's a curated 48-hour itinerary for your stopover at this megacity.
Dubai is always adding notable cultural institutions, galleries, world-class culinary experiences, adrenaline-filled activities, and design-focused shopping avenues to its long list of attractions to lure a new generation of visitors. Travel+Leisure India & South Asia has curated a 48-hour itinerary to the Emirati city that gives you a taste of the city's iconic attractions, culture, and experiences. All you have to do is pack, put on your most comfortable shoes, and make this two-day stopover a memory of a lifetime.
48 Hours in Dubai
Day 1 Start your day with a history lesson on one of the world's most loved drinks: coffee. The Coffee Museum boasts a blend of Oriental and regional traditional architecture. Located in Bur Dubai, when here, sample different regional styles of coffee such as traditional Arabic, Ethiopian, or even Japanese-style coffee. Inside, a maze of tiny chambers filled with artefacts, such as ancient grinders, pots, and roasters from all over the world–mainly from Europe and the Middle East–await.
Don't miss the opportunity to over-indulge in authentic and award-winning Singaporean street food at Hawker Chan. Credited as the world's most affordable Michelin-starred meal, this famed space in Dubai Mall has taken the world by storm. Order the soy sauce chicken and rice to find out why this restaurant was awarded a Michelin star.
If you want to get your heart racing, visit the Sky Views Dubai. Located 219 meters above Downtown Dubai, this space offers a variety of adrenaline-pumping one-of-a-kind experiences. Walk along the ledge of a skyscraper and enjoy mesmerising perspectives of Downtown Dubai and the city skyline. Those looking for a more gentle sightseeing adventure can head to the observatory and immerse in Glass Slide activities, instead. Irrespective of whether you're standing still and peering over Dubai's famed skyline or sliding between floors, a visit to Sky View Activity will surely give you a kick of adrenaline!
Evening:

High Tea at Josette
Take a seat in one of the plush chairs of Josette and enjoy a memorable high tea experience by indulging in French flavours in a luxurious setting. The Instagrammable interiors with pastel-pink and deep-green tones, lavish chandeliers, and gold embellishments will transport you to Paris. This afternoon tea includes freshly baked scones, lemon meringues, rose marshmallows, and cheesecake Josette alongside savoury petit fours such as croissant caviar, brioche, and jambon fromage. Add to this a custom blended herbal tea and coffee selection, a champagne package and live music.
Night:

Dinner at Moonrise Enjoy an intimate, cutting-edge tasting menu in a sky-high residential building at Moonrise. Redefining Dubai culinary vernacular through Japanese and Arab ingredients, everyone at this 12-seater counter is witness to the plating of each dish. The eight-course tasting menu includes an explosive pani puri featuring foie gras, pineapple chutney, and date syrup; a take on a grilled cheese sandwich, majoring on parmesan, truffle, and black garlic; spiced hamachi with a Syrian sumac sauce; and a delicate strawberry Basque cheesecake, to name a few.
Midnight:

Exceptional beverages at Honeycomb Hi-Fi Wind down the night and savour a drink at Honeycomb Hi-Fi. Located in the Pullman Hotel, Downtown and tucked away from the bustle of Business Bay, people from all over Dubai gather here to sip craft beer and gourmet cocktails, while listening to music. At Honeycomb Hi-Fi, you can enjoy eclectic world sounds, Izakaya-style eating, rotating art exhibitions, and shop at a vinyl and book store. Aside from the range of wines, sake, and Japanese craft beer, its artisanal cocktail menu is too appealing to ignore. Be sure to order the mochi stuffed crispy wings, sticky duck tsukune, and thick scallop sui mai. One bite, and we're sure your taste buds will be singing louder than the speakers!
Day 2
Morning: Breakfast at Mama'esh
There's nothing better than starting your day with a Palestinian breakfast at Mama'esh, particularly at the Jumeirah location. After all, it is the best way to feel more at home in the Middle East! The cosy restaurant serves authentic Palestinian food such as traditional manakish flatbreads made from organic flour in a wood-fired stone oven. A must-try is the zaatar jabali manaesh, which includes delicious Palestinian zaatar topped with fresh tomatoes, onion and thyme leaves.
Noon

: Immerse in the World of Art at TODA In the afternoon, when Dubai's temperatures are at their peak, it is ideal to spend time indoors! TODA, a 360-degree art hub, is ideal. It is home to all art forms–from classical masterpieces to NFT and new media, to even music and theatre. Whether it is digital shows, live music nights or even wellness sessions, everything here is a visual treat and is sure to make you feel connected to art like never before. The team also curates weekly events that offer a truly unique experience to its visitors.
Indulge in global vegan flavours at Planet Terra. This earth-friendly restaurant encourages visitors to eat intentionally, serving nourishing and wholesome dishes that use fresh in-house ingredients devoid of artificial sweeteners and refined sugars. Terra aims to bring in a fusion of global tastes, traditions, and energies while using local and ethical suppliers. Put simply, it is perfect for those looking for a healthy bite. Try the Khimchi Pad Thai with rice noodles in a tamarind sauce; or avocado bruschetta with sauteed mushrooms, caramelised onion, tomato confit, carrot cream, and balsamic glaze served on toasted sourdough bread.
Evening:

Indoor Scuba Diving at Deep Dive Dubai Add a bit of thrill to your Dubai holiday with a dive at Deep Dive Dubai, the place to be for all aqua enthusiasts. The 60-meter-deep Guinness World Record-certified pool offers a range of scuba and freediving experiences, with qualified instructors on hand to help both beginners and experienced divers nurture their skills. Every meter down unfolds wonders bound to become memories. Deep Dive has taken playing games to a whole new level–from playing football, riding a motorbike underwater, and scoring big at a pool table to engaging in friendly chess duels. You can also channel your inner pirate to look for gold and precious stones in the sunken treasure box. Embrace the magic of Dubai's sunset spectacle at Twiggy by La Cantine. The expansive lagoon overlooks the creek, which is best enjoyed by cosying in a plush corner lounger with a flock of flamingos flying past to give company. The chic and playful atmosphere is amped by delicious cocktails, upbeat soundtracks, and a Mediterranean-inspired menu. Expect cheese fondue, raclette with charcuterie and a moreish chocolate fondue, to name a few. Follow this up with a sumptuous Italian dinner at Scalini Dubai. This sophisticated venue, located at Four Seasons Resort on Jumeirah Beach Road, offers contemporary Italian cuisine with a focus on fresh ingredients and classic flavours. The restaurant features a courtyard-style dining area where guests can sit under a lemon tree, surrounded by colourful artwork, and charming decor reminiscent of the southern Italian Coast. Finish your visit to Dubai by going clubbing in the sky at The Penthouse, Dubai's award-winning Japanese rooftop bar, lounge, and nightclub. This chic rooftop bar at Palm Jumeirah offers a stunning view of the city's skyline. Whether you're in the mood for dancing, fine dining, music or simply soaking in the city's glamorous atmosphere, the Penthouse has something for everyone. No wonder, then, it makes for the apt finale for a 48-hour sojourn in the megacity.
Related: Must-See Attractions To Little-Known City Secrets: 10 Best Things To Do In Dubai
Frequently Asked Questions (FAQs)
– How to reach Dubai?
To reach Dubai by air, book a flight to Dubai International Airport ( DXB) from your departure city. Dubai is well-connected to major cities worldwide.
– Where to stay in Dubai?
Choosing a hotel for a two-day stay in Dubai depends on your preferences, budget, and the type of experience you're looking for. If you're looking to stay near the Dubai Financial Center overlooking the Museum of the Future, then stay at the 25 hours Hotel One Central. It is Dubai's hub for creatives and digital nomads.
If you're searching for a private beachfront where romance and adventure meet, stay at the One and Only at The Palm. This resort is a private escape surrounded by calming gardens and sparkling seas with stunning views of the Dubai Marina cityscape in the distance.
Written By