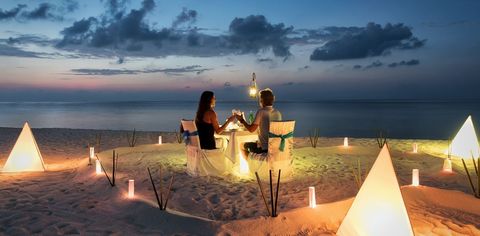 Plan the ultimate proposal in the Maldives with these ideas. By Karishma Sakhrani
View this post on Instagram
A proposal should be romantic, very special, and a day you'll never forget. Maldives' breathtaking archipelago offers all that and more. And my now-husband Sameer's proposal to me in Maldives ticked every box! He booked the entire sunset side beachfront of our resort, Heritance Aarah, for our evening; organised a five-course meal; and also had the universe paint the most stunning picture across the sky.
Being together on the island took the party from one night to a whole week. From beachside picnics and champagne floating breakfasts to snorkelling, jet skiing, and indulging in unique dining experiences at one of the many dining options at our hotel—even a whole lifetime together was now not seeming enough to celebrate!
Here are some other ideas to help you plan a spectacular proposal in the Maldives and get your loved ones to say 'I do" amidst the fifty shades of blue.
Romantic Beach Dinner
View this post on Instagram
Make your proposal special and intimate with a private beach dinner. Most resorts allow you to book a section of the beach for the evening with the most stunning table set-up—complete with candles and lanterns—and will cater a three- or five-course meal with a dedicated butler.
Underwater Restaurant
View this post on Instagram
The undersea restaurants provide an extraordinary backdrop for your big moment. Shared with the surrounding vibrant corals and marine life, this will be an unforgettable and dreamy experience that will make your proposal even more special. The Ithaa Undersea Restaurant at Conrad Maldives Rangali Island is the perfect place if you love the magnanimity of the sea, but aren't exactly one to go for a deep dive!
Sunset Boat Cruise
View this post on Instagram
Get away on a private yacht with a picnic basket and bottle of champagne. Watch the dolphins, soak in the sunset and propose to your partner in the middle of the ocean and awe-inspiring views. The Ritz-Carlton Maldives, Fari Islands can help you organise the most luxurious excursions!
Floating Proposal
View this post on Instagram
Spell out your proposal with flowers in the pool and then jump in for a quintessential Maldivian floating breakfast! Check out The Four Seasons Resort Maldives at Kuda Huraa for the most magnificent set-ups.
On a Private Sandbank
View this post on Instagram
Whisk your partner away to a private sandbank and propose in the midst of the ocean. Surrounded by white sands and endless blue waters. Picture a private moment with only you, your partner and perhaps a photographer to capture these magical moments.
In the Ocean
Take a jet ski for a spin in the ocean or indulge in other thrilling water sports together to get that adrenaline rushing and then propose in the middle of the ocean. Or take a boat out for a private snorkelling session, and propose after. Remember to pack a picnic!
Deep Sea Diving
View this post on Instagram
If you and your partner are adventure bunnies, this one is for you. Book a unique proposal experience which includes a scuba session for two, and an underwater photography session. Since you won't be able to say it out loud, make sure you liaise with your hotel for an underwater signage with the words "will you marry me?!"
The Sheraton Maldives Full Moon Resort & Spa recently orchestrated the most magical underwater proposal with a dramatic flower show, underwater signage and diver-photographer to capture the moment.
Signage on the Beach Got the nerves and wondering how you'll manage to say it out loud? How about having the words, "Will You Marry Me?" spelt out with coconut shells on the white sands? Go down on one knee and slide the ring on. You can get the team at Kandima Maldives to create this for you!
Villa Room Makeover
View this post on Instagram
Have your hotel redo the room with rose petals everywhere, lanterns out on the deck, and some canapés and bubbly. Propose in the intimacy of your own space and make this moment yours forever. Some of the most enchanting settings await at the sprawling over-water bungalows of the Waldorf Astoria Maldives Ithaafushi.
Star Gazing
There couldn't be a better location than Maldives for star gazing. Immerse yourself in the wonder of the night sky and count stars (and dreams) with your love before you pop the question. You can book an astronomy dinner at So Starstruck , the Bond-inspired observatory for a starlit dining at Soneva Jani. Sit back, and enjoy great food and drinks as the in-house astronomer takes you through a journey of the night sky and beyond.
Related: Best Time To Visit The Maldives. We've Decoded It For You
Written By