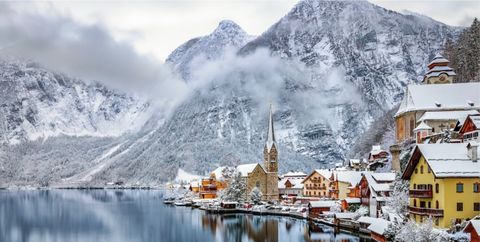 In the midst of February, we're either waiting for winter to be over or diving right into cold-weather sports. Some of us just need a change of scenery with the holidays over, so for fans of the snow, how about combining a trip to Europe with some of the world's most beautiful mountains in Austria? Or there's Lake Tahoe for a ski vacation. By Patricia Doherty
For a major change of scenery, Antarctica is ideal in February. Not quite as cold, Vancouver and Cleveland have a lot going on, both indoors and outdoors. Travellers seeking warmer destinations might consider Fiji, Orlando, or Mexico's Riviera Maya. Santa Barbara and Phoenix offer moderate weather, outdoor activities, and some special February goings on. Planning a February vacation might be just what you need to get you through to spring.
Here are ten of the best places to travel in February.
Antarctica February is one of the best months to travel to Antarctica because it's summer in the Southern Hemisphere. Summer there means temperatures sometimes above zero — not exactly swimsuit weather — but the sun shines 18 hours every day, and there's no rain. It's the ideal time for seeing humpback, minke, and orca whales as well as seals and newly hatched penguin chicks. Antarctica is a once-in-a-lifetime trip for most travellers, so it's critical to choose the excursion that fits your needs and interests. Hurtigruten Expeditions, the world's largest expedition cruise company, features the battery-hybrid powered MS Roald Amundsen and MS Fram, departing from Punta Arenas, Chile. Additional options to consider for an excursion to Antarctica are Adventures by Disney, Scenic, Ponant, Princess, Celebrity, and Norwegian. Intrepid Travel offers several trips, including Best of Antarctica, Journey to the Antarctic Circle, and Antarctica Whaley Journey.
Austria Picture yourself schussing down the same hills as the world's best skiers in Innsbruck, three-time home of the Winter Olympics. Or in Kitzbühel, the only Austrian resort in the ICON pass program. In Sölden, winter sports fans can find not only skiing, snowboarding, snowshoe hiking, and tobogganing, but there's also James Bond 007 Elements, commemorating 2015's "Spectre," with action sequences filmed in the mountains of Sölden. Austria offers more than winter sports, although the snow-covered Alps are magnificent even if you're enjoying them in front of a fireplace sipping schnapps. Salzburg is charming any time of the year, and Graz is another Austrian city to add to your itinerary. In Vienna, there's the Albertina Modern museum, Belvedere, Schönbrunn Palace, wineries, cafes, and of course, Sachertorte. If snowy mountains inspire you to travel to Austria in February, add a few days in one of the country's lovely cities.
Cleveland, Ohio Sure, the weather is cold, but bundle up, and you'll enjoy February in Cleveland. NBA All-Star Weekend, February 18-20, with the Rising Stars game, Three-Point and Slam Dunk Contests, and the All-Star Game on Sunday, will attract basketball fans. Brite Winter, an annual outdoor music and arts festival, will be held on February 26 on the lakefront, warmed by bonfires, games, light installations, food, and the energy of the crowd. At the Cleveland Museum of Art, the Black Art in Focus exhibit will open on February 20. Also in recognition of Black History Month, Karamu House, the oldest Black producing theatre in the country, will perform "The Mountaintop" from February 11-March 6, reimagining events around the assassination of Dr Martin Luther King Jr. Warm up inside the Cleveland Botanical Garden's glasshouse, with replicas of the Madagascar desert and Costa Rican rainforest. There's also the Short, Sweet Film Fest February 23-27, featuring local, national, and international short films. Do you need more reasons to travel to Cleveland in February?
Santa Barbara, California Lovely any time of year, Santa Barbara offers great reasons for a February visit. At Santa Barbara Zoo, the new Australian Walkabout, opening in January 2022, will feature kangaroos, wallabies, and emus. Beginning February 27, the Santa Barbara Museum of Art's "Through Vincent's Eyes: Van Gogh and His Sources" will exhibit 20 Van Gogh works as well as artefacts and Van Gogh-inspired programs. Foodies will be interested in the new Michelin Guide listing 19 Santa Barbara dining spots including Sushi|Bar Montecito, the first restaurant in Santa Barbara to earn a Michelin star. Whale watching cruises begin in February at Santa Barbara Sailing Center for a chance to see migrating Pacific grey whales along with stunning views of the coast. Pack a sweater or light jacket, and you'll be comfortable with temperatures in the 15 – 20 degrees range, but to keep warm on chilly evenings, choose a fireside garden room at The Ritz-Carlton Bacara with a fire pit on your patio.
Orlando, Florida Winter travellers looking for a warm destination with lots to do often think of Orlando, where theme parks, nature, restaurants, museums, performing arts, and outdoor activities keep them as busy as they want to be. Walt Disney World is in the midst of celebrating fifty years, and Orlando's theme parks are always rolling out something new. Orlando recognises Black History Month every February with events and exhibitions, and most are expected to return to in-person format in 2022. Hotels and resorts in a range of prices and styles provide options for families, couples, and solo travellers. A new addition to the hotel lineup is the Lake Nona Wave Hotel, combining luxury, hospitality, and technology in 234 guest rooms that include 16 one-bedroom suites and two penthouse suites. Wherever you go in Florida, you'll find February's warm weather a perfect escape from winter.
Fiji Another great place to travel to in February is Fiji. Open to visitors as of December 2021, Fiji is welcoming travellers with the Bula spirit. The island nation is located in the South Pacific just east of Australia and north of New Zealand. Fiji's 333 inhabited islands are bathed in sunshine during February with temperatures over 25 degrees, white-sand beaches, and clear warm waters. Experiences in Fiji include diving, snorkelling, swimming among tropical fish, hiking through rainforests, kayaking, river rafting, or simply relaxing on palm-lined shores. Places to stay in a range of prices include Vomo, one of Fiji's larger islands with luxury accommodations from beachfront villas to hillside homes, expansive greenery, and pristine beaches. From Los Angeles, Fiji Airways offers daily non-stop service, with about 10.5 hours flight time. Arriving in Vomo and most other island resorts means a short flight or boat ride from Nadi Airport, part of the fun of a trip to Fiji.
Riviera Maya, Mexico Set on the Caribbean coastline on the Yucatan Peninsula, Riviera Maya is a fascinating area with sacred Mayan ruins, white-sand beaches, cenotes, nightlife, and delicious cuisine. February's weather is perfect to travel to Riviera Maya, with temperatures over 25 degrees and very little rain, ideal for swimming, snorkelling, boating, or relaxing on the beach. Around 40 minutes from the airport in Cancún with nonstop flights from many of the USA cities, Riviera Maya is a convenient destination. From Tulum to Playa del Carmen, the area offers a range of places to stay. Mayakoba is a 620-acre (two and a half square km) destination with luxury resorts, residences, beach clubs, and El Camaleón Golf Course, home of an annual PGA Tour event. Stay at the Andaz, Banyan Tree, Fairmont, or Rosewood Mayakoba, connected by walkways, bike paths, waterways, and shuttle service. For a vacation with all arrangements made for you, consider the Ancient Temples and Wild Cenotes tour by Culture Trip.
Phoenix, Arizona February weather is perfect for being outdoors, and there's a busy schedule, especially for sports fans. The annual Waste Management Phoenix Open, February 7-13, is famous for attracting enthusiastic golf fans. For three days of rodeo action, Lost Dutchman Days will take place in nearby Apache Junction during February 25-27. Professional baseball's Cactus League Spring Training begins February 26 with eight games at various locations throughout the Phoenix area. Phoenix offers a variety of places to stay, including Sheraton Phoenix Downtown, JW Marriott Phoenix Desert Ridge Resort & Spa, set on 316 acres (one square km) of Sonoran Desert, and Tempe Mission Palms in the walkable Mill Avenue District. Just 50 miles (80 km) away in the Bradshaw Mountains, all-inclusive Castle Hot Springs, Travel Leisure's #1 resort in Arizona, features breathtaking surroundings, private bungalows, Sky View cabins, exquisite cuisine from its onsite farm, and the hot springs that gave the resort its name.
Lake Tahoe, Nevada and California Another great place to travel to in February is Lake Tahoe as it is the ski season, and there's plenty of snow. In South Lake Tahoe, Heavenly is the largest and highest ski area, with views of the lake, 97 trails, nine high-speed lifts, 28 chairlifts, terrain parks, and restaurants, casinos, and nightclubs for after skiing. At nearby Edgewood Tahoe, onsite Ski Butlers deliver ski and snowboard equipment and take care of your gear when you leave. The resort offers plush guest rooms, ice skating, a spa, and a guided snowshoe experience that ends at the Champagne Chalet with Veuve Clicquot, hot cocoa, and popcorn. In North Lake Tahoe, there's Northstar, one of the best family ski resorts in California, featuring a ski and snowboard school, 100 trails, and eight terrain parks. The Ritz-Carlton Lake Tahoe, a family-friendly luxury resort located mid-mountain, offers ski-in/ski-out access on Northstar, a spa, and easy access to the Village at Northstar California for ice skating, fire pits, shopping, and dining.
Vancouver, Canada Sure, it's the middle of winter, but Vancouver isn't as cold as you might expect. It can be rainy — or sunny — so be ready for both. If you've been waiting to visit Canada, Vancouver is a good place to start. For a rainy or chilly day, head inside to the Bloedel Conservatory, a domed lush garden in Queen Elizabeth Park with more than 500 exotic plants and flowers in a temperature-controlled environment. Pick a sunny day for a walk over the Capilano Suspension Bridge, originally built in 1889, and upgraded with cables "strong enough to hold up a fully loaded 747." Enjoy the walk amid pine forests over the Capilano River. Even if you're not planning to ski, take the Grouse Mountain Skyride for views of the city, ocean, and snowy mountain peaks. For shopping, be sure to visit Granville Island, an indoor market with everything from food to gifts. Stay in the tallest downtown Vancouver building at the Shangri-La Vancouver for a plush experience at off-season prices.
Related: Visit These 10 Vacation Spots To Experience The Best Of Indian Winters
Written By