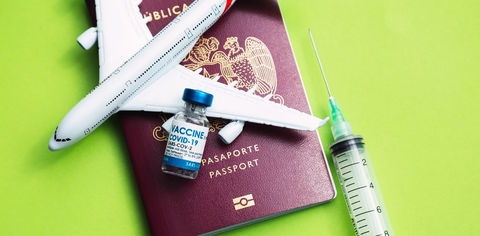 As many scurry towards inoculation, a new set of questions arise: what can or cannot a COVID-19 vaccinated traveller do? We aim to debunk any worries, clarifications, and confusions that may arise. By Bayar Jain
While 2020 went by trying to debunk the deadly coronavirus, 2021 is all about trying to understand the consequences of the COVID-19 vaccines. Since inoculation began worldwide, questions on what is considered safe and what are the new precautions one must bear in mind have resurfaced, most noticeably with regards to travelling—both, short trips and long-haul. Here's an explainer on what you need to keep in mind.
1. I've only gotten one dose so far. Am I fully vaccinated?
View this post on Instagram
Strictly speaking, Centers for Disease Control and Prevention (CDC) defines someone as 'fully vaccinated' only if you have taken both the doses and not developed any symptoms for two weeks after that. However, if only one dose has been injected, then you are not fully vaccinated.
2. Can I ditch my mask?
This is a tricky question and its answer cannot be summed up with a simple yes or no. According to CDC, you can ditch the mask only if you're certain the people around you are fully vaccinated and indoors. Moreover, you can also refrain from wearing the mask if you're around unvaccinated people from one household, unless anyone is susceptible to severe COVID-19 illnesses. Wearing the mask in public, however, is advised irrespective.
3. Do I need to practice social distancing?
If you're fully vaccinated and outdoors, CDC states that you need to continue maintaining a six-feet distance, irrespective of whether the crowd is fully vaccinated or not. In such cases, avoiding crowds and poorly ventilated spaces is advisable. The same rule also applies if you're gathering with unvaccinated people from more than one household, or visiting an unvaccinated person with an increased risk. Bear in mind that meeting and interacting with large groups increases the chance of risk.
4. I am fully vaccinated but my kids have not yet gotten the vaccine. What do I need to be careful of?
View this post on Instagram
Until now, India has not administered COVID-19 vaccines for anyone below the age of 45. With this in mind, CDC guidelines state that a fully vaccinated individual can meet with other unvaccinated household members without masks or social distancing, provided the unvaccinated people are at a low risk. Having said that, children need to continue exercising caution to prevent any unforeseen consequences. Either way, you need to keep an eye out for symptoms and get tested, if required.
5. Can I travel after being fully vaccinated?
CDC hasn't updated its travel recommendation yet (implying that all non-essential travel should be restricted). However following safety protocols continues to be advised. In general, CDC advises that one must self-isolate and home quarantine for seven days after the trip; and get tested 3-5 after returning as well. Additionally, a COVID-19 test must also be undertaken prior to the travel, ideally one to three days in advance.
In India, various states have introduced state-specific COVID-19 guidelines, irrespective of whether one has gotten the jab or not. In such a case, it is advisable to check with the local guidelines of both, the departing and arriving state. Currently, India's Directorate General of Civil Aviation (DGCA) has also suspended all international travel, except those specifically allowed by authorities.
6. If I do travel after being fully vaccinated, what do I need to be careful of?
If you need to undertake essential travels, wait two weeks after your second dose to give your body enough time to build protection, notes CDC. Get tested before embarking on your trip and make note of the travel restrictions. When in public, wearing a mask and practicing distancing is advised. In an ideal situation, avoid public transport, mass gatherings, and travelling with people who don't live with you, states CDC. Using hand sanitisers and avoiding touch should continue to be your motto.
Related: What Are Vaccine Passports And How Reliable Are They?
Written By