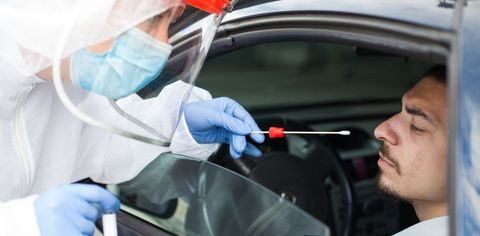 Travelling within India just got easier as these Indian states and union territories no longer require vaccinated travellers to furbish a negative RT-PCR report to enter. By Presha Mahajan
View this post on Instagram
With vaccination drives running in full swing and a receding record of COVID-19 positive cases in the country, curfew and lockdown restrictions are being gradually abated. The initial suspension of air travel in some places is now being lifted as well, albeit only for vaccinated travellers. Here's a list of Indian states and union territories that no longer require vaccinated air passengers to provide a negative RT-PCR report—which was so far mandatory—to enter their jurisdiction. It is to be noted that these relaxations come with certain conditions, and are neither permanent nor over-arching.
If you plan to travel to the union territory, you will have to furnish proof of COVID-19 vaccination and the confirmation of having administered at least one dose of the vaccine. It is imperative for the jab to have been received a minimum of two to three weeks prior to arrival in the UT.
You can fly out to the state if you are fully vaccinated against COVID-19 with two doses, and can present a final vaccination certificate.
Delhi
If you hail from Maharashtra, Andhra Pradesh or Telangana, no negative RT-PCR report will be asked upon arrival in Delhi.
A recent announcement by the state government dismissed the need to carry a negative RT-PCR result to enter its territory.
You can enter the state with valid proof of full vaccination. However, if one enters from Bihar, Delhi, Karnataka, Kerala, Maharashtra, Uttar Pradesh, and West Bengal, a negative RT-PCR report will have to be furnished.
If both the doses are administered, travellers will be permitted to take a trip to this north-eastern state.
Like Nagaland, Odisha, too, is also following the same set of conditions to let people into their state.
Similar to Chandigarh, Punjab has also imposed the same set of protocols if travellers wish to enter its borders. The administration of at least one dose is mandatory and sufficient for travellers to plan their trip to Punjab.
To enter this state without an RT-PCR report, travellers are required to be fully vaccinated. However, it is necessary for the second dose to have been taken 28 days before the visit.
Although the Central Government is formulating guidelines for vaccinated air passengers, the ultimate decision regarding the exemption of RT-PCR lies with the state governments.
Editor's Note: Keeping the current situation of the pandemic in mind, T+L India recommends every reader to stay safe, and take all government-regulated precautions in case travel at this time is absolutely necessary. Please follow our stories on COVID-19 for all the latest travel guidelines.
Related: QR Codes On RT-PCR Reports Now Mandatory For International Travel
Written By