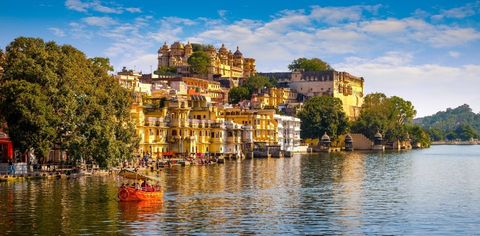 After witnessing a sudden spike in COVID-19 cases, Udaipur has put several preventive guidelines and restrictions in place. One of these guidelines suggests that you will now be required to furnish a COVID-19 negative test report to book a hotel room in Udaipur. By Kumar Shree
One of the most sought-after tourist destinations in Rajasthan, Udaipur has brought forth a fresh set of travel guidelines now. The Udaipur district administration came up with this decision after noting a drastic rise in COVID-19 cases in some areas of the city. All tourism stakeholders such as hotels, airlines, and airport authorities have been updated with the latest travel instructions.
View this post on Instagram
Udaipur has specifically formulated some instructions for travellers coming in from Maharashtra, Madhya Pradesh, Gujarat, Punjab, Kerala and Haryana. Since these states have been noting a steep rise in the number of COVID-19 cases, Udaipur has declared it mandatory for travellers coming from these states to carry a negative RT-PCR test report. As per the usual guidelines, the test should be taken within 72 hours from the time of arrival.
The District Collector at a recent meeting with the district-level task force also advised hotels, tour operators, and airline companies to observe additional precautions when dealing with travellers coming from these marked states. The district administration will also monitor railway stations and bus stands for proper implementation of the guidelines. Those who are found without a mask or not adhering to social distancing norms will be penalised.
View this post on Instagram
Udaipur District Collector has also barred hotels from taking any bookings without verifying the guest's COVID-19 negative report. If any guest manages to get a hotel room in Udaipur without the negative test report, then the hotel will need to get him/her tested at the earliest; and, the guest will be required to stay at the hotel until the test report arrives. If detected positive, the hotel must report to the medical department at the earliest.
Related: This Family's Vacation To Udaipur During The Pandemic Will Debunk All Your Travel-Related Fears

Written By