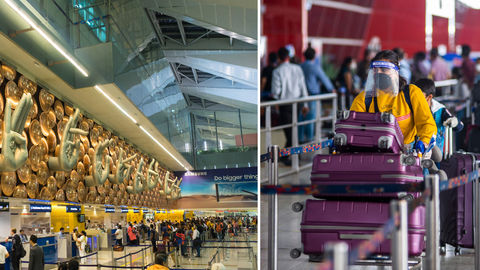 Delhi Airport's effective implementation of health and safety measures during the COVID-19 pandemic has made it the second safest airport in the world. By Tanvi Jain
View this post on Instagram
The Safe Travel Barometre — world's most comprehensive database for COVID-19 traveller health and safety protocols — has in its recently released Safe Travel Score — indicator of the preparedness of the travel industry as part of the 'new normal' — for airports worldwide, declared Delhi's Indira Gandhi International Airport as the second safest airport in the world, for effective implementation of COVID-19 related health and safety protocols. Whereas, Singapore's Changi Airport has taken the top slot with the highest score of 4.7 out of five, after an assessment of more than 200 airports.
"Close at the heels of Changi airport is Frankfurt Airport (FRA), Chengdu Shuangliu International Airport (CTU) and Delhi's Indira Gandhi International Airport (DEL), each tied at a Safe Travel Score of 4.6 out of 5. UAE's Abu Dhabi International Airport (AUH) and Dubai International Airport (DXB) are tied at 4.5 each," Safe Travel Barometre mentioned on its official website.
View this post on Instagram
"Other airports which made it to the global top 10 include, Bengaluru's Kempegowda International Airport (BLR), Hong Kong International Airport (HKG), Beijing Capital International Airport (PEK) and London Heathrow (LHR). Not a single airport from North America made it to the global top 10 list, primarily due to the relatively slow pace of implementation," it added.
Taking great pride in the score, the Delhi International Airport Limited (DIAL), was quoted by the media as saying that with this achievement, the airport has not just become second safest in the world, but also the safest in the country, with the help of measures it has taken to curb the spread of coronavirus.
View this post on Instagram
"These include the launch of 'RT-PCR' testing laboratory, implementation of touchless initiatives to enhance the passenger experience, 'UV' based disinfection process and development of 'AIR SUVIDHA' portal for easy and hassle- free arrival process of India-bound international passengers," DIAL said in a statement. (As reported by Business Standard).
Moreover, DIAL CEO Videh Kumar Jaipuriar was also quoted as saying, "it was a moment of pride that in this testing time of the ongoing COVID-19 pandemic, the Delhi Airport operator has been able to make exceptional accomplishment by securing the second position in the world for implementing effective safety and health measures at the airport." (As reported by Financial Express).
Related: First Time In India, Delhi Airport Introduces COVID-19 Testing Facility For International Arrivals
Written By