T+L India's A-List Member, Siddharth Dhanvant Shanghvi's First Non-Fiction Is A Stirring Memoir About Love, Loss, And The Path Of Healing
Drawing on a string of personal losses, Siddharth Dhanvant Shanghvi makes his non-fiction debut with a moving memoir, Loss. The celebrated author talks to us about the unbearable—losing his parents and beloved pet, the grief that followed, and the love that still binds it all together. By Sushmita Srivastav Loss tells the tale of your personal losses in great detail. How difficult was it to relive them all while penning it down?
Of course, Loss was difficult to write but the act of looking back and recognising how these lives had shaped mine filled me with gratitude, and a thrill for knowing them at all. I love the line by Jonathan Safran Foer, "I hope you never have to think about anything as much as I think about you." And that is what Loss is: a great and fond remembrance without regret.
When did you first think of writing Loss? What inspired you to write it?
Udayan Mitra, my editor at HarperCollins India, had suggested a collection of my previously published non-fiction. When we were putting that book together, my mind shifted—it felt a bit lazy, or just too easy. But a piece in this collection that held its own was about losing my dad. As I read it again, it had the spoor of a book—a thing of consequence to a reader.
Did the pandemic and lockdowns affect the narrative in any way?
Loss was to come out in spring when the pandemic broke, and publication was deferred to November. In the solitude of lockdown, my publishers granted me an extraordinary privilege: they allowed me to edit this book all over again. The act of revision is a service of refinement. The sense of general safety had gone away in the pandemic, and the sense of fatality and diminished time that defined our last few months informed the rewrite, imparting a pared-down quality to this book.
You made your non-fictional debut with this one. How different was the experience? And which type of writing do you enjoy more?
I don't really distinguish between the two mediums because the job of a book is to hold a mirror to your life, to give insight, or consolation, and perhaps the rarest quality of all: it should leave you feeling less lonely. Both fiction and non-fiction can do this easily, the vital things common to both are quality of writing and stylistic integrity.
The chapter The House Next Door is a series of greyscale pictures with melancholic undertones. What was the idea behind including these photos in the book?
The photos I made of my dad and Bruschetta [Shanghvi's pet dachshund] are from 2008-2011. They were displayed at galleries like Vadehra Art Gallery in Delhi and Galleri Kontrast in Stockholm. A small privately published book of photos—70 copies, to mark my father's 70th birthday—had existed. The critic James Wood said that writing, which mimics a photograph can deaden prose, but I disagree. The photographs were the first draft of the book, a way of thinking more elaborately.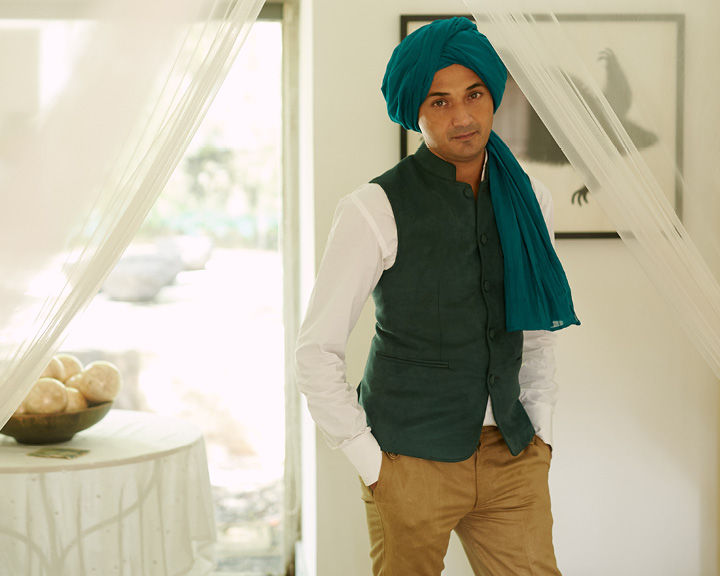 The book takes us from the deserts of Jaisalmer to the dense thickets of Matheran to the beaches of Goa and the chaos of Mumbai. What role do these destinations play in your narrative?
With colour tones that one draws from specific regions or a certain journey that changes your relationship with a past sorrow, travel layers writing. All that is foreign jolts the senses out of inertia. Travel is a kind of psychological foraging, a gathering of small stray things to make a meal for the mind. During the pandemic I remember thinking, I am going to get on a plane and go somewhere, anywhere. But I could not and I did not. An immersion into yourself is another kind of travel—you're already at your destination, and hopefully you like it there. I still have this image of driving myself to the airport but then turning around and going back home—there's a story there.
There are many literary quotes in your book. Were there any books in particular that helped you navigate the path of loss and grieving, and in writing this book?
It wasn't a particular book but the act of reading that helped me put myself together. We think of reading as something we do for education or pleasure but it is really a practice in stillness and consolidation. I agree with Pico Iyer who said that "today we think of adventure as a way back to silence." And this is also true about reading.
Tell us about Bruschetta. How different is the loss of a pet from the loss of human kin? Have you adopted any dogs since?
Bruschetta had a fine sense of humour, and she could really sulk; she was such fun, an antidote to life's seriousness. I miss her very much. I now live with Kora and Lila in Goa, who came from the wonderful animal shelter W.A.G (Welfare for Animals in Goa) run by the endlessly compassionate Atul Sarin. Lila and Kora are constant reminders that you will lose your loved ones, and no one will replace them, but the heart is brave and hardy and it will learn to seek again.
Loss, published by HarperCollins India, will be available on stalls and Amazon from November 24 onwards.
Related: #TnlBookClub: T+L A List Member & Author Siddharth Shanghvi Recommends These Travel Books: Your…