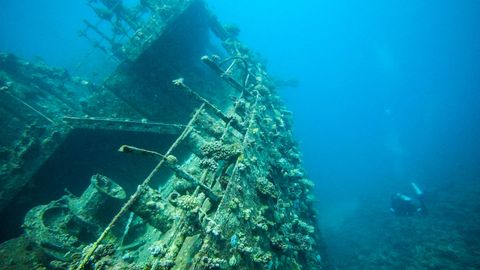 Isn't it intriguing to explore the underwater realms and uncover the mysteries surrounding shipwrecks? While the idea of diving deep into the ocean to witness sunken vessels is undeniably fascinating, there's an equally thrilling experience waiting for you at shipwreck locations along the seashores. What's more, some of these sites offer exploration opportunities without the necessity of scuba diving or snorkelling, catering to those who prefer a different kind of adventure.
According to UNESCO's analysis, there are reportedly over three million shipwreck sites worldwide, many of which remain undiscovered. So, let us be your guides as we take you on a journey to explore a selection of shipwreck locations, both above and beneath the water, to satisfy your 'curio-sea-ty' about the sea.
What are shipwrecks and why are they preserved?
Shipwrecks are accidents which lead to the destruction or sinking of ships, often due to collision with rocks or other catastrophic events.
Shipwrecks form an important aspect of marine archaeology and conservation. Some shipwrecks also affect the biodiversity underwater, serving as unique habitats for marine life. According to the UK-based Maritime Archeological Trust, "Maritime and Underwater Cultural Heritage (MUCH) is concerned with the relationship between people and the marine and coastal environment over time, using tools such as archaeology to investigate how the ocean was used through historical maritime artefacts." To sum up, it's safe to say that some shipwrecks are preserved to keep their history intact as well as to strike an ecological balance.
Prepare your bucket list with these unmissable shipwreck spots worldwide
MV Panagiotis, Greece Originally named St Bedan, this Coaster General Cargo ship is known to have rescued soldiers from the port harbour of Dunkirk during World War II. It is said that the ship got damaged due to a storm in 1980 while carrying illegal cigarettes and liquor to Turkey. It got washed towards Zakynthos Island and was forsaken by the crew post that.
Shrouded in numerous tales surrounding its wreckage, the remains of this vessel, nestled on the beach amid azure waters, draw inquisitive explorers to Zakynthos Island. It's also a famous spot for BASE jumping, an adventure sport that involves jumping from fixed objects.
How to reach: Reaching the MV Panagiotis shipwreck site in Navagio is possible only by boat. You can take one from Porto Vromi Maries, Agios Nikolaos, Zakynthos town or Skinari.
The Vasa, Sweden Deemed to be one of the shortest maiden voyages in history, The Vasa's journey ended at just 1300 metres after it set sail in 1628. Believed to be the most powerful ship at the time, The Vasa, which has its own dedicated museum now, witnessed an untimely end and sank.
It was in 1961 that The Vasa was salvaged after spending 333 years underwater. Following numerous proposals and extensive reconstruction efforts, the Vasa Museum (Vasa Museet) was officially unveiled in Stockholm in 1990, with the vessel being its star attraction. According to its official website, about 98 percent of the structure remains intact, making it appear far from a wrecked ship today.
How to reach: You can take a cab from Stockholm Arlanda Airport, which is approximately 44 km away from the museum. You can also take tram no 7 from the city centre and get down at Nordiska Museet/Vasamuseet stop.
SS Maheno, Australia The SS Maheno, once known as a technological marvel and a paragon of fine engineering, met its tragic fate in 1935. This one-of-its-kind ship was then destroyed in a cyclone while on its ill-fated journey from Australia to Japan.
This rusted structure at Fraser Island, which was a proud hospital ship during World War I, was constructed in 1905. It also served as a luxury cruise liner prior to the war.
Australia's Fraser Island may be a popular tourist spot, but it is also known to be a shore that has witnessed many shipwrecks, including SS Maheno, which could never reach Japan.
How to reach: The Hervey Bay Airport (HVB) is located approximately 64 km from Fraser Island. You can easily spot the shipwreck site from the main road along the 75-mile-long beach (about 120 km), which extends towards the island's east.
MV Captayannis, Scotland A shipwreck site that often attracts explorers, especially kayakers, MV Captayannis is a testament to the unfortunate cyclone that destroyed this vessel in 1974. It became the target of this natural calamity when it was stationed in Scotland for cargo unloading. A home for the fish and seabirds now, MV Captayannis is positioned on River Clyde in a way that anyone can reach it.
How to reach: The Glasgow Airport is approximately 61 km away from the site of MV Captayannis in Helensburgh. As you near Craigendoran and Greenock West, you can easily spot the shipwreck on River Clyde.
The Giannis D, Egypt This one is for scuba diving enthusiasts who don't mind diving into the deep Red Sea to witness this exquisite shipwreck site. Originally named Shoyo Maru in 1969 in Japan, and later renamed as Markus, the Giannis D embarked on its last journey from Rijeka, Yugoslavia, in 1983.
Now resting at the bottom of the Red Sea in three different sections of dilapidated structures in Abu Nuhas, approximately 10 metres from the surface, you may spot a school of fish emerging from its engine room as you explore its interiors.
It is believed that the ship sank due to a loss of focus and control by its captain, but fortunately, the crew was rescued in a timely manner.
How to reach: The best way to reach Abu Nuhas is by Red Sea liveaboard, which leaves from either Sharm El-Sheikh or Hurghada. The latter also has an international airport, the Hurghada International Airport.
Dimitrios, Greece Originally constructed as Klintholm in Denmark in 1950, this ship was later renamed Dimitrios. In 1980, it was moored in Gythio, Greece, but remained abandoned for over a year until 1981, when it was deemed dangerous. Due to turbulent weather, it broke free and drifted for over a month around the Laconian Gulf, until it came to rest at its current location.
According to rumours, it is believed that the ship was involved in the illegal smuggling of tobacco between Italy and Turkey, and it was set on fire to conceal any evidence.
How to reach: The Kalamata Airport is approximately 55 km away from Sparta in Laconia. You can easily reach the spot from there via Provincial Road Skalas-Githio.
Eduard Bohlen, Namibia Looking nothing more than the skeletal remains of a once majestic ship, the Eduard Bohlen shipwreck lies along Namibia's Skeleton Coast. This cargo ship met its fate while on a journey from Swakopmund to Table Bay in 1909, when it ran aground in thick fog.
Oddly enough, this shipwreck is around 1,000 feet away from the water, in the middle of a desert, which adds to its allure and beckons lovers of the offbeat. With Namibia's Skeleton Coast named as the graveyard of wrecked ships, this one in particular is a favourite of photographers.
How to reach: Hosea Kutako International Airport is about 40 km from Windhoek, which is about 485 km from Skeleton Coast. This spot is difficult to access, and you need a proper licence and a vehicle with a guide. Some people directly fly to this location via charter flights.
Peter Iredale, Oregon Popular among tourists visiting the coast of Oregon, this shipwreck site looks quite eerie as the sun sets. According to the Oregon History Project, "The Peter Iredale was a four-masted steel bark built in Maryport, England, in 1890 and owned by British shipping firm Iredale & Porter."
While on its journey from Salina Cruz, Mexico to the UK to pick up a cargo of wheat, it "ran aground at Clatsop Beach, hitting so hard that three of her masts snapped from the impact" even after surviving the heavy fog before.
The Oregon History Project quotes the ship's captain H Lawrence as saying, "A heavy southeast wind blew and a strong current prevailed. Before the vessel could be veered around, she was in the breakers and all efforts to keep her off were unavailing."
How to reach: The shipwreck site is located in Fort Stevens State Park, Oregon, which is an approximately 2-hour drive (92 km) from Portland.
The Nanhai No. 1, China Believed to have been built between 1127 and 1279 AD during the reign of the Song Dynasty in China, The Nanhai No. 1 was discovered in 1987 and preserved thereafter at the Guangdong Maritime Silk Road Museum. It was kept in a water tank filled with seawater and underwent rigorous excavation over the years. To date, over 200,000 culturally significant artefacts, including coins and vessels, have been recovered from the shipwreck.
Archaeologists raised the vessel in 2007 and moved it to Yangjiang. The area dedicated to the massive structure, which bears witness to its over 800-year-old history, was named 'Crystal Palace'.
According to Global Times, underwater archaeologist Wang Zhixin explained, "The shipwreck was salvaged through an original approach too. A tailored metal caisson was built around it so it could be salvaged holistically along with the surrounding ocean bed. This approach used 16 years ago inspired future underwater projects at other places around the world."
Other than getting glimpses of the vessel's history through various artefacts on display, visitors can witness the ongoing excavation being carried out by archaeologists through glass windows around the Crystal Palace at the museum.
How to reach: The Yongjiang Heshan Airport is approximately 79 km from the Maritime Silk Road Museum. You can take a bus from Yongjiang Coach Station to Zhapo, followed by a cab to the museum, which is on Silver Beach.
MS World Discoverer, Solomon Islands This half-sunken vessel has become one of Roderick Bay's known tourist attractions since 2000. After having sailed thousands of nautical miles and serving several owners, MS World Discoverer, which was built in 1974, collided with an uncharted reef and got stranded along the coast of the Solomon Islands. Fortunately, everyone onboard was safely rescued.
According to various reports, some salvage companies initially showed interest in the ship but later found out that it had been completely plundered during the civil war of the Solomon Islands between 1998 and 2003.
How to reach: The wreck site is located at Sandfly Passage, Roderick Bay, located approximately 8 km away from Honiara Airport.
(Hero and featured image credit: Jordi Ramisa/Getty Images)
Related: 10 Of The Most Picturesque Secret Beaches Best Reached By Yacht
FAQs
Why do ships sink and become shipwrecks?
Ships often sink due to various reasons, including catastrophes, natural disasters or collisions with rocks or land while being stuck in fog.
Are shipwrecks valuable?
Yes, many shipwrecks are valuable. According to various reports, many jewellery pieces, liquor and other exquisite artefacts have been discovered from shipwrecks.
Are shipwrecks protected?
Yes, some shipwrecks with historical importance are protected or preserved, such as The Vasa in Sweden.
Can shipwrecks be explored or visited?
Yes, many shipwreck spots can be easily visited, while for some you need to put in extra effort such as scuba diving.
How to book a visit to shipwrecks?
You can find out about the shipwrecks close to your destination and make your bookings accordingly based on the services offered by tour operators who arrange such visits.
Written By