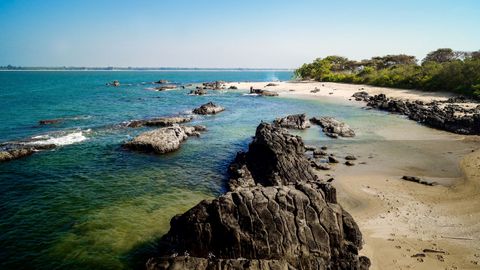 With secluded beaches, flourishing vegetation and uninterrupted solitude, lesser-explored islands offer a peaceful vacation away from overcrowded tourist destinations. And when it comes to offbeat destinations, India is home to several under-the-radar islands.
With a vast coastline of over 7500 km, the country has many beach destinations like Goa, Kerala, Andaman and Nicobar Islands, and Gujarat that tourists flock to throughout the year. But, if escaping these mainstream spots excites you, below is our pick of hidden islands in India that will take your breath away.
Add these hidden islands in India to your travel bucket list
Divar Island
View this post on Instagram
With numerous beaches and historical attractions, Goa has something new to offer every visit. On your next trip, head to the quiet Divar Island to experience Goa from a new lens. Located on the Mandovi River, this island provides a glimpse of the typical Goan countryside that is usually missing in touristy beaches such as Baga, Calangute, Anjuna and Candolim. The island is home to three villages (Piedade, Malar and Narao), a tropical forest, old Portuguese villas and temples.
Best things to explore: Visit the Church of Our Lady at Piedade and St. Mathias Church in Malar, spot stocks and kingfishers at the Salim Ali Bird Sanctuary, admire classic Portuguese architecture, and walk through the colourful cottages and fascinating ruins.
How to reach:
By ferry: The island can only be reached by a ferry. Board one from Old Goa, Naroa and Ribander.
Shop the best travel experiences here
São Jacinto Island Another hidden gem in Goa, located just a few km from Dabolim International Airport in Mormugao Bay, is São Jacinto Island. This small island preserves the old Goan charm as its inhabitants have vowed to never lease the place for tourism purposes. Walk through the abundant forest cover, admire the old traditional houses, and chat with the locals to learn more about life on this pristine island.
Best things to explore: Visit St. Hyacinth Cathedral and the abandoned Portuguese lighthouse overlooking the Indian Ocean.
How to reach:
By air: Dabolim Airport is the closest airport, 5 km from Bogmalo
By ferry: São Jacinto can be reached by a rented boat or a travel agency-led island tour
Hope Island Visit the tadpole-shaped marvel situated off the coast of Kakinada in Andhra Pradesh. This island was formed around 200 years ago when sand was deposited from the waters of the Godavari delta. Shielding the city of Kakinada against storms coming from the Bay of Bengal, with its thick mangrove growth, the young island provides calmness to the ships anchored in the bay. This also makes Kakinada Port one of the safest natural ports on the East Coast of India.
Best things to explore: Visit Coringa Wildlife Sanctuary to spot more than 100 species of rare birds, Kakinada Beach Park and Kakinada Beach.
How to reach:
By air: Rajahmundry Airport is the closest, 59 km from the island.
By ferry: Hop on a boat plying from Kakinada.
Quibble Island Take a trip to this quiet island in Tamil Nadu that shares its boundary with the southern stretch of Marina Beach in Chennai. Formed by the Adyar River and its tributaries, Quibble is one of the lesser-explored islands in India that should be visited to enjoy the tranquil landscape. The off-the-grid spot also has a large European cemetery, which houses the grave of famous actor and comedian J.P. Chandrababu, among others.
Best things to explore: Visit Santhome Cathedral Basilica, Guindy National Park, Chennai Snake Park and take a stroll on Marina Beach.
How to reach:
By air: Chennai International Airport is the closest, 16.3 km away.
By ferry: Take a ferry from Adyar.
Thinnakara Island
View this post on Instagram
Lakshadweep Island is hardly an offbeat destination, especially for honeymooners. However, most tourists miss visiting the uninhabited Thinnakara Island, just an hour away from the famed Agatti Island. A gorgeous white sand beach, corals and an unending ocean view with sparse human interruption can be expected on this tiny island in India.
Best things to explore: Try snorkelling, kayaking and scuba diving in the clear water.
How to reach:
By air: Fly from Cochin International Airport to Agatti Airport, which is the closest.
By ferry: Get on a boat from Agatti.
St. Mary's Island A small group of islands in the Arabian Sea, away from the Malpe coast of Udupi in Karnataka, lies St. Mary's Island. Dotted with coconut trees, this hidden jewel is the perfect place to relax away from the usual tourist crowd. Explore all four constituent islands in the vicinity, and unwind and lounge on the sand as you take a trip to this uninhabited island in India.
Historians believe this is where Portuguese explorer Vasco de Gama landed for the first time. He named the island after Mother Mary. Also called Coconut Island or Thonsepar, this place is known for its unique basaltic rock formations.
Best things to explore: Climb the rocks and click the various moods of the scenery or get on a jet-ski.
How to reach:
By air: Mangaluru International Airport is the closest, 62.7 km away from Malpe.
By ferry: Take a ferry from the harbour at Malpe that operates from morning to evening for approximately INR 300.
(Hero image and feature image credit: Manojz Kumar, CC BY-SA 4.0, via Wikimedia Commons)
Related: 10 Sustainable Experiences Around The World
Frequently Asked Questions (FAQs)
– What are the popular activities to do on some Indian islands?
Swimming, surfing, kayaking, cruising, scuba diving, snorkelling and fishing are some popular activities to try on any Indian island.
– Are there any restrictions on photography on the islands?
No, there are no restrictions on photography on the islands.
– Can I stay overnight on the islands?
Munroe Island allows travellers to stay overnight on houseboats.
– Are permits required to visit Indian islands?
Some islands in India, such as the Lakshadweep, require a permit to enter.
Written By