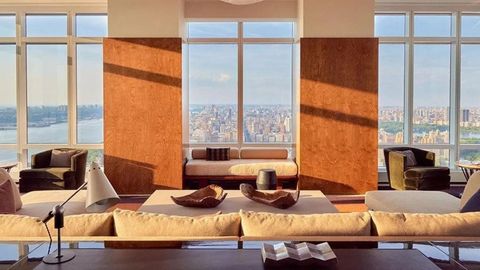 If you're in the market for a pad perfect for corporate scheming and hi-so debauchery with a large enough shower so you can cry in because your father doesn't love you, then look no further. The apartments that belong to Succession's Kendall and Roman Roy are for sale.
If you watch Succession and you find yourself dying to be a Roy, you probably need therapy. But once you're done with that, you'll be glad to know that you could take a simple step towards becoming the media magnate that you always dreamt of being, especially since the Roy brothers' apartments are up for sale. With just a few bucks—and by "few", I mean "a few million" – you could be the proud owner of a gorgeous New York apartment featured in HBO's Succession. And hey, if you've got a "few" more bucks, maybe you can even buy them both.
Inside Kendall and Roman Roy's apartments from Succession
Image credit: William Laird

Image credit: William Laird

Image credit: William Laird

Image credit: William Laird
Roman Roy's Upper West Side bachelor pad is located at 200 Amsterdam and occupies two floors. The penthouse, obviously located in one of New York's most prestigious neighbourhoods, offers stunning panoramic views that include Central Park and the Hudson River. It boasts four bedrooms and four-and-a-half bathrooms with a design that's pretty modern but also blends in touches of retro. All of this comes at a cool USD 38 million (HKD 29,74,54,500).
Meanwhile, Kendall Roy's five-bedroom four-bathroom penthouse is located on the opposite side of the city in the Upper East Side, perhaps if you, like him, want to live as far away from your annoying brother as possible. Located at 180 East 88th Street, this apartment is three stories, yet another feature that highlights why you're the better brother. Maybe you're the annoying one. Floor-to-ceiling windows, a panoramic skyline, a Central Park view, and a 3,500-square-foot outdoor space make this property worthy of a media executive. Of course, it also comes with a price tag worthy of one: USD 29 million (HKD 22,70,04,750).
Image credit: Sean Hemmerle

Image credit: Sean Hemmerle

Image credit: Sean Hemmerle

Image credit: Sean Hemmerle
Fans of HBO's Succession, or at least those with the budget to spare, should definitely get a move on if they want to nab one of these iconic places to call home. These apartments are certainly easier to get compared to the love of a domineering and cold-hearted father.
Watch Succession on HBO here.
This story first appeared here.
[Hero & feature image credits: William Laird]
Related: Miranda Priestly's House From 'The Devil Wears Prada' Is For Sale
Written By