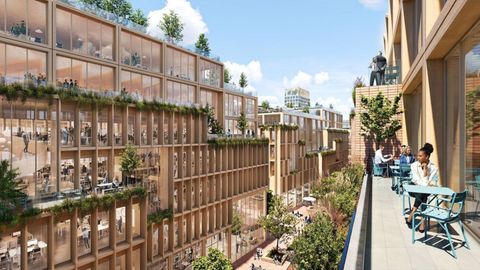 You may have stayed in many wooden houses on your travels, but ever heard of a wooden city? Sweden will be home to one after the Stockholm Wood City project begins in 2025.
It is spearheaded by the developer Atrium Ljungberg and is being designed by Henning Larsen and White Arkitekter. Named Stockholm Wood City, the Swedish destination will be the largest wooden city in the world. It will be constructed in Stockholm's Sickla neighbourhood and will use more timber than any other development project, writes Dezeen.
All we know about the wooden city to be constructed in Sweden
View this post on Instagram
This wooden city in Sweden will have 7,000 office spaces and 2,000 homes. The work is to be completed in 10 years, reports The Economist. It's expected to cost around SEK 12 billion (HKD 8,77,53,44,067), the report adds. The project will be spread over 25,00,00 square metres and will feature nature-related elements to give it the feel of a forest. The first set of buildings is to be constructed by 2027.
Talking to Dezeen, Atrium Ljungberg said, "We sought to create an urban environment infused with the serenity of a forest, resulting in a dense, open space that bears the distinctively minimalistic and functional aesthetic of a Scandinavian design." The developers added that architects have creatively incorporated natural elements into the design. These include green roofs for better insulation and large windows that let in natural light.
But, won't there be fire risk with the use of timber? "Engineered wood forms a protective char layer on the surface that retains much of its structural strength, contributing to a safer structure," the developer told Dezeen. Additionally, this material will have fewer emissions than concrete which will in turn have a reduced impact on the climate — both during the construction as well as throughout the city's life cycle, added the developer.
All currency conversions were done at the time of writing
Hero and Featured Image credit: @atriumljungberg/Instagram
Related: 9 Best Places To Live In Your 30s, According To Real Estate Experts
Written By