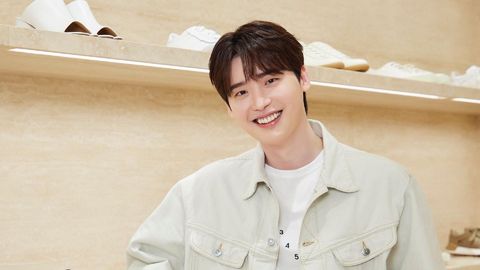 South Korean actor Lee Jong-suk has added dates and cities to his ongoing 2023 Fan Meeting Tour. The tour will start in July and continue through October across 11 Asian cities.
Lee is one of the most prolific K-drama actors in the South Korean entertainment industry. His television credits include Doctor Stranger (2014), Pinocchio (2014–2015), and While You Were Sleeping (2017).
Lee has also made a mark on the big screen with critically acclaimed Korean movies such as The Face Reader (2013), V.I.P (2017) and Decibel (2022).
The actor enlisted for South Korea's mandatory military service in March 2019 and was discharged in January 2021. His first television project following his discharge was the critically successful K-drama Big Mouth (2022).
Lee Jong-suk Fan Meeting Tour 2023 dates and cities The tour will start on July 1 in Hong Kong and end on October 28 in Ho Chi Minh City in southern Vietnam. Lee will come to Bangkok on August 19 and to Singapore on October 4 as part of the tour.
07.01 – Hong Kong
07.08 – Taipei
07.15 – Jakarta
08.05 – Dubai
08.19 – Bangkok
09.10 – Seoul
09.18 – Osaka
09.21 – Tokyo
10.04 – Singapore
10.15 – Macau
10.28 – Ho Chi Minh
View this post on Instagram
Lee Jong-suk in Manila
On April 16, Lee held a fan meeting in Manila, which was his first fan meeting in the country since 2018. The fan meeting was held at the Plenary Hall of the Philippine International Convention Center (PICC).
According to Manila Bulletin, the hall was jam-packed with Lee's fans. The actor responded to questions that were pinned to a board. He met three of the fans on the stage. Lee also sang for the Korean boy band g.o.d's "Again."
South Korean actor Shin Ja-hae, who was Lee's co-star in While You Were Sleeping, was a special guest at the fan meeting in Manila.
Lee is in a relationship with IU A South Korean media outlet reported on December 31 2022 that Lee was dating singer-actor IU, whose real name is Lee Ji-Eun.
The news was confirmed by the respective agencies of the two stars. Both Lee and IU separately posted lengthy messages for their fans explaining how they met and their love for each other.
Lee said that he met IU when he was in his 20s.
This story first appeared here.
(Hero and Featured images: Courtesy of @jongsuk0206/Instagram)
Related: CNBlue's Jung Yong-Hwa Is Performing In Hong Kong This July
Written By