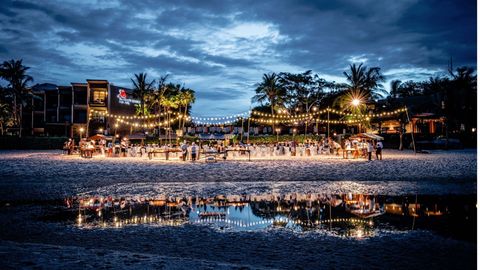 The Next Wave is set to be Hong Kong's first beach carnival and music festival.
Got your summer plans sorted? Add The Next Wave to the list! Dubbed Hong Kong's first beach carnival, the two-day music festival is set to take place in July.
Festival goers can expect eight hours of entertainment per day in a venue "bigger than the Hong Kong Stadium" according to organisers. So, mark your calendars for this exciting summer event!
The Next Wave: All the details you need to know about the beach carnival
The event will include more than 20 singers and full DJ performances ranging from different music genres. But there will also be food and dining, more than 30 lifestyle brands, over 40 yachts, and 70 VIP sections.
Organisers expect more than 30,000 attendees over the course of two days. They also teased that there will be a large-scale sea park complete with rowing boats and yachts for rent in addition to other water-related activities. It looks to be a summer beach extravaganza for friends and families!
The venue and ticket details have not yet been disclosed so stay tuned on the official social media page for updates.
View this post on Instagram
Make a splash this summer
The Next Wave is the latest big-scale event announcement in Hong Kong. In August, Thailand's famous S20 Songkran Festival is happening for the first time. There will also be various international and local artists performing in the city. This includes Daniel Caesar and ATEEZ, both performing in Hong Kong for the first time. Also, don't miss out on local artists like Joey Yung and Mirror members, who are hosting a series of shows.
While many Hongkoners may be opting to travel during the summer break with free ticket giveaways still up for grabs, there are plenty of events in the city. SummerFest, the largest outdoor summer carnival is making a spectacular return while the AIA Carnival is capping off the year.
This story first appeared here.
Featured and hero image credit: Pariwat Srisuwan/Unsplash
Related: Lollapalooza To Knotfest: Have A Blast At These Unmissable Music Festivals In 2023
Written By