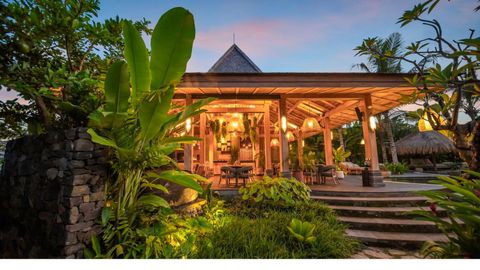 These are hottest new hotels, restaurants and bars that you need to add to your Indonesia must-list, in Bali, Jakarta and beyond. The pandemic may have dealt a serious blow to tourism in Indonesia, but some used that time to create and innovate. Just look at Bali. The island, which depends largely on tourism, reopened in early 2022 and while many remote areas are still recovering, Bali reached more than 2.1 million visitors by the end of the year. There has been a long list of exciting launches over the last year, from new nature resorts and luxury hotels to farm-to-table restaurants and boutique bars. Even in Jakarta, progress has been slow but steady, too. Here's our list of the best places to sleep, eat and drink in Indonesia that were new in 2022 and await excited travelers this year.
BEST NEW HOTELS AND RESORTS IN INDONESIA
Buahan, a Banyan Tree Escape, Bali "The hotel without walls." Yep, there's a reason why this was of the most-hyped openings in all of Asia for 2022. Set on the verdant cliffsides of four hectares of organic farm and jungle, this sustainable nature retreat features 16 sprawling open-air bales with private pools, oversized copper bathtubs and sheer veils enshrouding the beds instead of walls—the better to 200-percent connect you with the nature all round, at all hours. (Don't be surprised if the pre-dawn gecko mating calls seem in surround sound; you'll adjust by a couple of nights in.) The immersive farm-to-table concept has guests foraging with chefs who explain how permaculture works and collect ingredients for what are predominantly plant-based, seasonal, hyper-local meals, all of which are terrific tasting menus, including breakfast.
escape.banyantree.com; doubles from US$1,040
Lost Lindenberg, Bali
[gallery ids="6210,6211"]

A plant-based, surf-themed concept has emerged near Medewi in West Bali, where a Frankfurt-based brand has created an edgy, architectural wonder on a deserted black-sand beach with a gently breaking wave. Guests walk through a thought-provoking art installation and into another world when they arrive here, one that celebrates communal dining, surfing and slow travel. Each of the rooms are elevated into the sky like watchtowers and the spa is housed in a traditional gladak sourced from Java. If you haven't done it yet, this is the place to pick up surfing.

thelindenberg.com/en/hotels/lost/lost-lindenberg; US$768 for minimum two nights
Desa Hay, Bali Take the hand-laid stone path through the jungle overhang to one of six standalone villas each secreted behind oversized hand-carved doors… Opening yours reveals a private verdant fairyland, with plunge pools, hammocks and/or swings, and outdoor tubs. Be sure to fill out your pre-check-in registration form online so that your cocoon is stocked on arrival with your favorite alcohols and preference of healthy treats. Otherwise, no worries, because you can ask for anything (morning yoga tomorrow, in-room massages now) on your easy-to-use in-room tablet that is also—wondrously—connected to your Whatsapp, so that whether lazing there or a few kilometers away at a Canggu beach club, the entire staff can respond to your every whim. The owners are a lovely Canadian couple who have backpacked the world, are using tech to track and reduce the hotel's consumption, and sponsor the school fees for an entire orphanage of kids in Denpasar. How can you not want to support this micro-luxe new SLH beauty?
www.desahay.com; doubles from US$400
K Club Ubud, Bali Extreme glamping, glamping on steroids, whatever you want to call it, it's definitely a thing in Bali. This French-owned Ubud resort has a range of accommodation options, including both villas and luxe tents, as well as a Jungle Club which hosts pool parties with Burning Man-esque vibes. The Sensual Infinity Pool Tent Suites come with a full-size, partially tented infinity pool, plus complimentary afternoon tea and flower Jacuzzis.
kclububud.com; US$268
Cap Karoso, Sumba Part of the Design Hotels portfolio, this modern retreat in the village of Kodi on the Indonesian island of Sumba is one of the most exciting openings from 2022. And refreshingly, it's not overpriced. The French-owned aesthetic departure fuses details inspired by the striking, tall-thatched roofs of Sumbanese villages with modern architecture, including stylish pool villas and a spa that draws on the knowledge of local healers. It also has a number of sustainability initiatives under way, and aims to be 85-percent solar powered by 2025.
capkaroso.com; doubles from US$254
Jumeirah Bali
[gallery ids="6206,6207"]
Dubai's extraordinary level of luxury has landed in Bali. The first property from the Jumeirah Group is themed on a Javanese-Hindu water palace and overlooks the Dreamland surf break on the Bukit Peninsula and has direct access to the beach. Each of the villas have soaring ceilings, pools and beautiful wood carvings. This stunning property is also home to wood-fired Akasa and Talise Spa, the destination for dreamy hammam treatments.
jumeirah.com/en/stay/bali/jumeirah-bali; doubles from US$734
St Regis Jakarta
[gallery ids="6217,6218"]

Located in the Golden Triangle district of Indonesia's buzzing capital, just moments from the four main business district, this just-opened property arrives in style with 254 luxurious rooms and 28 suites. It may be surrounded by skyscrapers, but the hotel has both a resort-style pool and two-story spa, as well as eight different outlets for dining and drinking. Expect lavish colonial-inspired interiors and the brand's 24-hour butler service for all guests.

www.marriott.com/en-us/hotels/jktxr-the-st-regis-jakarta; doubles from US$269
Park Hyatt Jakarta It may have been five years behind schedule, but the opening this year of this lofty hotel in the heart of Jakarta was worth the wait. Occupying the top 17 floors of the 37-level MNC Land Tower, the hotel has 220 oversized guest rooms and 36 suites, with the standard room size starting at an expansive 600sqft. The 35th floor outdoor pool has impressive views over the city, while the spa's crystal steam rooms and experience showers are the perfect place to unwind after a day of sightseeing or business.
hyatt.com/en-US/hotel/indonesia/park-hyatt-jakarta; doubles from US$249
Sail Vela, the Indonesian archipelago Bali-based sustainable resort Nirjhara this year announced it would be setting sail. On a luxury phinisi, that is. The latest in a long list of hotels to take their concept to the water with a cruising off-shoot, Sail Vela offers chartered itineraries for groups of friends and families to the most remote corners of the Indonesian archipelago, such as Komodo and Raja Ampat. Up to 12 guests are accommodated on board in the comfortable, design-conscious six suites.
sailvela.com/suites; from US$13,500 a night for a four-night minimum charter.
BEST NEW RESTAURANTS AND BARS IN INDONESIA
Club Soda, Bali Ubud's The Night Rooster may have had its last crow, but the team is back with this hip bar tucked away (almost too well) in a residential part of Berawa. Part of the award-winning Locavore crew, the craft cocktail bar is owned by Raka Ambarawan and his boozy, fermented arak infusions are seriously good. The disco ball out front, neon-lit interior and old-school TVs speak to the retro theme. But the DJ-spun beats, Japanese-style bar snacks and cocktails are original as hell.
locavorenext.com/family/club-soda; about $USD50 par deux
Segno, Bali Again, the best bars in Bali are usually the hardest to find. The 'S' logo mingling with other signs on street is the only thing that gives away this posh bar from renowned Japanese mixologist Yutaka Nakashima, the man behind Jakarta's Koda. Wall-to-wall red carpet lines the staired entrance to this spot, which you access via a fire exit door off Batu Bolong before being greeted by staff dressed in waistcoats. Italian-style bar snacks of charcuterie and garlic prawns are served alongside pandan cocktails served with hand-cut ice.
www.instagram.com/segno.bali; about US$50 par deux
Honey & Smoke, Bali After a short hiatus spent in Perth (where he opened Will St in Leederville), celebrity chef Will Meyrick has landed back in Bali with a bang. Or shall we say a 'sizzle'. This new speakeasy-style bistro off Jalan Monkey Forest in Ubud is a detour from his other restaurants, instead honing in chargrilled modern Australian fare that's been 'blessed by fire'. Share everything from za'atar chargilled pork loin with green chimichurri and harissa to lamb neck that's been slow-roasted for eight hours served with mint sauce.
honeyandsmoke.co; about US$80 par deux
Skool Kitchen Bali Two of Bali's biggest hospo personalities are behind this 'primitive cooking' concept overlooking Batu Bolong Beach. Tai Buddha of The Lawn and Times Beach Warung and Adam McAsey of Sisterfield's, Bikini and Boss Man have teamed up to create a beachfront experience unlike any other in Bali. Young Chef Vallian Gunawan is completely at home in his fiery kitchen and is a delight to watch. Grab a seat the bar to see how flames making everything from half a chicken to baby gem lettuce better.
skoolkitchen.co; about US$100 par deux
Mosto Bali Part natural wine bar, part French bistro, this Berawa venue from the team behind Motel Mexicola, Dar Maria, Luigi's and Uni, is all flickering candlelight, beautiful people and good wine. Sommelier Nicolas Lento, Indonesia's only importer and distributor of natural wine, has crafted an extensive Euro-centric wine list that categorizes the drops by their character rather than variety. Bistro-style share plates keep you from getting too tipsy.
mostobali.com; about US$80 par deux
KITA, Jakarta Located on level 36 of Park Hyatt Jakarta, this smart Japanese eatery has a sushi counter, a sake bar, private dining tatami rooms, plus two teppanyaki rooms and a series of robatayaki grill tables and shabu-shabu. Helmed by Japanese executive sous chef Takeumi Hiraoka, guests can opt for an omakase experience of sushi and sashimi while they admire the breathtaking views of the city during sunset.
hyatt.com; US$50 for set menu
Cantinero, Jakarta The latest from Biko Group, this lively underground Mexican cantina and bar is located underneath Fujin Izakaya in Gunawarman off Senopati, one of Jakarta's best eat streets. Tacos are loaded with fish, beef tongue or mushrooms and mains of carne asado or pork belly burritos nicely soak up the tequila, slushy margaritas and mezcal. Time your visit right to enjoy specials such as Tequila Thursdays.
biko-group.com/cantinero; about US$40 par deux
Written By