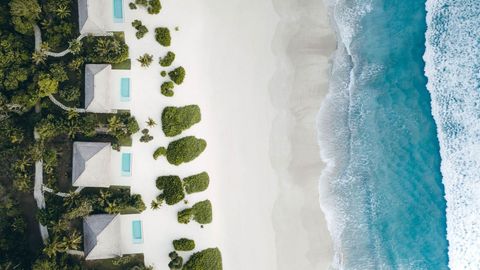 Opened in 2022, The Sanubari is slowly and consciously developing into a vast beachfront nature preserve with luxurious villas, mindful amenities and an admirable community focus. This intimate yet sprawling resort on little-known Sumba Island is an eco-aware paradise that took a decade to build but will hopefully have a positive impact that reverberates down the generations. THE APPROACH TO THE FLAWLESS 2.5-kilometer white-sand beach of The Sanubari is long, winding and postcard-worthy scenic, embraced by lush, rolling green scenes and bucolic rice fields. That's because the for-now-nine-villa resort sits on a spectacular 100-plus hectares of pristine land representing some of Mother Nature's finest on Sumba, the little-traveled Indonesian island that's in many ways quite the opposite of Bali. Smiling faces and the sight of emerald waves beyond the palms signal the arrival, which might feel like the pinnacle of the journey since it's an hour-and-a-half drive from Tambolaka's small airport in the north, but in fact the journey has just begun. The Sanubari, in all its quietude and beauty, is a place to disconnect from the outside world—easy to do in Sumba, where signals are not always the best, which is a great thing on holiday—tap into the environment, and contemplate or reflect on oneself. And perhaps some of the 100 local Sumbanese staff who are among the sweetest people you'll ever meet.
The pace at The Sanubari is generous and slow, and has been since the start. It has taken more than a decade for this Earth-conscious resort to become reality, due to both challenges of building in a quite remote part of the world and also because of the consciousness involved in creating something to benefit its community, too. Even before the resort opened, the emotionally invested owners—Brits Alan and Roger Thomas along with Rowan Burn—established a small school for some 15 kids from the local community, focused on creative styles of learning and, eventually, agriculture on the property's farm. It's being ramped up thanks to a new permaculture expert, but is currently producing rocket, lettuce, tomatoes, cucumbers, beans and herbs plus several fruits. They plan to also plant sandalwood saplings to compensate for the island's devastated forests, which were downed for construction and trade.
"We hope they grow up realizing they can support themselves largely from the land," says Burn of the invariably malnourished youth, who all get a wholesome meal while attending. "This ties into nutrition, health and wellness, which will become a strong focus over the years for both our community-based work and the overall project," he adds. In the coming months, they're launching initiatives that will bring water purification to nearby schools and villages to ensure children have clean drinking water (a major, pervasive issue on Sumba), tackle the rise in the use of plastic water bottles, and provide reusable period underwear for young women who wind up missing a lot of school on a monthly basis. They hope the several-acre farm will eventually produce enough organic produce to sell—along with homemade oils, creams and milks—in a village store concept that would double as a hub for training locals in new skills. For now, its bounty is consumed by guests via menus featuring both delicious Indonesian and Western fare focused around sustainable sourcing. A new, larger restaurant plus communal swimming pool is currently in the works, expected to open in early 2024, and the existing open-air oceanfront eatery—whose timber columns are stunningly carved with indigenous symbols—will pivot into a guest lounge with food options to go along with cocktails and coconuts from the thatched-roof guest-only beach bar. The experiences on offer cement the sense of place. There are opportunities to visit a traditional off-the-grid village where guests guided by a staff member can chat with and see the soaring homes of residents and watch ikat weaving. There are pottery lessons with an elderly Sumbanese woman whose vessels—along with other local artisan crafts and decor—are featured in the beach villas topped by roofs of alang-alang, woven from abundant native grasses. There's a small hilltop bale for sunrise or sunset picnics or drinks, and a nice 45-minute hike to another peak for solo meditation.
Like at the renowned Nihi Sumba, The Sanubari has stables housing gorgeous horses available to ride on the sand and even into the turquoise ocean. Shockingly, they love it and the experience is incredibly peaceful. Horses are an important part of Sumbanese culture and history—they're a critical element in the annual tribal jousting-like competition called Pasola—and here they're cared for with lots of respect. Besides surfing and hiking, plenty of opportunities to be active include beach volleyball, an outdoor gym and, soon, pickleball and a sauna–ice bath combo for contrast therapy. E-bikes are on the way, and a transition to solar power is in the pipeline. Eventually there will be luxurious larger residences and a membership structure for the non-exclusive lifestyle destination with special rates on accommodations, services; rentals of cars, surfboards and horse stables; and produce from the farm.
Two-bedroom villa
But, like many of the best things in life, it'll all take time. And on Sumba, where development tends to happen at a snail's pace, The Sanubari team know they can't rush. Not if each flamboyant sunset and swish of a horse's salty tail and outdoor oceanfront shower is to be mindfully savored.
---
Images courtesy of The Sanubari, unless otherwise noted.
Written By