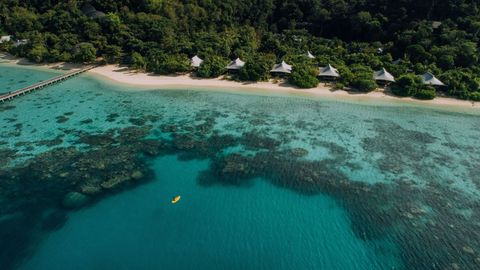 In Indonesia's remote Anambas Islands, Bawah Reserve can only be reached by seaplane. Considering how much they tout their eco-cred, we wondered how to reconcile the emissions with the green exertions. So, we visited and asked, and they answered. From the numbers below, Bawah Reserve seems to show that luxury can add up to sustainability and net-positive social impact. AT FIRST GLANCE, you may feel like you've touched down on the laidback love child of the Maldives and St. Lucia. But Bawah Reserve isn't your typical five-star tropical-island getaway. What started as a conservation project to preserve the lagoon's reef and marine life from dynamite fishing has become one of Asia's most sustainable resorts. Its secluded locale, hidden amongst Indonesia's remote Anambas Islands, means seaplane is the optimal way to arrive. Arguably the least eco-friendly aspect of the island, the transport's impact is offset in a major way.
Every roundtrip seaplane to the six private islands that make up Bawah Reserve emits 2,000 kilograms of CO2, equivalent to roughly 100 trees. And while the resort didn't cut down trees when building its 42 villas (including its new Elang Private Residence), they've planted thousands since they opened in 2018. In collaboration with Indonesia's Anambas Foundation, they've planted 1,950 trees and 1,200 mangroves this year alone.
Elang Private Residence
Just before the seaplane skids across turquoise waters, guests catch a glimpse of Indonesia's largest floating solar farm through its windows. Made of 1,170 panels, the energy collected fills 55 underground lithium batteries. Inverters then convert the energy into AC electricity that powers 50 percent of the resort. That's the equivalent of seven million laptop charges and 261 one-way flights from London to Jakarta. With a "no plastic" rule on the island, the Bawah Reserve desalination plant is crucial to avoiding shipping any water to the island. Instead, seawater is collected into the resort's desalination plant for purifying and use throughout the resort. The island's latest green technology is its new bottling plant, which adds in the minerals and nutrients that the desalination process strips out, a feature most resorts omit.
And when plastic does make its way to the island via guests, product wrapping, or the waves, there is a waste management center with two team members dedicated to sorting properly. There are 17 containers with seven different bins to separate the various kinds of plastic. At the end of the month, 1.5 tons are taken off the island and sent to the Anambas Foundation, where it is recycled. When it comes to food waste, Instead of feeding it to the fish, Bawah Reserve has recently dug 13 compost holes to deposit any leftover food items. At the end of the month, they harvest the compost and use it on plants around the island and the resort's permaculture garden. Lined by recycled coconut shells, the team here grows 40 percent of the produce for its two restaurants, from chilis to spinach, and harvest honey from 11 hives. Last month they collected 55.5 pounds (25 kilograms) of produce, 12.5 ounces (354 grams) of honey and 867 pounds (393 kilograms) of coconuts.
This spectacular Robinson Crusoe castaway island proves that sustainability and luxury aren't apples to oranges. Now, someone just needs to invent an electric seaplane. ---
Images courtesy of Bawah Reserve.
Written By