Two-star Michelin restaurant Sichuan Moon, at Macau's Wynn Palace Hotel, enjoyed two years before the pandemic shut Macau from the world. But the restaurant, under the talented guidance of culinary director and award-winning chef Andre Chiang is back with a vengeance – and a new Discovery menu.
A Review of Sichuan Moon Sichuan Moon offers two menus. The Classic (MOP2,888/HKD 2,806) takes diners through some of the more traditional Sichuan dishes such as ma po tofu and dan noodles. The Discovery menu (MOP3,288/HKD 3,194) is a more seasonal-based menu which offers many detours into some lesser-known but no less delicious tastes of the cuisine.
Naturally, we went with the Discovery menu. With 24 courses and lots of interesting distractions on the side, it is hard to know where to start in describing our meal at Sichuan Moon to give it full justice. Suffice it to say that from start to end, it was truly a journey of discovery into the world of Sichuan tastes beyond "ma la".
The meal started with a Chinese tea ceremony at the back of the main dining hall where tea masters brew the Pu Erh Flower Buds picked from Xishuangbanna in Yunnan, which are only harvested once a year.
Chiang and his executive chef Wilson Fam don't do things by half measures here. Not for them, a couple of small plates of pickled turnips. Instead, we were treated to a mind-boggling 12 plates of pickles from the usual turnips and ginger to special ones like rhubarb and the "salty, sweet and sour" of watermelon skin, melon and cucumber skin.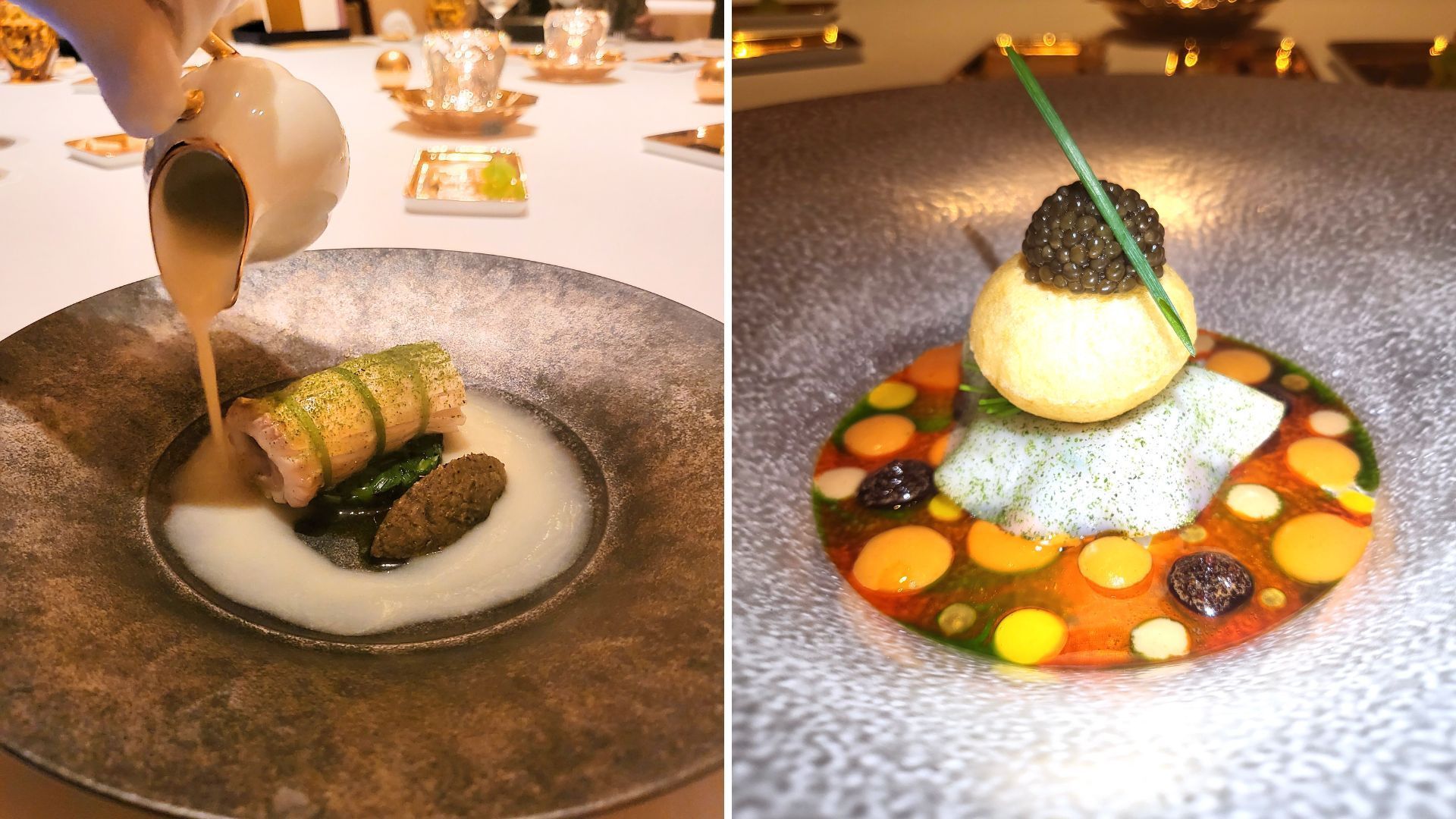 What was interesting in the menu was the chefs' take on Sichuan tastes. While the spice was familiar the presentation of the dishes offered a high level of reinvention. We eased into the meal with two signature snacks of the Kamatoro caviar tart and the spiced beef pie, both of which would not be out of place in an upper-crust French restaurant.
The auspicious 88 Fortune Treasures, comprising eight cold appetisers, were also presented together creating a high level of impact. The appetisers which ranged from the more familiar eggplant to French rabbit with cumin offered a variety of umami from the different spices.
Ancient sage Zhang Zhongjing, credited with inventing the dumpling back in 206 BC, would find it hard to recognise his Zhong dumplings at Sichuan Moon. The "dumpling" stuffed with ma la lobster sashimi sits on a base of eight deconstructed spicy sauces, making every mouthful an umami eruption.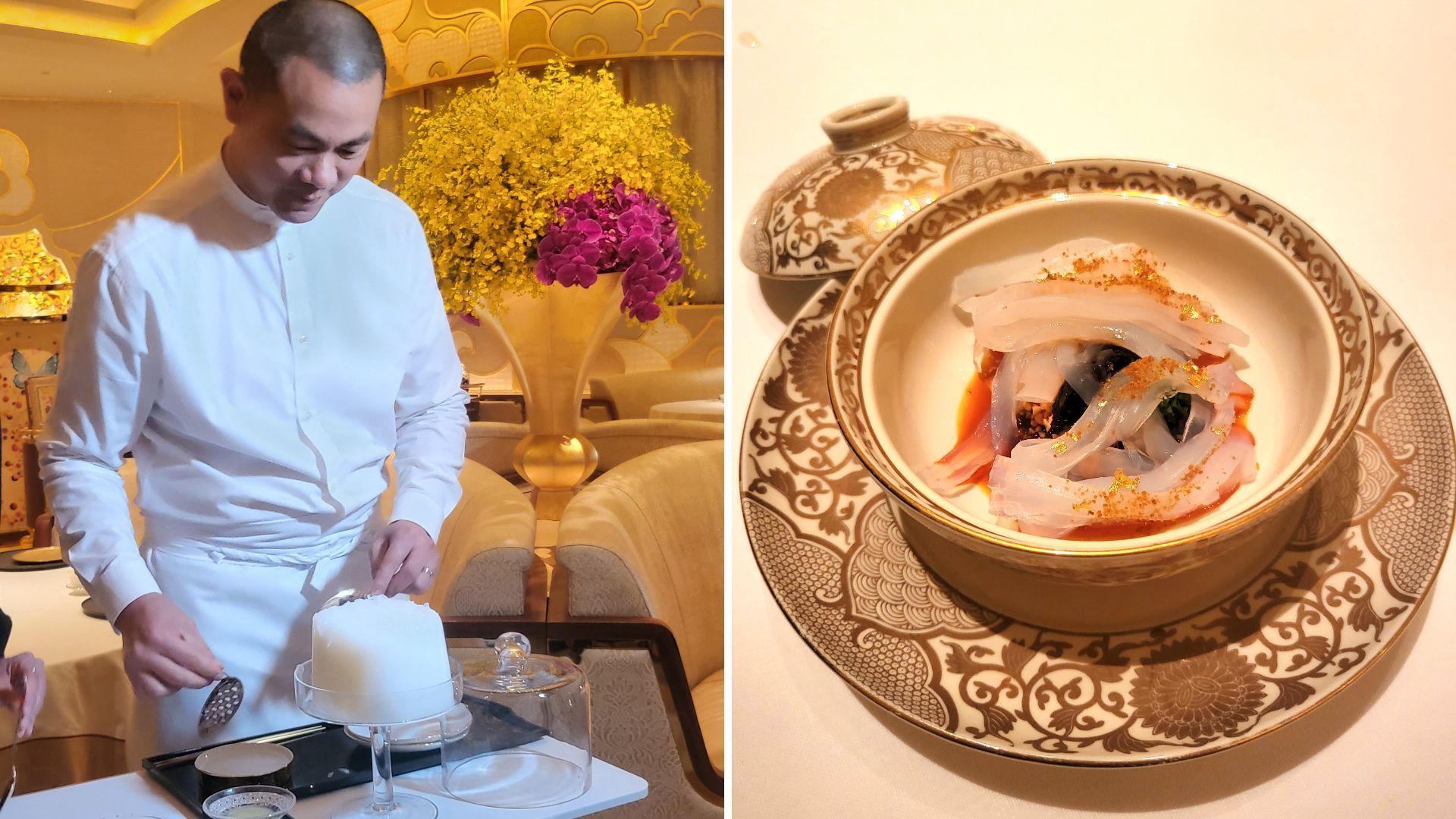 Course after course presented surprise after surprise, with spectacle after spectacle. Even the simple mung bean jelly dish was deconstructed to first an XO sauce made with silverfish, ham and truffles and other seasonings before Chef Chiang shaved fresh mung bean jelly to be added and mixed.
The traditional Chinese ingredient abalone was cooked Wellington style and served with fresh pepper sauce: the abalone was soft and tender but it was the fluffy pastry that was the hero of the dish. This is well worth a trip across the waters.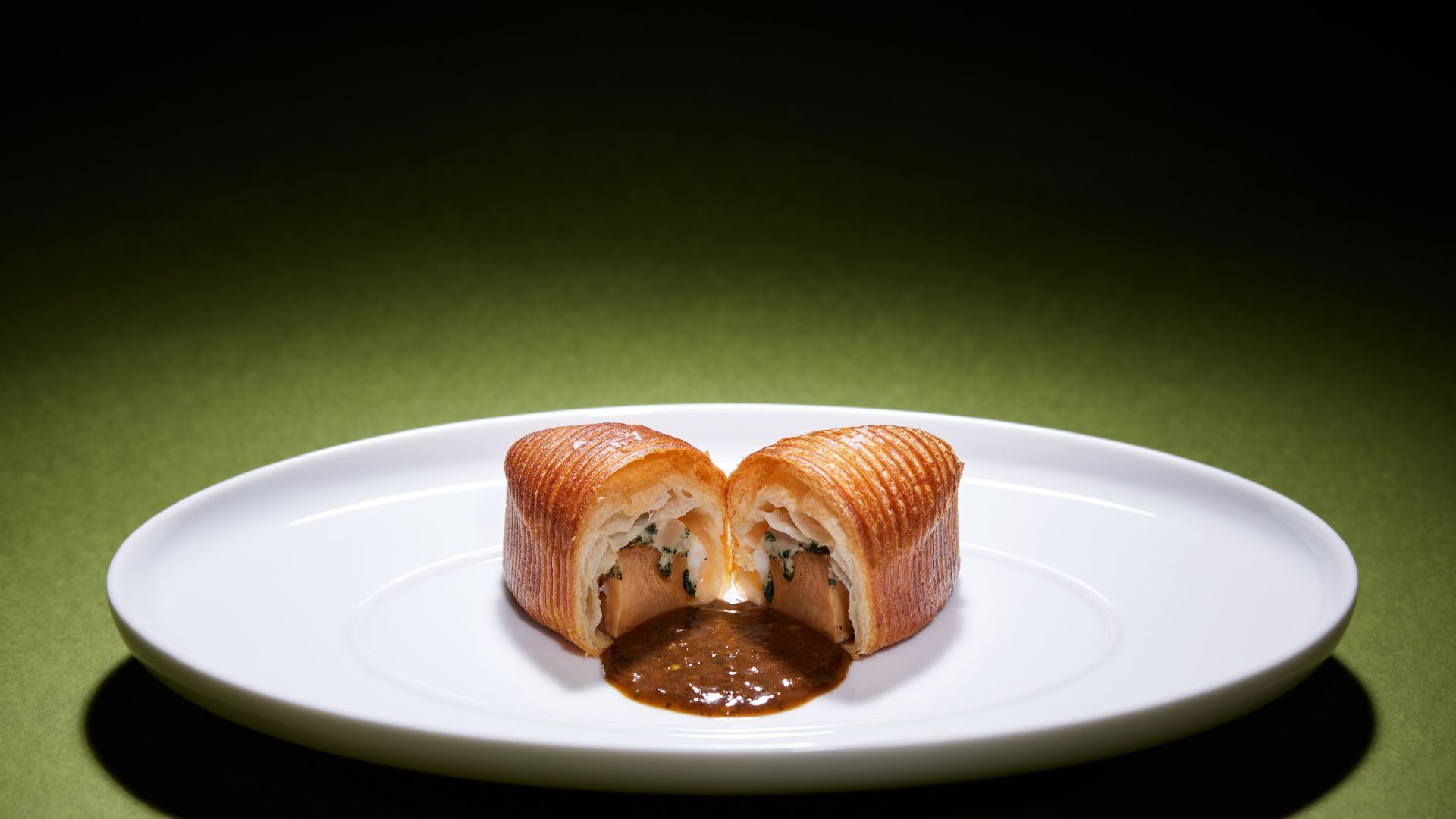 One of the most interesting discoveries of the meal is also learning how to eat some of the more imaginative courses. The best example would be the wood-roasted meat in unusual flavour, which was actually Japanese A4 Wagyu and vegetables stuffed into a crisp roasted chicken wing, served with sweet sauce, chives and crunchy shrimp, and a wrap. It took some intense discussion before we realised we were supposed to eat it Peking duck-style!
Even though the meal wasn't overly spicy, the dessert of ice jelly with Shizuoka melon juice was a deliciously refreshing respite before we ended with the goji berry beehive cake.
It's hard to remember the last time I had such a complete dinner experience where my taste buds were continually stimulated by the sour, bitter, sweet and spicy, and the brain was so engaged in the stories and the philosophy of the chefs.
Book your stay at Grand Hyatt in Macau via Agoda.com
Book your stay at Grand Hyatt in Macau via booking.com
Cuisine
Sichuan
We Loved
Everything!

The Vibe
It's Macau and it's called a Palace, so expect ostentation in the plush furnishings and glitter. Yet there is a touch of whimsy in the Murano glass butterflies in flight at the stunning dessert corner and the centrepiece chandelier in the main dining room. At the prices, there is no doubt that Sichuan Moon is a top-end fine dining establishment (with dress codes to match) best reserved for very special occasions. The place is far from stuffy though, thanks in large part to a well-trained army of knowledgeable serving staff who are all able to discuss and explain the stories behind the dishes. There is also an excellent wine pairing (MOP1,308/HKD 1,270) for this meal that takes over four hours.
Quick Notes
Price for two:
MOP6,600 (HKD 6412)
Address:
GF, North Esplanade, Wynn Palace, Avenida da Nave Desportiva, Macau
+853 8889 3663
Opening Hours:
Thursday – Tuesday: 6 pm – 11 pm
This story first appeared here.
Related: 5 Best Bars In Macau To Bookmark When You're In The Vegas Of The East