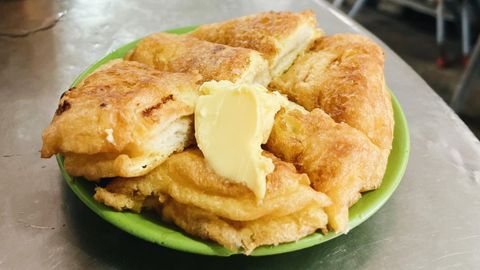 No, this is not your usual French toast dust in powdered sugar with a side serving of fresh berries. Instead, it's the deep-fried, golden-yellow make of Hong Kong-style French toast. Craving for this creamy and filling breakfast staple? See our top picks of the best places to find the classic French toast in Hong Kong.
Of all the cha chaan teng classics, the local French toast is sure to rank high above the rest. It's been named by CNN as one of the best foods in the world and successfully made moves across the globe as a defining icon of the city. After all, what's there not to love? It's a crispy deep-fried bread that's also swimming in a delicious pool of syrup, condensed milk and butter. Yum!
Typically you'll find this an enduring staple across the city's range of Cantonese-style cafes, tea houses and dim sum parlours. Some stay true to the original with a traditional, simple make that goes best with a cup of silky smooth milk tea. But others have creations beyond the usual, coming up with creative renditions of their own. Either way, the sweet-meets-savoury experience of the French toast is a must no matter the time of day. So, find out where you can gobble up this delicious dish.
Warning: Sweetness overload may occur.
The best places to eat Hong Kong-style French toast
Jump To / Table of Contents Shop the best travel experience here
This story first appeared here.
All images credit: hk.to.food/Instagram
Related: The Best Bakeries In Hong Kong For European-Style Breads And Pastries
Frequently Asked Questions (FAQs)
Why is French toast popular in Hong Kong?
Hong Kong-style French toast is popular because of its delicious crispy deep-fried bread that's also swimming in a delicious pool of syrup, condensed milk and melted butter.
How do you say French toast in Cantonese?
French toast is pronounced as '西多士' (sai1 do1 si6*2) in Cantonese.
What is a typical Hong Kong breakfast?
A typical Hong Kong breakfast includes French toast, noodles with satay beef, egg and luncheon sandwiches, and many more.
Written By