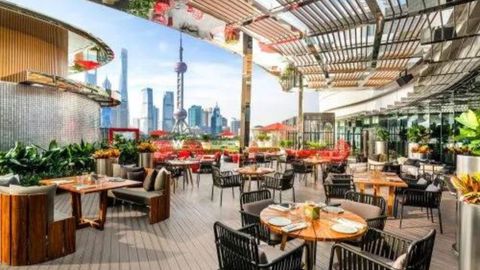 If you're enjoying delectable food in a beautiful setting, it's almost mandatory to let everyone know by whipping out your camera and taking that perfect picture for Instagram. Capturing moments with friends and family is what it's all about, and if you can gain a couple of followers and pretty up your feed at the same time — well, that's the cherry on top. To help you plan your jet-setting culinary adventures, we've rounded up a list of the most Instagrammable restaurants in Asia, where the interiors make just as much of an impact as the food.
Here are the most instagrammable restaurants in Asia
Madame Fan, JW Marriott Singapore South Beach There's simply no denying the old-world charm of this Chinese restaurant. In fact, one may well feel they've stepped into an elegant mansion or the set of Downtown Abbey, perhaps, given its refined yet inviting décor. Established by award-winning restaurateur Alan Yau, Madame Fan at the NCO Club aims to offer its guests a memorable experience with its remarkable interiors and modern Cantonese cuisine. And it does both exceptionally well.
Don't be surprised by an impulse to start posing for pictures at the entrance to this expansive 467-sq.-mtr. space, before moving on to the library-themed lounge complete with a black-marbled bar, soft yellow lighting, comfortable green velour sofas and neo-classical lampshades.
From here, visitors head into the 222-seat main dining area, which also boasts a VIP private dining room and an exclusive terrace that can host up to 30 people. Restrained lighting casts a warm hue over the black and red furnishings with deep red velvet arm chairs set around cosy round tables. The black-and-gold mirrored walls add an optical illusion, making the space feel bigger than it is. The centrepiece is the unique lighting installation: Hanging like a twisting golden vine from the ceiling, it imparts an unexpected theatrical touch sure to brighten up your Insta feed.
Madame Fan, The NCO Club, JW Marriott Singapore South Beach, 32 Beach Road, 189764 Singapore, +65 6818 1921
Pink Pearl, JW Marriott Phu Quoc Imagine the swinging glamour of the 1920s meets the colourful 1960s with a sprinkling of French chic, and you may just begin to get a glimpse into the kaleidoscopic world of this uber cool restaurant. Set against the backdrop of deep blue waters, sashaying palm trees and a tempting white-sand beach, the Pink Pearl in Phu Quoc stands out in all of its bubble gum pink splendour, making for an eye-popping picture.
Serving appetising French cuisine, the restaurant takes its inspiration from the scintillating parties hosted by the island's former famed resident Madam Pearl Collins. Her overwhelming preference for pink, gold and fuchsia is reflected in full glory here, along with a generous dose of opulence. Rich furnishings in bright pinks and blues, ornately patterned tiles, and intimate tables occupy the massive dining hall. Natural daylight streams in from the charming French windows and a large white globe adorns the impressively high ceiling.
A wide selection of eclectic artwork covers the pink walls, in the form of white swan murals, striking paintings, sculptures and historic lithographs. A spiral staircase leads up to the well-stocked wine room. And on the very rare off chance that you run out of places to capture on your camera, you can head out to the scenic garden or focus your lens on the plate: from a dainty sea urchin signature appetiser to the jaw-dropping Opera Pearl chocolate dessert globe, all worthy of a centre spread in a glossy mag.
Pink Pearl, JW Marriott, Emerald Bay Resort & Spa Kem Beach, An Thoi Ward, Phu Quoc District, Kien Giang 92000, Vietnam, +84 297 377 9999
The Kitchen Table, W Shanghai – The Bund
Soak up views of the Shanghai skyline at The Kitchen Table.

Soak up views of the Shanghai skyline at The Kitchen Table.
'Ultra modern with an edgy New York vibe' best describes the mood of this dynamic bistro in the heart of Shanghai. Spread across a sprawling space that includes a large outdoor terrace, The Kitchen Table serves a mind-boggling range of international fare made using the freshest ingredients — think seafood, meats, vegetables, cheeses and more — along with an equally impressive selection of wines, beers, champagnes and colourful cocktails. The décor is warm and inviting, courtesy of the soft shades of brown, orange and burnt sienna, interspersed with occasional patches of black-and-white checked flooring. An added bonus? The floor-to-ceiling windows ensure plenty of natural daylight for your Insta shots.
The vast outdoor terrace is a photographer's paradise in its own right: Dotted with black and red chairs set around rickety wooden tables, it offers a fantastic view of the Pudong skyline, including the iconic Pearl Tower. It's here you'll want to savour the restaurant's popular Sunday brunch, Social Retox. If you're a night owl, check out the electric energy of The Kitchen Table during the evenings: Glittering lights, live musical performances, and a party atmosphere make for a popular nighttime destination in Shanghai. The sparkling Social Retox After Dark bash, held every first Thursday night of the month, is not to be missed.
The Kitchen Table, W Shanghai – The Bund, 66 Lvshun Road, Shanghai 200080, China, +86 21 2286 9999
Garum, The Westin Perth Located within historic Hibernian Hall, this Perth restaurant has a sombre, warehouse-like façade that belies its contemporary, elegant and brightly lit interiors. The brainchild of illustrious chef Guy Grossi, Garum recently won a prestigious one hat by the Good Food Guide Awards. Traditional Roman cuisine, prepared with rustic simplicity, is plated with an elegance that demands to be documented by the camera lens, from creamy pesto pasta to the thick white carbonara sauce blanketing homemade spaghetti and the decadent grilled lamb chops.
The setting is no less attractive. Dramatic, high ceilings with hanging globe lights add a stylish flair to the restaurant, with wood-panelled flooring and arched windows allowing for plenty of light to filter through the space. On one end is an open kitchen lined with wood ovens, allowing you to savour the delicious aromas wafting through the air. All in all, you couldn't find a more charming spot for your selfies on your next adventure Down Under.
Garum, The Westin Perth, 480 Hay Street, Perth, WA 6000, Australia, +61 8 6559 1870
The 'Top 52 Restaurants and Bars' by Marriott Bonvoy highlights the one-of-a-kind F&B experiences available at Marriott properties across the Asia-Pacific region. For more information on Top 52 events, experiences and workshops, visit the website here.
Related: 8 Best Christmas Menus At Luxury Hotel Restaurants In Singapore To Feast At
This article first appeared on here.
Written By