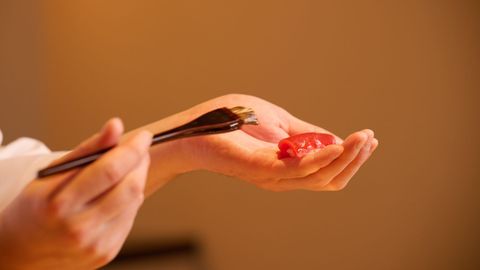 The present ban on seafood from parts of Japan has not deterred Tokyo's two-Michelin-starred Sushi Kanesaka from setting up an outpost in Hong Kong since it sources from other parts of Japan. Kanesaka, which takes over the space of the former Masa Hong Kong in Central, raises the bar significantly for edomae sushi.
A Review of Kanesaka
Reviewing edomae sushi restaurants can be challenging due to the ever-changing nature of their menus. With their emphasis on quality and freshness, chefs have to rely on daily deliveries of fish flown in from various sources. Hence, the availability and selection of fish can vary greatly from one day to another.
Much of the essence of a good sushi restaurant comes down to the delicate interplay between the chef's creativity, the seasonal availability of ingredients, and the refined balance of flavours that can change with each passing day. Edomae sushi is known for its simplicity and minimalist approach and Kanesaka, which officially opens this week, certainly approaches it with elegant simplicity, allowing its tastes to do the talking. Kanesaka is the latest outpost of renowned Japanese chef Shinji Kanesaka of the two-star Michelin Ginza Sushi Kanesaka in Tokyo.
Chef Seiji Taniguchi and sous chef Kento Omine oversee the Hong Kong restaurant, and it was the latter who attended to us at a recent lunch sneak preview. As with other high-end omakase restaurants dealing with the Fukushima seafood ban, Kanesaka is sourcing fresh seafood from areas such as Hokkaido, Nagasaki and Kumamoto.
Omine started us off with six courses of sashimi: crab and caviar, flounder fin and flounder, whelk shell, steamed ezo abalone from Hokkaido; red sea urchin from Kyushu and braised octopus from Hyogo. By keeping the presentation simple and letting the seafood speak for itself, the subtle nuances and inherent sweetness of the different kinds of seafood were allowed to shine. Similarly, for the 12 courses of sushi – which included golden eye snapper, amberjack, three kinds of tuna, squid, kohada, aji (mackerel), botan ebi (shrimp). Murasaki sea urchin and anago (eel) – Omine's masterful marinating and finely balanced sweet, tangy, and savoury flavours of the sushi rice from the vinegar, sugar and salt made the wasabi and soy sauce condiments completely unnecessary.
The crowning moment came with the giant maki roll of akami (lean tuna), chutoro (medium fatty tuna) and otoro (fatty tuna). Just fitting in the finely sliced tuna meat on the thin layer of rice and nori and trying to roll everything with the bamboo makisu was an art in itself. It looked impossible to accomplish that without the tuna squirting out, but Omine made the impossible possible. Each bite was pure tuna heaven. Together with the tuna soup, the tuna maki completed an exquisite lunch for us.
At its price points of HKD 2,000 (+ 10 per cent) for a lunch nigiri set, HKD 2,800 for the lunch omakase and HKD 3,500 for a dinner, Kanesaka pits itself against some of the most expensive omakase restaurants in town. But, it is an experience to remember – heavenly meals don't come cheap.
Cuisine
Japanese The Vibe
Kanesaka takes over the place vacated by Masa Hong Kong and nothing much has changed in terms of layout. There is a main sushi bar seating nine which offers a corner view of the the old Legislative Council and Central, with a private dining room that seats eight people. There is another hidden private nook that seats four people and while that doesn't afford a view, it gives you a high level of privacy – and you can still watch the chef at work!
Quick Notes
Price for two:
HKD 5,600 + 10 per cent (excluding drinks)
Address:
5/F, CCB Tower, 3 Connaught Rd Central, Central
Tel. 2117 1175
Opening Hours:
Monday – Saturday: 12.30 pm – 3 pm, 7.30 pm – 11 pm
This story first appeared here.
Related: Pamper Your Palate At The 15 Most Expensive Restaurants In The World
Written By