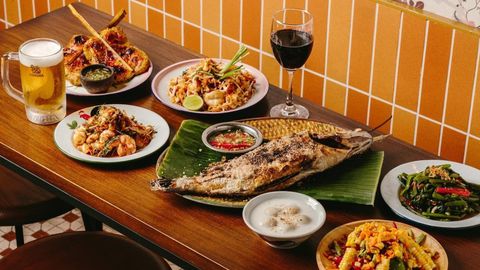 Hong Kong's Thai food scene is way more varied than you might expect. Line up for fiery regional fare, spicy showstoppers, tangy Thai tapas and Bangkok-inspired street food feasts.
Often cited as one of the most sumptuous cuisines in the world, Thailand's food culture is truly something to behold. It boasts multilayered dishes full of distinctive flavours (sweet and spicy, zesty and salty) and textures. Thai cuisine has influences from Indian, Malaysian, Indonesian, Lao, and Chinese cooking. It's no wonder that Hong Kong diners are always looking for the best Thai restaurants in Hong Kong.
Hongkoners are fortunate to have an excellent range of places to enjoy one of the world's finest cuisines. For instance, Kowloon City is home to a vast number of Thai restaurants. In addition, many well-known places like Samsen and Baan Thai have more than one outlet to cater to the growing number of loyal customers.
So, whether you're a fan of classic pad thai or craving some tom yum goong, there's something bound to satisfy your tastebuds. We've rounded up the best Thai restaurants in Hong Kong, from regional-focused eateries to Michelin-starred establishments. From authentic Thai dishes to modern plates with a twist, these restaurants have something for every mood.
The best Thai restaurants in Hong Kong
Jump To / Table of Contents This story first appeared here.
Hero and featured images: Courtesy chachawanhkg/Instagram
Frequently Asked Questions (FAQs)
Question: Which restaurants in Hong Kong specialise in Thai food?
Answer: There are many restaurants in Hong Kong serving authentic Thai food, including Samsen, Baan Thai, Ruam, Mango Tree.
Question: Is Thai food popular in Hong Kong?
Answer: Thai food is extremely popular in Hong Kong. Kowloon City is known for its authentic Thai restaurants. There are always queues outside the Thai restaurants no matter the time of day.
Written By