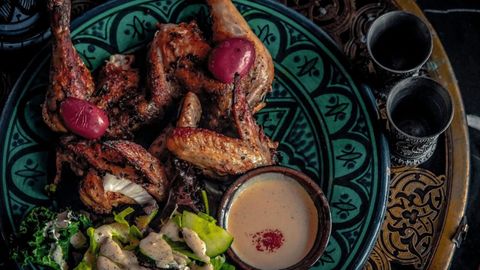 The waterfront neighbourhood of Kennedy Town has transformed over the years from a quiet port-side destination on the very fringe of Hong Kong to one of the city's most active shopping and dining hubs with some of the best restaurants, a change spurred in no small part by the extension of the MTR's Island Line.
Located on the western end of the island, this laid-back neighbourhood is a true foodie's paradise: a place where you can find everything from taquerias to vegetarian restaurants, pizzerias to modern Indian eateries all within a few blocks' radius — many boasting quaint seaside views and breezy alfresco dining options. Without further ado, here are the best Kennedy town restaurants to sate your hunger (and thirst).
Best Kennedy Town restaurants to check out!
11 Westside Hong Kong may often be regarded as a Mexican food desert, but renowned chef Esdras Ochoa — of Los Angeles restaurant Salazar — brought us some much-needed relief when he opened taqueria 11 Westside inside The Hudson complex. We'd travel much further distances than Kennedy Town to get a taste of Ochoa's supple, handmade tortillas filled with everything from well-marbled carne asada marinated in Mexican ponzu sauce, to al pastor (smoky roasted pork and fresh pineapple chunks) and the pollo asado: juicy squares of grilled chicken tinged with spice and citrus. Book-end your taco platter with the freshly mashed guacamole, made table-side, and inventive desserts, and chase it all down with well-made cocktails from beverage director, Daniel Eun.
11 Westside, 1/F, The Hudson, 11 Davis Street, Kennedy Town, Hong Kong, +852 3996 7754
Alvy's A collaboration between local craft beer makers, Young Master Brewery and Patrick Gatherer, formerly of The Globe — Alvy's embodies everything you'd expect from your quintessential neighbourhood pizzeria: friendly service, laid-back vibes, and an affordable menu to boot. One of the most frequented Kennedy town restaurants, the highlight of its menu is the excellent sourdough-based pizzas, which enjoy a long and slow fermentation, resulting in an extra chewy and pliable crust dotted with pockets of char. We're partial to the "a la vodka" pizza, an NYC-inspired pie featuring a tangy vodka sauce and sharp pecorino; and the "Ma-La-Di-Da", a fiery number which combines savoury salami with the numbing spice of Sichuan peppercorns. An equally impressive drinks menu includes Hong Kong's largest selection of American-only craft whiskeys, as well as brews from Young Master Ales and a natural wine list.
Alvy's, 8 Holland Street, Kennedy Town, Hong Kong, +852 2312 2996
Mama Malouf Fans of Middle Eastern food should be well acquainted with Mama Malouf and its chef-owner, Australian native Alex Malouf. The nephew of Greg Malouf — the famous Australian chef, and recognised authority on Middle Eastern cuisine — Alex is carrying on the family legacy with this acclaimed eatery proffering authentic Middle Eastern fare, served in colourful and fresh arrangements bearing the unmistakable influence of farm-fresh Australian fare.
At Mama Malouf, it's easy to pass the hours lounging around on the comfy benches decorated with colourful cushions, tucking into a round of shared-style mezze — think silky hummus, earthy baba ghanoush, tarragon labneh and homemade pickles. Mains and side dishes are also made for sharing; signatures include grilled haloumi, crispy falafel, roasted carrots with yoghurt, and grill-heavy mains — from skewers to shawarmas — accompanied by vibrant dips and sauces.
Mama Malouf, 93 Catchick Street, Kennedy Town, Hong Kong, +852 2817 3828
Catch Next door to Mama Malouf is sister restaurant Catch, which serves a seaside-inspired menu of fresh ocean produce and small plates for sharing. Fresh ingredients are sourced both locally and internationally and utilised in a number of rustic, bistro-style dishes such as beer-battered fish 'n' chips and spicy crab with angel hair pasta. With a long-established customer base, Catch exudes a distinctly relaxed and friendly neighbourly atmosphere, with owner Alex Malouf often spotted manning the kitchen or managing front-of-house.
The eclectic menu extends to Asian-inspired starters such as chunky tuna tartare, and even a selection of burgers (try the soft shell crab or the popular crumbed fish burger). Those who work in the area can also pop in for the 3-course set lunch with a special oyster deal, or come by on the weekends for a true Australian-style brunch that turns up the heat on classics such as avocado toast.
Catch, G/F, 95 Catchick Street, Kennedy Town, Hong Kong, +852 2855 1289
Fish & Chick If a walk along the seaside promenade induces a craving for fish 'n' chips, you can pop into the aptly named Fish & Chick, a mom 'n' pop shop recognisable by its blue and white awning. The freshly beer-battered fish are generous in size and well executed — from UK-imported codfish to New Zealand hake and Icelandic haddock — served with a plentiful mountain of fresh-fried chips. Other seafood dishes include salted cod brandade and sea bream ratatouille, and the shop has also added a rotisserie selection to cater to poultry lovers. We'd recommend sticking to the fish 'n' chips, though, because they're hands down some of the best in town.
Fish & Chick, Shop 6, G/F, 25 New Praya, Kennedy Town, Hong Kong, +852 2974 0088
Shoreditch British gastro-lounge, Shoreditch is all about bringing a relaxed, urban-style eatery to the streets of Kennedy Town, while staying committed to serving local residents with quality offerings at fair prices. Named after one of London's districts, the British-inspired menu includes pub grub such as chicken wings and haggis, as well as larger offerings such as lamb meatballs and fish 'n' chips. The breezy, all-day venue transforms effortlessly into a cosy date-night destination, with trendy street art splashed across the walls and intimate two-tops. Grab a table by the open-fronted entrance to enjoy a spot of people-watching while noshing on grilled ox tongue salad, blue mussel linguine and Wicks Manor Farm pork belly served on a bed of smooth parsnip purée.
Shoreditch, 18 Catchick Street, Kennedy Town, Hong Kong, +852 2242 3777
Sun Hing Dim sum aficionados might already be familiar with Sun Hing, a hole-in-the-wall local favourite which curbs dim sum cravings from the odd hours of 3 am to 4 pm daily. Whether you're grabbing a late-night snack after a long night out, or grabbing an early bird breakfast before heading to work, Sun Hing has you covered with all the classic dim sum faves from fragrant siu mai to fluffy char siu baos, golden fried spring rolls and dumplings of all shapes and fillings.
Service is brusque as expected, but the offerings measure up to other dim sum joints around town and a meal can easily be had for less than HKD 80 per person. For dessert, don't miss the piping-hot custard buns, which ooze their golden liquid centres satisfyingly as they're split open at the table.
Sun Hing, Shop C, G/F, 8 Smithfield Road, Kennedy Town, Hong Kong, +852 2816 0616
Chino You could barely get a foot in the door when Chino first opened in 2014; the crowds may have died down nowadays, but Chino still maintains the high quality and inventiveness of its Mexican-inspired offerings. Discerning foodies will appreciate some of the more out-of-the-box creations, from ox tongue with pickled jalapeños to duck carnitas with grape tomatillo, while recurring favourites include the grilled sweet corn and uni and scallop tostadas.
Although the dishes are rooted in Mexican culinary traditions, Asian ingredients are peppered throughout the menu, injected effortlessly to add complexity and depth to the offerings. With a steady stream of new dishes, it's worth going back to Chino again and again — whether to try out the kitchen's latest creations or simply to get your fix of Chino's excellent house tacos, washed down with a cheeky highball at the bar.
Chino, 1B New Praya Kennedy Town, Kennedy Town, +852 2606 0588
Comptoir For enjoying a leisurely glass of vino paired with delectable tapas, Kennedy Town wine bar, Comptoir fits the bill with its cosy interiors and communal atmosphere. This neighbourhood bistro has been going strong for well on four years, serving up delectable sharing platters along with a curated selection of hearty bistro offerings, not to mention shelves lined with over 130 labels of specially sourced Old and New World wines.
Not just popular with the Francophile crowd, Comptoir has become a choice spot for after-work aperitivo and casual weekend rendezvous. On the ground floor, grab a casual bar stool underneath handwritten chalkboard menus of the day's specials; upstairs, a private function room caters for larger parties and private events. Favourites include the tuna tartare, crispy croquettes, and the soul-warming beef daube Provençal.
Comptoir, G/F, 42 Forbes Street, Kennedy Town, Hong Kong, +852 2453 9873
Missy Ho's Funky fusion diner Missy Ho's is always reliable for a fun night out, with its buzzing vibes and eclectic décor. It's easy to get sloshed at this watering hole given the affordable, well-made libations, but Missy Ho's food is well worth a visit in itself. This is an example of Asian fusion done right, with a line-up of mouthwatering bar snacks: Tuck into a round of tuna tataki with yuzu sauce, pork belly baos and prawn lettuce wraps, then follow it up with a mix of maki rolls — our favourite being the Godzilla Roll, a spicy tuna number with crispy fried tempura and a sweet teriyaki glaze. The elaborate menu makes it one of the best Kennedy town restaurants.
Missy Ho's, Shop G9, G/F, Sincere Western House, 48 Forbes Street, Kennedy Town, Hong Kong, +852 2817 3808
KTM Bar & Kitchen One of the best Kennedy town restaurants, KTM Bar and Kitchen is adorned with colourful prayer flags and a bright exterior. It is a neighbourhood comfort food favourite when it comes to rich curries and vibrant Nepalese dishes. Expect fresh, fluffy breads straight from the tandoor and generous helpings of biriyani and spiced meats. Stop for lunch and snap up its wallet-friendly lunch deal priced at just $68 per person, a hard-to-beat deal for many working in the area.
KTM Bar & Kitchen, 71 Cadogan Street, Kennedy Town, Hong Kong, +852 2817 3889,
Twelve Flavours (十二味) Known for its spicy, Sichuan hot-pot style dishes, the long queues that form outside of Twelve Flavours are testament to its tantalising menu. Build-your-own bowl brimming with spicy broth and choose from an array of flavourful side dishes such as stir fried string beans with spicy pork, Sichuan-style double cooked pork belly, and hot and sour shredded potatoes.
Twelve Flavours, 10 Sands Street, Kennedy Town, Hong Kong, +852 6061 6514
AZIZA Since expanded from a hole-in-the-wall Egyptian hotspot to a much bigger location in Sai Ying Pun, Kennedy Town locals still frequent the original, family-owned location. Filling the bellies of hungry Hong Kongers since 2017, the menu here is authentic and thoughtfully prepared by Head Chef, Mohsen in a quest to bring back authentic Egyptian cuisine. The food at this Kennedy Town restaurant is indulgent and exotic, with recipes crafted by Mohsen's mother — don't miss the homemade hummus and flatbreads, a must-order at any location.
AZIZA, Shop D, G/F, Shun Cheong Building, 28 Hau Wo Street, Kennedy Town, Hong Kong, +852 3462 2844
Infiniti C This quaint café found on Forbes Street boasts an entirely gluten-free menu and display cases full of delicious cakes and pastries to enjoy any time of day. The café prides itself on its pairings and educating those stopping by about coffee culture in Hong Kong. Grab its famed turmeric latte and take a seat outside — this is the perfect place for a quiet afternoon answering emails or watching the world go by.
Infiniti C, 40 Forbes Street, Kennedy Town, Hong Kong, +852 3460 4996
Yuan is Here (阿元來了) Boasting a loyal following, Yuan is Here prides itself on mimicking the bustling night market scene in Taiwan. Prices are reasonable and the quality consistent; you can expect simple dishes which mimic the appeal of the eatery. There are no pretentious menus here, simply traditional home cooking that has customers coming back time and again.
Yuan is Here, 31 North Street, Kennedy Town, Hong Kong, +852 3579 2460
(Featured and hero image courtesy of AZIZA)
This post first appeared on lifestyleasia.com Hong Kong
Related: Head To These Hong Kong Restaurants For The Best Views Of The City
Written By