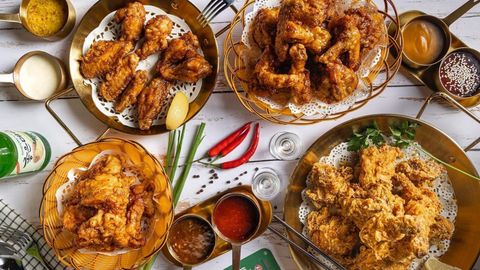 Juicy, crunchy, and crispy Korean fried chicken is one of the most loved K-cuisines. A contemporary food staple in Korea, the dish promises to serve a burst of flavour in every bite.
The crunchy and saucy fried chicken, as we know, wasn't that popular until Americans introduced the idea in the 50s and started frying portioned bits of bird. The American-style chicken was later Koreanised with garlic-heavy sauces, experimental flavours and chilli. In Korea, it's seen as the perfect dish to pair with beer. Koreans call the combo 'chimaek', a combination of the words 'maekju' (beer) and 'chikin' (chicken).
What sets the dish apart from regular fried chicken is its sweet-sounding crunch, crispy texture, and succulent taste. This is all thanks to the use of potato starch in the batter. Thankfully, an array of restaurants in Hong Kong specialise in Korean fried chicken. They offer crunchy-battered, on-the-bone hunks of the most succulent chicken slathered in spicy, garlicky or even cheesy sauces you can imagine. Plus, the addition of beer and pickles makes it an even more exquisite experience.
So, whether you prefer the original flavour or want to try something more exciting, these restaurants in Hong Kong have you covered.
Save the list!
The best places to try Korean fried chicken in Hong Kong
Jump To / Table of Contents Frequently Asked Questions (FAQs)
Question: What makes Korean fried chicken different?
Answer: What sets Korean fried chicken apart from normal fried chicken is its sweet-sounding crunch and succulent taste.
Question: Where can I find the best Korean Fried Chicken in Hong Kong?
Answer: You can find the best Korean fried chicken in Dodam, Obp, Uncle Padak, and more.
Question: How is Korean fried chicken so crispy?
Answer: Korean fried chicken is crispy because of the potato starch in the batter. The chicken is also fried twice.
Written By