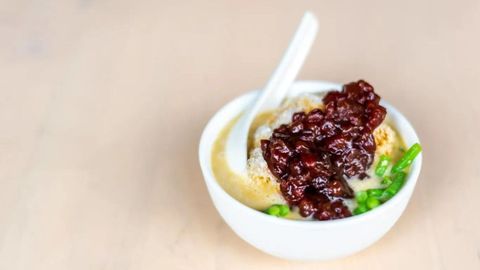 If you are in Singapore and have been struggling to quite literally keep your cool these past few weeks, you're not alone. Singapore's humid, eternal summer is hard to beat unless you have a cold treat in hand of course. Sure, you could get a cold cup of bubble tea or a scoop of gelato, but we believe a bowl of Singapore's OG icy dessert, chendol, is the best remedy for an impending heat stroke.
Chendol – or cendol as it's originally written – can be considered Southeast Asia's humble cousin to the trendy Korean bingsu, but instead of a mountain of shaved ice topped with chocolate and fruits, the gluten-free dessert features a medley of green rice flour jelly, coconut milk and gula melaka. While many claim the best chendol comes from Malaysia, we know for a fact that Singapore has versions that can rival our bordering neighbour.
These days, the best chendol spots in Singapore often also include a generous topping of red bean paste and sweet corn, coupled with the occasional attap seed hidden at the bottom of the fragrant, invigorating bowl. Some even offer a dollop of fresh durian paste, which we're always up for.
7 best chendol spots to cool down at in Singapore:
Jump To / Table of Contents Written By