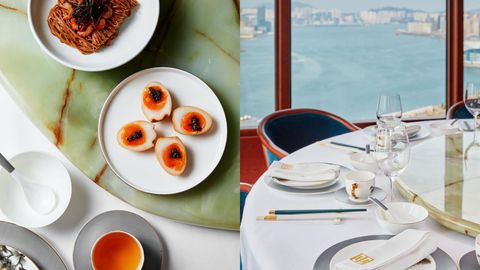 Best Bites and Sips is a roundup of the outstanding dishes we had within the last week: Those which renewed our love for established venues, caught our attention at a new opening, or freshly impressed upon us the creativity and skill of Hong Kong's talented chefs and mixologists.
From casual street snacks to meticulously prepared cocktail creations, these are the best dishes and drinks to try in Hong Kong — the ones we'd recommend you make a special trip for.
The best dishes and drinks we supped on and savoured this week:
Forty-Five The dish: Drunken Crab with 25-year Hua Diao Wine (market price)
I'm always down to eat Shanghainese cuisine, and so when I was invited to try some dishes from the first restaurant to open at the Forty-Five multi-concept venue, I couldn't turn it down. I've known the creators of the concept for some time and so when they teased this ambitious project, I was excited and curious to find out how they would add their "sauce" to the entire venue.
Tasted at The Merchants, every detail has been fused with the owners' personal stories as well as the origins of Shanghainese influence in Hong Kong. The dish I tried was Drunken Crab with 25-year Hua Diao Wine. I love anything given a Shaoxing wine bath but was a bit hesitant with this one as this is one Shanghainese dish I had never tried before…, and it is raw crab.
I appreciate how refreshing sashimi can be as well as the textures experienced from eating raw meat, but this dish for me was more about the flavours of the wine and spice working with the clean meat. Those that are turned off by mushy textures may want to avoid this, but for me, it was a great starter to wake up my senses, and it didn't leave me sluggish for the rest of the day. — Ambrose Leung, Editor-in-Chief
Forty-Five, Gloucester Tower, Landmark, 15 Queen's Road Central, Central, Hong Kong, +852 2155 4141
The Mandarin Grill + Bar The dish: Risotto with Raspberry and Herbs Cream (HKD 2,288, part of The Silk Road dinner menu)
This dish was an olfactory bomb before it was placed in front of us. A signature dish of two Michelin-starred chef Antonio Guida, it's part of an exclusive menu at the Mandarin Oriental's Mandarin Grill + Bar, which is hosting Chef Guida from Seta, Milan, as the first of a string of dining pop-up events to celebrate the hotel's 60th birthday. Truly one of the more unique and wonderful things I've eaten this month, the raspberry risotto sounds like a dessert menu item — or at least dessert-adjacent — but it is not. The powdered raspberry lends a layer of perfume tartness to the creamy risotto underneath. It's also hard to shake the feeling you're eating a painting. The event ends tomorrow, 6 May, so book a table this weekend while you still can. — Vanessa Lee, Managing Editor
The Mandarin Grill + Bar, 1/F, Mandarin Oriental Hong Kong, 5 Connaught Road, Central, Hong Kong, +852 2825 4004
Sushiyoshi The dish: Tuna Sashimi (HKD 3,480, part of Hiroki's Omakase menu)
The baby tuna sashimi paired with a marinated egg yolk was one of the best things I ate this month. Part of Chef Hiroki's new, 19-course spring omakase menu at Sushiyoshi, the combination of melt-in-your-mouth tuna and jammy egg yolk created an almost sauce-like effect of unctuous fatty richness that felt both decadent and wonderfully simple at the same time. — VL
Sushiyoshi, 1/F, The Otto Hotel, 8 Cameron Road, Tsim Sha Tsui, Hong Kong, +852 2657 0280
The Lobby, The Peninsula Hong Kong The dish: Turkish Afternoon Tea (HKD 488 for one, HKD 868 for two)
To celebrate the opening of The Peninsula Istanbul, the Hong Kong location of the luxury hotel has spiced up its traditional afternoon tea set with a Turkish twist.
I made two separate trips to Istanbul and Antalya during the height of the pandemic in 2021, even with the 21-day quarantine in place, so I would say I'm somewhat of a Turkey expert. And as a self-proclaimed expert, I reckon the tea set is spot-on when it comes to capturing the essence of the Turks and their flavours.
My favourite dish from the Turkish Afternoon Tea was the Salad of Kisir, Chicken Breast, Bulgur, Tomato, and Mint, a light and healthy start to the meal. I also really enjoyed the Beef Cacik Wrap made with Birds Eye Lettuce, Potatoes, and Pomegranate Seeds, which took me back to the Mediterranean shores of Antalya at first bite.
The time-limited set is only available until the end of June. You'd be a fool to miss it! — Charmaine Ng, Editor
The Lobby, The Peninsula Hong Kong, Salisbury Road, Tsim Sha Tsui, Hong Kong, +852 2696 6772
Cassio The dish: Seafood Paella (HKD 398)
For our belated first Lifestyle Asia team dinner this year, we got to try out the updated menu at Cassio. Before this meal, I'd always thought that Cassio was a nightclub, but turned out it also doubles as a Spanish restaurant. One dish that stood out from the night was the Seafood Paella. As a carb lover, I take my rice and noodles very seriously — the texture of the rice, the proportion of sauce and ingredients, and the flavour when everything is mixed. This particular dish ended up ticking all my requirements and made me return for seconds, not to mention the freshness of the seafood balances perfectly with the creamy sauce. Come and try this if you're looking for a spot for larger dishes to share, especially in a good location for pre-night out bites! — Leanne Lam, Social Media Manager
Cassio, 2/F, 33 Wyndham Street, Central, Hong Kong, +852 3792 0129
Kokoro Tokyo Mazesoba The dish: Premium Tokyo Mazesoba (HKD 109)
"Not ramen" is written in huge letters on the wall. So, what is maze soba? It's soup-less ramen and a delicacy I never quite had before. I was more than excited to try it out. I ordered the first thing on the menu, the restaurant's most popular item, the Premium Tokyo Mazesoba.
Covered in a bunch of delicious toppings, the noodles underneath are soaked in the sauces from the ingredients. The instructions said to first mix, then use pepper, followed by vinegar. After following the steps, I dug in.
To my surprise, the noodles were hot. In the past, when I've had soup-less noodles, they were cold. Full of creamy flavour, the maze soba felt like a fusion between an Italian and Japanese dish.
After finishing the noodles, the instructions said to add some rice. Although all the toppings were gone, the sauce and whatever lingered were a great pairing to rice. Overall, I was very satisfied with my meal and the portions were generous enough to keep me going for a while. I will definitely be coming back. — Ryan Putranto, Multimedia Editor
Kokoro Tokyo Mazesoba, Shop 1C, G/F, Sun Hey Mansion, 68 Hennessy Road, Wan Chai, Hong Kong, +852 3751 6966
Sagano The dish: Japanese-Style Stewed Ox Tongue with Radish (HKD 1,900, part of the dinner tasting menu)
This dish was part of a special tasting menu I tried from Sagano. The restaurant is located in New World Millennium Hotel and is spearheaded by chef Yusaku Suzuki. It's one of the eight dishes from the menu and I was pleasantly surprised that it turned out to be my favourite. I don't generally eat ox meat (or any meat that's not pork, beef, or chicken). I think I was impressed at the fact that the ox tongue was cooked for a very long time, giving it a melt-in-your-mouth texture.
Besides the meat, the sauce is also special. It complements the strong flavour of the ox tongue thanks to its sweetness. But at the same time, it's not tangy like you'd expect from Japanese sauces. The radish is also a great addition because it sort of waters down all those flavours. It's best eaten at the end. I think I slurped up everything on the plate including the vegetables! — Jianne Soriano, Digital Writer
Sagano, 1/F, New World Millennium Hong Kong Hotel, 72 Mody Road, Tsim Sha Tsui, Hong Kong, +852 2313 4222
Shake Shack The dish: Buffalo Chicken (HKD 63) and Shack Attack Frozen Custard Treat (HKD 42)
Shake Shack in ifc finally reopens! If like me, you didn't know that it was actually closed, then it's time to head over there. It's my second time trying the Buffalo Chicken burger and I have to say, it's better the second time around. I like how the sauce has an extra kick but one that's perfect for my non-spicy palate. The chicken is simply juicy!
Just be careful though, as it can get a little messy to eat. The meal isn't complete without getting the limited-edition Shack Attack Frozen Custard Treat. This time, it's a collaboration with Cookie DPT so you can expect sweetness oozing from the chocolate bits. It's also just a great finish after having a Buffalo Chicken burger. — JS
Shake Shack, Shop 4018, 4/F, IFC, 8 Finance Street, Central, Hong Kong, +852 2522 5611
This story first appeared here.
(Lead and featured images courtesy of Forty-Five)
Related: The Best Hotel Buffets In Hong Kong Right Now
Written By