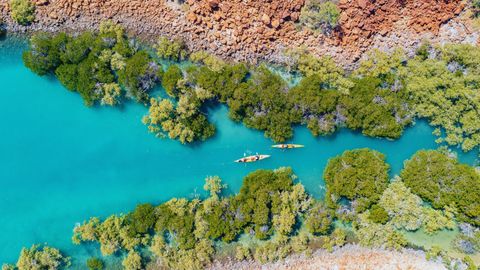 Dampier Archipelago is secret treasure trove in Western Australia of marine wildlife, from whales to dugong to turtles, as well as ancient Aboriginal art and even extinct tigers (oh my!) — and the best way to see it all is from an expedition kayak. AS I KAYAK THROUGH THE SHALLOWS, all the rocks around me reveal themselves to be turtles, rocketing away under me, too many to count. I jump in for a snorkel, but rather than turtles, it's a school of inquisitive trevally that encircle me. Back on the beach, I'm greeted by lead kayak guide, Neri Grieve.
"How amazing were those whiptail rays?" she asks.
Kayaking
I'm puzzled, but Neri's colleague Kayleigh Brown shows me her drone video of five enormous rays gliding by scrutinizing me, flanked by a green turtle. The life in this bay has us all gob-smacked, a sensation I'll experience often on this trip.
I'm on a five-day expedition kayak trip with Exmouth Adventure Co., beginning in the Western Australian town of Dampier, 1,500 kilometers north of Perth. The port town is an industrial hub for iron ore exports, liquid natural gas, salt and fertilizer. This brand-new tour uncovers a side of this region few have seen, exploring Murujuga National Park and the Dampier Archipelago. It's a region rich in wildlife and Aboriginal culture, including two million rock carvings and etchings, known as petroglyphs. Our group consists of just three guests, plus Neri and guide Neil Brown. They're joined by off-duty guide Kayleigh, who has come along for the fun. The trip is aimed at paddlers with expedition kayak experience, and we're paddling two double and two single kayaks.
Before hitting the water, we join traditional owners at the Murujuga Aboriginal Corporation for an important cultural induction. Aboriginal ranger coordinator Peter Cooper explains the petroglyphs, which document some 50,000 years of human co-existence with the land. This is the largest rock art site in the world. Little wonder it's being considered for World Heritage listing.
Next, we join Sarah Hicks and Jade Churnside at nearby Ngajarli (Deep Gorge). The hills are piles of rusty-maroon boulders, natural formations that could pass for the waste of a blasting project. Laser pointer in hand, Sarah shows us petroglyphs depicting kangaroos, turtles, human-like spirits and even Tasmanian tigers that have been extinct here for thousands of years. Jade explains aspects of traditional life like medicine and food plants, and shows us grinding stones, used to make a bush bread.
From here, it's off to the launch site, where our guides squish all our food, water, cooking and camping equipment plus personal gear into our kayaks.
"It's like technical game of Tetris!" Neri says. Finally, I'm seated in the front of a double kayak. Paddling out of Withnell Bay, it feels like we're leaving not only the industry behind, but the whole world. We're heading for untouched islands. No facilities, no walking tracks, no phone coverage.
Within 30 minutes, we're spotting Australian humpback dolphins, and a little further on, there's a rotund dugong and turtles. We stop for a late picnic lunch at deserted Conzinc Bay, and our guides lay out a salad and cold meat buffet.
Humpback whale
Leaving the mainland, we reach Angel Island, where rocky cliffs, deep maroon in the late afternoon light, contrast against clear turquoise water. It's a striking and harshly beautiful landscape, unlike anything I've seen. Gliding along silently, we paddle beneath our first osprey nest, the parents both watching us, bewildered.
As the sun dips, we pull into a pristine beach. While we're setting up our tents, our guides whip up a cheese platter. We've bought our own alcoholic drinks, and soon we're propped on beach cushion-chairs, toasting the watery sunset. At dawn, I scale a sand dune behind my tent to see the magical first rays peek over rocky ridges and tufty, spinifex grasses. Down below, breakfast is ready, with brewed coffee, hot porridge, fresh fruit salad, yoghurt and toast. Despite the wilderness, we're always pampered, and the fresh, healthy meals are a triumph.
Each night in Dampier we camp on a different beach, always by ourselves. By day we explore the coastlines of Angel, Gidley, North Gidley, and Dolphin Islands, often 'mangrove meandering,' gliding past bizarre aerial roots which harbor turtles and juvenile fish. Sometimes we snorkel, taking in the coral reefs, colorful fish, and harmless sharks. Crossing Flying Foam Passage, it's sobering to learn that in 1868, an atrocious massacre of the Yaburara Aboriginal population occurred here, leaving the tribe effectively obliterated.
Across all the islands, we paddle slowly, and art reveals itself. We spot carvings of turtles, sting rays, the cat-like quoll, whales, and human-like figures—some tiny, some meters high.
After dinner one night, we can hear the slapping of distant humpback whale tails. There's another noise too, the whale's breath, complete with a barely audible 'voice,' like an eerie song, wafting across the ocean like a ghostly memory. The next morning we're actually kayaking with whales. To avoid disturbing (or irritating) the mother and half-grown calf, we maintain a respectful distance. We're caught off-guard as the mother surfaces less than 50 meters in front of us, her broad body gracefully slicing across the surface. Backing up, we gasp as the juvenile takes a look around, half its body rising from the water in a mighty breach.
On Dolphin Island, I'm examining the remains of Aboriginal shellfish meals (called a midden), and the stone tools scattered here. From the corner of my eye, I glimpse a Rothchild's rock wallaby, darting up the rocky escarpment. Climbing the hill at sunset, I'm looking out for elusive wallabies. Suddenly, I'm facing a petroglyph, about one-meter across. It's the ancient image of the very rock wallaby I'm seeking, and the hairs rise on the back of my neck.
Alone on this surreal boulder mountain, bathed in golden light, I fancy I can feel their spirits in the rocks: thousands of generations of people and wallabies, co-existing in harmony, right where I stand. Getting there:
Fly from Perth to Karratha with Virgin Australia or Qantas where you'll be met by Exmouth Adventure Co. and supplied with all your camping and paddling equipment.
Tour:
Exmouthadventureco.com.au has five departures scheduled for the Dampier Archipelago and Murujuga National Park Kayak Expedition for 2024, from May through to August. Cost is A$2,400 per person twin share; single supplement of A$100 for own tent, and A$100 for single kayak. Experience with multi-day kayaking required.
For more information on the region, visit Tourism Western Australia.
---
Images courtesy of Paul Pichugin/Exmouth Adventure Co.
Written By