Experience What It Is Like To Dive Between Two Continents In Iceland At The Silfra Fissure
Get one with the wonders of nature at the Silfra fissure. Located in Iceland, you can experience what it is like to dive between Europe and North America.
Iceland is a beautiful island nation surrounded by the North Atlantic Ocean and the Arctic Ocean. Once home to the fabled Vikings, Iceland has its own rich history that has made this nation so great. Known as the land of fire and ice, the geography of Iceland creates a juxtaposition with volcanoes, glaciers and waterfalls co-existing in the same topography. Nordic Island is famous for its rugged landscapes and is home to three UNESCO World Heritage sites, one of them being Thingvellir National Park(Þingvellir), home to Silfra fissure. While Iceland is synonymous with the Northern Lights, the Silfra fissure is one underrated location that doesn't get enough credit for its natural beauty.
Silfra fissure is a popular diving spot in Iceland. It is natural to wonder what makes this diving spot so special! Discovered in Thingvellir National Park of Iceland, this fissure came into existence in 1789, when a major earthquake happened in Thingvellir and opened up several fissures. The Langjokull glacier melted near one of the fissures, filling it with glacial water and creating the Silfra fissure.
Iceland is at the Mid-Atlantic Ridge. Eurasian and North American tectonic plates have been slowly moving apart at the rate of two centimetres each year. When the tectonic plates started diverging 150 million years ago, the lava from the Earth's crust was pushed out into the Atlantic Ocean. The lava was hardened by the cold ocean water and pushed upwards due to the continuous flow of magma from beneath, leading to the creation of the Mid-Atlantic Ridge and the island of Iceland. The Silfra fissure is a rift where you can stand literally between two continents.
What is Silfra fissure like?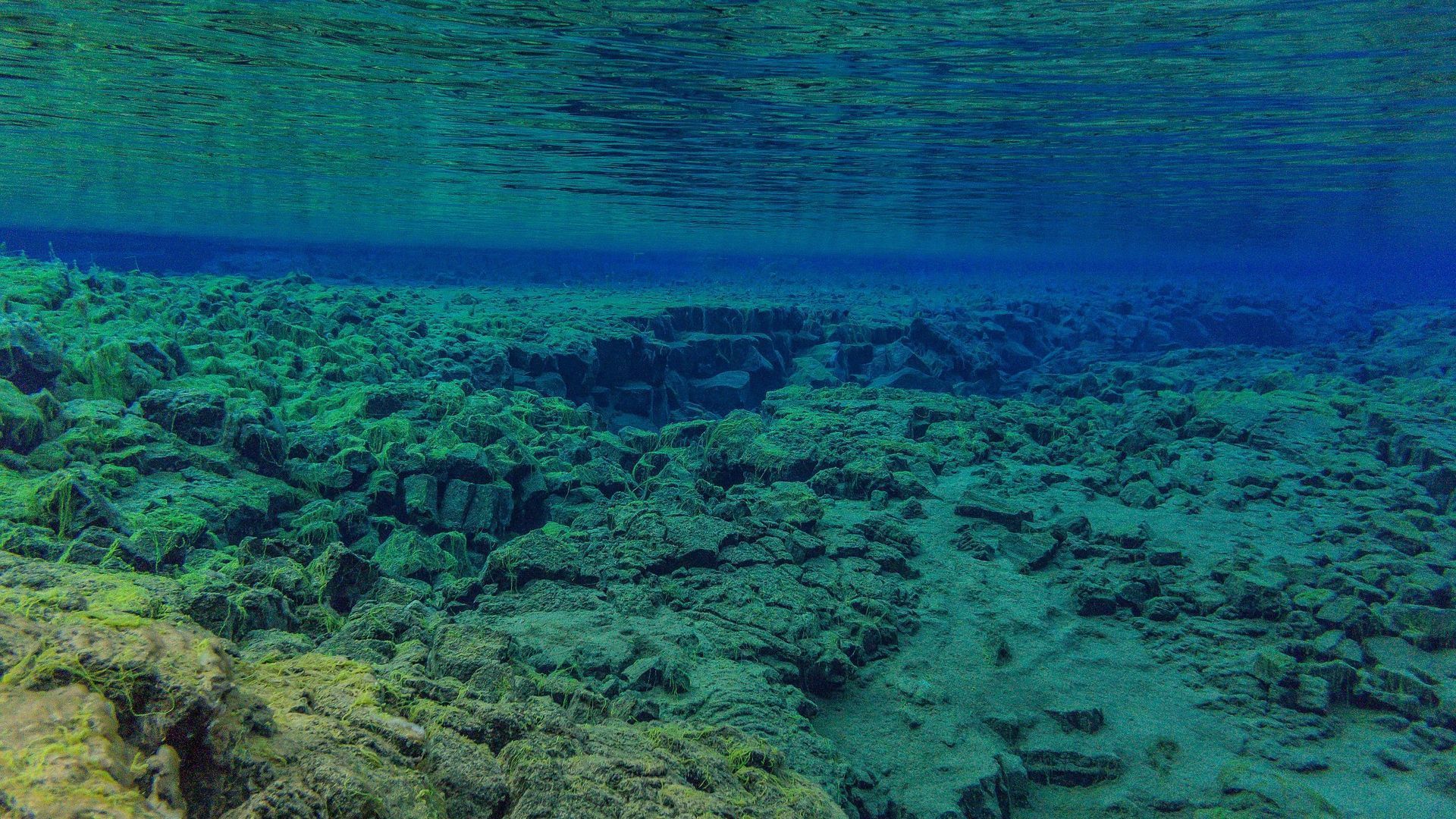 Visiting the Silfra fissure is an experience like no other as it was once a proper land formation that was later submerged in water. You can witness cracks and dents created by the earthquake and even see how deep the fissure goes. According to the Professional Association of Diving Instructors, Silfra is a "living" diving site because it is constantly going through changes. The shifting tectonic plates create new tunnels, caverns and underwater terrain.
The water of Silfra fissure
Silfra fissure is famous for having pure and clear water, you can even drink it! It has exceptional visibility as it is essentially melted glacial water. The meltwater flows from beneath the ground after seeping through porous underground lava fields. The water temperature remains low all year round, ranging between 2-4 degree Celsius. It never freezes which further adds to the outstanding visibility. You can barely find any fish while diving into Silfra fissure, however, you will find algae formed around the magnificent rock formations. The diving experience offers breathtaking views and vivid colours like one has never seen before.
Diving and snorkelling in Silfra fissure
There are two types of water activities that are most popular in Silfra fissure that is snorkelling and diving. Silfra is safe and beginners who haven't ever tried snorkelling can snorkel in Silfra, under the guidance of an instructor. Due to the cold climate, people snorkel wearing dry suits. The Silfra fissure has three diving sites– Silfra Hall, Silfra Cathedral and Silfra Lagoon.
How to reach Silfra fissure:
Silfra fissure is located in Thingvellir National Park, a UNESCO World Heritage site in Iceland. It is 47 kilometres away from Reykjavik, the capital of Iceland and its largest city. You can take a flight to Keflavík Airport, the international airport of Reykjavik. The average flight would take about 20 hours and cost roughly HKD 4,700. Once you landed, you can drive down to Thingvellir. It takes less than an hour to reach the National Park from the capital by road. Simply follow Route 1 north till you reach Route 36 in Mosfellsbær. Simply follow this route till you reach Thingvellir National Park.
Best time to visit Silfra fissure: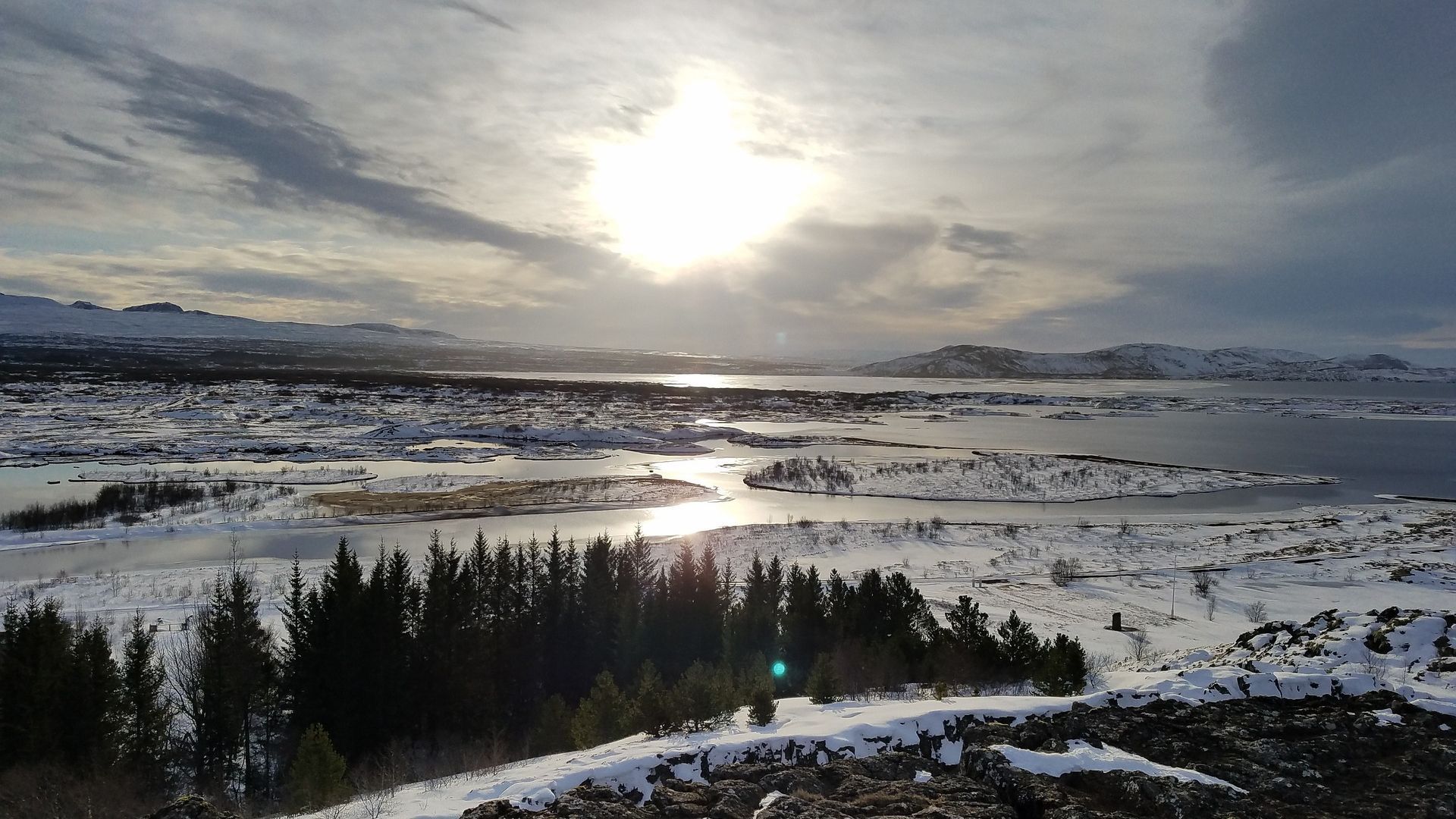 Silfra fissure is known for diving and there is no good or bad time to dive the fissure. However, the best time to visit Iceland is the summer months from July to August. You are likely to find more snorkelers and divers in the summer. If you wish for a quieter and calmer dive, then winter will be the right time for you.
Where to stay near Silfra fissure:
Hotel Grimsborgir
You can find this hotel to be 21 kilometres away from the boundary of Thingvellir National Park. Located in the Golden Circle Region of South Iceland, the beautiful hotel is in Ásborgir. The hotel offers breathtaking views of the sky and the surrounding mountains.
ION Adventure Hotel
This hotel is 18 kilometres away from Thingvellir National Park and it is situated on top of Mount Hengil. All the rooms come with a seating area and private bathroom. The Reykjavík city centre is 45 minutes drive from the hotel.
The Reykjavik EDITION
Located in the city centre, the hotel is 53 kilometres away from the Silfra fissure in Thingvellir National Park. The Reykjavík Domestic Airport is just 2 kilometres from the hotel.
Reykjavik Konsulat Hotel, Curio Collection By Hilton
Another hotel right in the coastal capital of Reykjavik, this is 53 kilometres from Thingvellir National Park. The hotel features a wellness spa, restaurant and lobby bar.
Radisson Blu 1919 Hotel, Reykjavík
Close to Reykjavík Harbour, the hotel is walking distance from the main shopping streets and bars in Reykjavik. It is 50-minute drive away from the Keflavík International Airport.
More about Thingvellir National Park Thingvellir National Park is considered a UNESCO World Heritage site in Iceland. People come here to explore the wonders of nature and take part in camping, diving, angling, hiking and riding. The Silfra fissure is not the only reason the Thingvellir National Park is such an iconic spot for tourists. This place holds important historical value to the world as one of the oldest surviving Parliament was founded here. Known as the Althing, this was the first body to exercise legislative power at the national level. The Althing met at Thingvellir from 930-1798.
Hero and feature image credits: Courtesy of globenwein from unsplash
Related: These Are The Best And Worst Times To Visit Iceland
Frequently Asked Questions (FAQs)
Question: Is snorkelling in Silfra fissure worth it?
Answer: Yes! You get to experience what it is like to swim between two continents!
Question: Can you drink the water from the Silfra fissure?
Answer: It is so pure and clear that you can drink it. The fissure is filled with glacial water that is filtered through porous underground lava!
Question: Can I snorkel in Silfra on your own?
Answer: No, you'll need the assistance of a local expert to navigate the fissure.
Question: Where can you touch 2 continents at once?
Answer: Silfra fissure in Iceland.
Question: How deep is the fissure in Iceland?
Answer: The caves can go up to 60 metres deep.