From breathtaking skyscrapers and hiking trails to lip-smacking delicacies, the wonderful city of Hong Kong has a myriad of offerings for those seeking the best of Asia. Though a luxury-hotel haven known for real-estate rates as high as its glassy towers, Hong Kong actually has loads to offer travellers on more of a budget—if you just know where to go. Whether in the heart of this fast-paced metropolis or in its more slow-life, nature-filled outer fringes, the cultural sites and tourist attractions cut across age and interest groups, making Hong Kong a bucket list essential. 
Save the list for a memorable trip.
Best things to do in Hong Kong 
1. Marvel at Victoria Harbour via Hong Kong's Star Ferry 
Victoria Habour is one of the most remarkable tourist attractions in the city, spread across the South China Sea. It separates Hong Kong Island in the south from the Kowloon Peninsula to the north. The urban landscape offers splendid views of the city's skyline, with tourists often flocking to its multimedia light show, 'A Symphony of Lights' every night at 8 pm. Take advantage of hopping on the cruises, which offer insightful commentaries about the harbour. 
The best way to experience Victoria Harbour's scenic views is by riding the Hong Kong Star Ferry. The ferry is one of the cheapest yet most enjoyable rides in Hong Kong. It takes passengers across the harbour between Hong Kong Island and Kowloon.
Visit Star Ferry's website for booking, timing and other details. 
How to reach: MTR and ferries are the best options to get to Victoria Harbour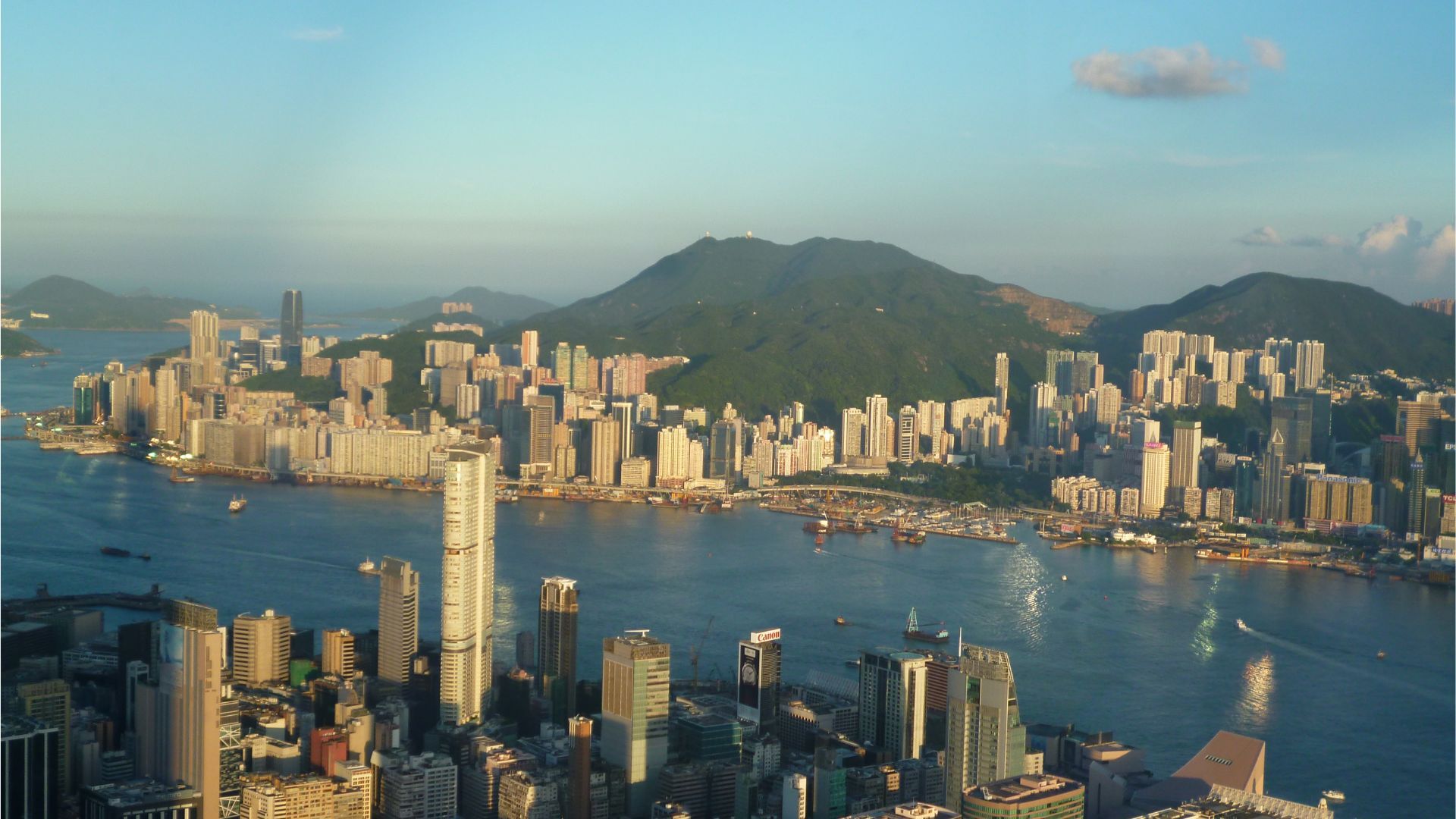 2. Spend tranquil time at the Man Mo Temple 
Are you looking for an escape from the mundanity and shackles of everyday life? Then, spend some time at Man Mo, one of the city's oldest, most magnificent temples dedicated to the King Emperor Man and Holy King Emperor Kwan. The holy site is a declared national monument filled with exquisite designs and architectural techniques dating back to the mid-19th century. 
How to reach: Rickshaw Sightseeing Bus or MTR 
Timings: Mon-Sun, 8 am-6 pm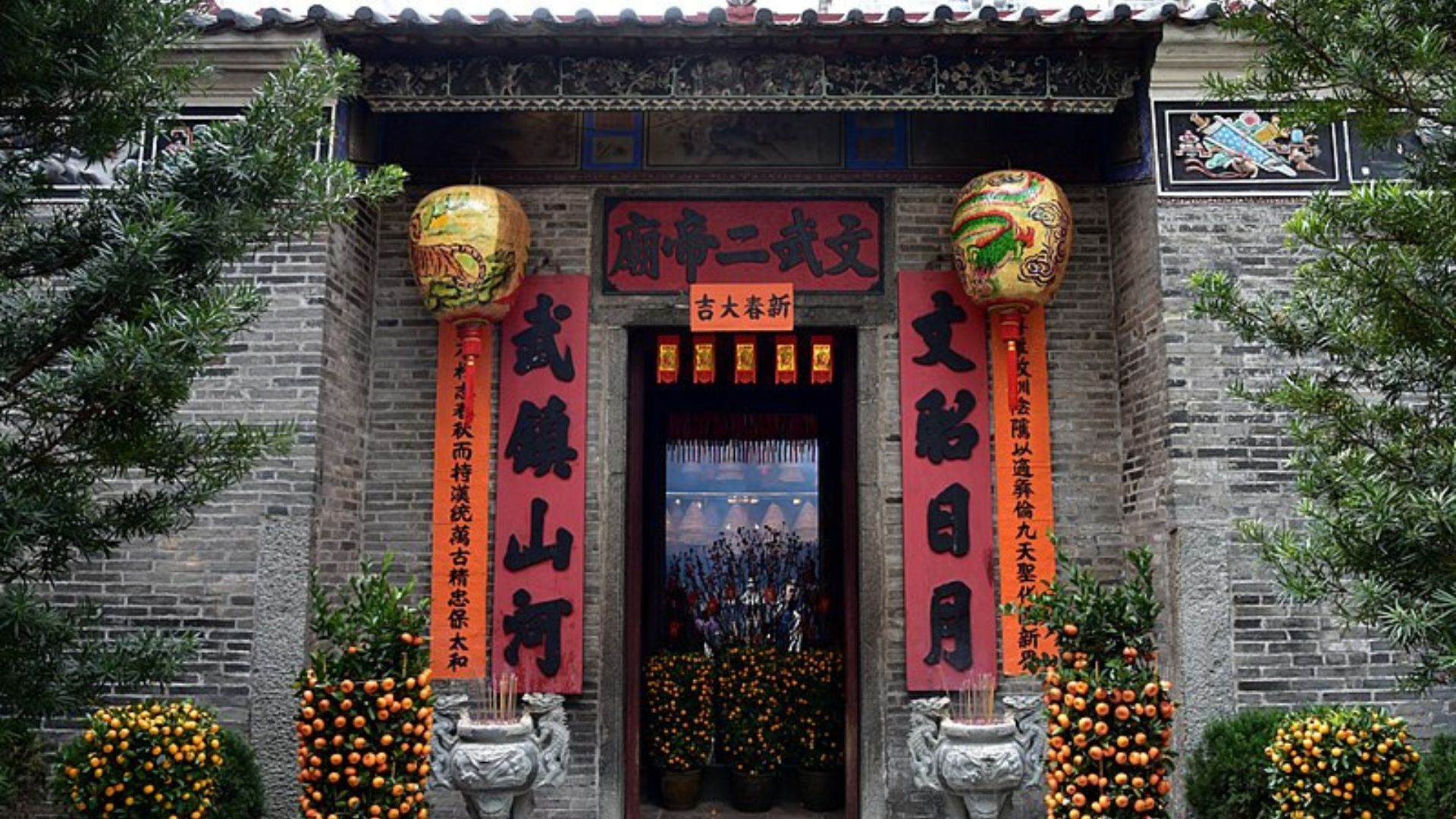 3. Shop, eat, pray and more at Lantau Island 
The largest Island of Hong Kong, Lantau Island, encompasses shopping outlets, sandy beaches, picturesque villages and more. Notably called the "lungs of Hong Kong" due to its luscious forests, Lantau is situated at the heart of the city's Pearl River. One of the major tourist attractions is Sunset Peak, Hong Kong's third-highest mountain, with incredible sunset views. The Tian Tan Buddha statue is another landmark resting near Po Lin Monastery. Also known as 'Big Buddha', the 112 ft tall sculpture is made of 202 bronze pieces and weighs over 250 metric tonnes. Other attractions in Lantau include Ngong Ping Village, Tai O Fishing Village, Hong Kong Disneyland and pink dolphin watching. 
How to reach: The best way to get to Lantau Island is to take a ferry from the Central District of Hong Kong. 4. Enjoy thrilling rides at Ocean Park 
Ocean Park is one of the best amusement parks in Hong Kong, thanks to its electrifying rides and animal habitats. The place has been divided into two essential parts – The Summit and The Waterfront (connected by a 1.5-kilometre-long cable car system) and the Ocean Express Funicular Railway.    
The two zones are further split into eight parts: Marine World, Thrill Mountain, Adventure Land, Polar Adventure and the Rainforest in the Summit and Aqua City, Amazing Asian Animals and the Whiskers Harbour in the Waterfront. Apart from enjoying the rides, one can watch playful penguins, dolphins and sea lions, among other animals.
To make reservations, visit Ocean Park's official website. 
How to reach: Use MTR South Island Line and get off at Ocean Park Station 
Timings: Weekdays: 10 am – 6 pm; Weekends: 10 am – 7 pm Book Your Stay At Hong Kong Here
5. Enjoy the city's panoramic view at Victoria Peak 
Victoria Peak (aka Mount Austin) is the highest mountain in Hong Kong, having an elevation of 1,811 ft. Widely known as Austin Peak or 'The Peak', visitors flock here to soak in scintillating views of Victoria Harbour, Central Hong Kong and Lamma Island. The Peak is rich in flora and fauna, comprising a Chinese-style, Victoria Garden. Black kites and butterflies are among the various bird species at the Peak. 
How to reach: Visitors can travel to the Peak via Hong Kong's 125-year-old funicular railway, Peak Tram. For adventure junkies, hiking is also an option. Hiking from the MTR Central Station to The Peak Tower takes 1-1.5 hours. Lastly, taxis and buses are always available to reach the site. 
Timings: Weekdays: 10 am to 11 pm, Weekends: 8 am to 11 pm 6. Hike Dragon's Back for adventure and thrilling views
Dragon's Back is one of the most popular hiking trails on the southern coast. Spread between Wam Cham Shan and Shek O Peak. The trail promises splendid visuals of Tai Tam, Shek O, and Big Wave Bay. The 7 km long stretch is completed in 2-3 hours, and best suits those looking to embrace nature's bounty. Its location on Hong Kong Island makes it well-connected and easy to reach. The trail's highest point, Shek O Peak, is a visual treat where one can witness Shek O Beach, Big Wave Bay Beach, and the Shek O Golf Course. 
Ensure you carry water bottles (especially in hotter months) and healthy snacks to keep your energy levels high. In addition, investing in excellent quality walking shoes or trainers is necessary. Finally, paragliding opportunities await you on the trail if you are not afraid of heights. 
How to reach: Take the metro to Chai Wan Station on the island line and walk a kilometre to the Hong Kong Trail parking lot. 7. Get mesmerised by the outer world in Hong Kong Space Museum 
If space, science, and astronomy even remotely interest you, the Space Museum is the place to be! The dome-shaped building stands on Salisbury Road in the Tsim Sha Tsui promenade, spreading over an area of 8000 square metres (about the size of a Manhattan city block). The exhibition spaces are divided into two – the Hall of the Cosmos and the Hall of Space Exploration. Apart from these, the museum also includes a Space Theatre. Its modern equipment and spellbinding effects offer valuable insights into space science. 
How to reach: Get down at MTR Tsim Sha Tsui Station and take exit J. 8. Go on a shopping spree at Temple Street Night Market 
Looking to hoard affordable clothes, electronics and souvenirs to take back home? Then head to Hong Kong's liveliest Night Market, Temple Street. With enthusiastic vendors selling everything from clothes, household items, inexpensive jewellery, bags, toys, watches and more, the market caters to tourists and locals. The bustling street is also filled with fortune tellers and feng shui experts, and if you're lucky enough, you may witness a Cantonese opera performance. Bargaining is key! Once you get the hang of prices by meandering across stalls, negotiate to get the best deal. 
How to reach: By MTR: take the Kwun Tong line and get off at Jordan Station. 
Timings: 4 pm to midnight Book Your Stay At Hong Kong Here
9. Experience Utopia at Hong Kong Disneyland 
Located on Lantau Island, Disneyland is the largest theme park in Hong Kong and the second largest in Asia. The characters' parade, thrilling adventure rides and tours will surely be one of the most enjoyable day outings you've witnessed. In addition, the various theme parks like Fantasyland, Tomorrowland, Mystic Point and Adventureland, among others, offer majestic experiences for all adrenaline junkies. 
How to reach: Rail, Bus or Disney Resort's shuttle service 
Timings: Weekdays: 10:30 am – 8 pm; Weekend: 10:30 am – 8:15 pm 10. Visit Sky100 Hong Kong for 360-degree views of the city 
Sky100 Hong Kong offers panoramic views of the city. The indoor observation deck is stationed on the 100th floor of the International Commerce Centre, the city's tallest structure. In addition, the deck offers multimedia exhibits shedding light on Hong Kong's culture and history. What's more, the deck has you covered if you're looking to tingle your taste buds. The delectable dishes at Cafe 100 by The Ritz Carlton are all you need while viewing the sea and sunset. The place also offers photo services and a gift shop for a more memorable sky-high experience. 
How to reach: Get here by car or public transport (Board the MTR to Austin Station) 
Timings: Daily 10 am – 8:30 pm (last entry: 8 pm) 11. Make a wish at Wong Tai Sin Temple 
The intricately decorated temple is dedicated to the Taoist deity Wong Tai Sin. Locals and tourists flock here in huge numbers as it is widely believed that each wish made here comes to fruition. Comprising many altars and hallways, the temple has Buddhist and Confucian worship places in addition to Taoism. 
Fortune telling is another attraction in the temple, and you'll find multiple stalls offering palm and face reading, among other activities. The temple witnesses maximum tourist influx during the Chinese New Year and around Wong Tai Sin's birth date in September. 
How to reach: Take the MTR and get off at Wong Tai Sin station 
Timings: 7:30 am–4:30 pm 12. Stop by the marvellous Chi Lin Nunnery on Diamond Hill 
The Buddhist temple is considered one of the most exquisite religious shrines in Hong Kong, boasting fine wooden architecture and decorated with lotus ponds and bonsai trees. Tranquillity is at its peak as you admire the Nunnery's vast courtyards in the lap of nature. Neighbouring the Nunnery is the famous Nan Lian Garden which spreads across 3.5 hectares. Both offerings are free for those looking to travel on a budget. 
How to Reach: Get down at the Diamond Hill MTR station or take a taxi 
Timings: 7 am – 9 pm Book Your Stay At Hong Kong Here
13. Take a day trip to Tai O village 
Tai O is a traditional fishing village on the western coast of Lantau Island. Deep dive into the lives of local Tanka people while enjoying the best seafood at Tai O Market Street (the salted fish and Tai O Husband are a must-try). Untouched by modern society, the place displays Chinese culture, history and unfiltered beauty. Enjoy recreational activities like boat rides, sea kayaking and sighting pink dolphins. Plan your visit for a weekday rather than a weekend to avoid an overwhelming crowd. 
How to reach: Take the MTR to Tung Chung Station and then the number 11 bus from Tung Chung Town Centre 14. March upwards to the Ten Thousand Buddhas Monastery
The 20th-century Buddhist temple houses a whopping 13,000 golden Buddha statues with different aesthetic delights. The grandeur and expanse of the place make it a must-visit attraction for tourists. Miniature to life-size, you'll find Buddha statues in all shapes and sizes as they decorate the passageway leading to the temple. 
The Monastery is divided into two levels — lower and upper. The lower level houses the main temple hall, filled with 2,800 mini statues, each with a unique expression. Visitors must climb 400-odd steps to reach the temple, with monkeys popping up on your way now and then. The best time to visit the place is during Chinese New Year or Buddha's Birthday. 
How to reach: Easily accessible via MTR  from Central and Tsim Sha Tsui
Timings: 9 am to 5 pm daily 15. Explore nightlife and fashion boutiques at SoHo 
Catch up on the fanciest nightclubs, drinking avenues, fashion boutiques and much more at Hong Kong's entertainment hub, SoHo. Located at the southern end of Hollywood road (hence the name), SoHo lures the youth with its trendy feel and is buzzing with locals and tourists at all times. From tiny cafes to upscale dining options or high-end designer boutiques to local brands, the place covers you on all budget limits. 
How to reach: Walk from Star Ferry Central Pier and reach SoHo by the Mid-Levels escalator 16. Plan a day out with your kids at Kowloon Park 
One of the biggest parks in Hong Kong, Kowloon's rich flora and fauna, in addition to its sports facilities, make it the perfect picnic spot. The fountain-laden, lush-green gardens, the museum and the art installations are all euphoric. It is further equipped with a sports centre, swimming pool, mini-soccer pitch, Kung Fu corner and fitness trail. 
How to reach: Take the MTR and get off at Tsim Sha Tsui MTR station Exit A1 
Timings: 5 am – 12 am Book Your Stay At Hong Kong Here
17. Visit the Hong Kong Museum of Art for a visual treat
Are you a connoisseur of art? If yes, visit the city's Art Museum for its historical paintings, exhibits, and modern pieces created by local and international artists. The five-level museum has the second, third and fourth floors dedicated to its collections, while the first floor is used for exhibitions and cultural events happening regularly. In addition, the fifth floor offers dining options with a splendid view of the harbour. 
How to reach: MTR (get down at East Tsim Sha Tsui Station), Star Ferry or bus 
Timings: Monday, Wednesday to Sunday: 10 am – 6 pm; closed on Tuesdays 18. Shop with seaside views at Stanley Market 
Handicrafts, clothes, souvenirs, gift items, jewellery, fabrics — you name it, and Stanley Market has it! Located in the seaside town of Stanley, the open-air street market offers items at lower prices (more so if you're an ace bargainer). 
The food options cut across Chinese, Thai, Cantonese and even Indian delicacies. Another major attraction at Stanley is the Murray House, one of Hong Kong's oldest buildings. A 10-minute walk from the market leads to St Stephen's Beach, one of the city's most tranquil and scenic beaches. 
How to reach: Transport options are limited. However, one can take a taxi, bus service or MTR 
Timings: 10 – 6 pm 19. Enjoy sunset cheers at Repulse Bay Beach 
The Repulse Bay beach is one of the major attractions in the city, where you'll find people indulging in water sports, soaking in the sun while sipping a beer or simply strolling on a day off. The Pulse is next to the beach, a shopping complex offering rooftop spaces and restaurants.  You can also go beach hopping at South Bay Beach, Middle Beach and Deep Water Bay, all of which are in the immediate vicinity. 
How to reach: Take a bus from Central to get to Repulse Bay 20. Soak in the beauty of Lamma Island 
Moving away from the grand attractions of Lantau, Hong Kong's Lamma Island is a serene spot. The Island boasts of a row of seafood restaurants, craft shops and beaches. If you enjoy hiking, you can venture on one of the gorgeous hiking trails– Ling Kok Shan trail, The Wilson Trail and the Dragon's Back Trail. While there's an endless list of offerings, what steals the show is the Island's exquisite and fresh seafood, including fish, prawns, squid and clams. 
How to reach: Easily accessible through ferries If you must witness the best Hong Kong offers, plan your trip around the Lunar New Year. The celebrations never cease, from firework displays at Victoria Harbor to visiting the countdown at Times Square. If you are a foodie, the delicious New Year menus featuring a medley of cuisines accompanied by wine or free-flow martinis will tempt your taste buds. 
Book Your Stay At Hong Kong Here
 All image credits: Wikimedia Commons
Hero and feature image credits: Chi Hung Wong and Chapman Chow on Unsplash
This story first appeared on Lifestyle Asia.
Related: The 15 Most Luxurious Villas You Can Rent Around the World Right Now
Frequently Asked Questions (FAQs)
Question: What are the requirements to travel in Hong Kong?
Answer: You do not need PCR tests to travel to Hong Kong right now.
Question: How many days do you need to explore Hong Kong?
Answer: A 7-day trip is good to explore the Hong Kong city as well as the outskirts.
Question: What are the best free things to do in Hong Kong?
Answer: Victoria Peak, Lantau Island, Hong Kong Park, Tian Tan Buddha, Man Mo Temple are some of the free attractions in Hong Kong.
Question: What is the best time to visit Hong kong?
Answer: Autumn and early winter is the best time to visit Hong Kong.
Question: Is Hong Kong safe to travel?
Answer: Yes, travel to Hong Kong is absolutely safe.