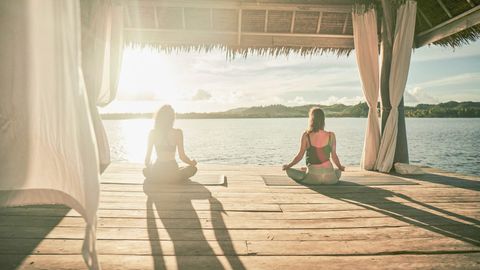 The Philippines is emerging as one of the world's hottest luxury wellness destinations.
THE PHILIPPINES HAS LONG BEEN known as a gorgeous destination for holidaymaking, eco-travel, surfing and scuba diving — it was named Best Dive Destination in the Dive, Resort and Travel show in Malaysia and Taiwan and the World's Leading Dive and Beach Destination by the World Travel Awards last year — but the country is newly emerging as one of the hottest places to visit for affluent wellness travellers as well.
El Nido Resorts
Globally, luxury travel has broadened its lens from a focus on five-star accommodations to a broader panorama of unique experiences catering to discerning travellers. To make a stay even sweeter, wellness travellers in the Philippines, named Destination of the Year by the TTG Travel Awards, can access unspoilt beaches, underwater adventures and natural biodiversity as they get pampered.
Indulgent resorts across the country offer impressive wellness programmes, placing the archipelago of 7,641 islands increasingly on the lips of travellers in pursuit of tailored experiences.
We've curated a round-up of the country's best wellness packages, each delivering global standards of therapy paired with legendary Filipino hospitality. Nestled amidst 51 hectares of lush greenery with a thriving microbiome, The Farm at San Benito is the Philippines' only medical wellness retreat to offer comprehensive health optimisation programmes for chronic illnesses and lifestyle diseases. Stunning views of the majestic Malarayat mountains from its 60 suites and villas complement a lineup of life-transforming therapies from medically trained experts.
Its unique menu includes a dedicated Immune Intelligence programme with a holistic health consultation, cellular health screening, intravenous nutritional therapy, acupuncture, oxygen therapy and immuno-cell renewal, amongst a host of other inclusions.
Imune Intelligence. Image courtesy of The Farm at San Benito

Mindful yoga. Image courtesy of The Farm at San Benito

Sound Healing
The Farm's Sleep Recovery itinerary is tailored to those in need of rest with brain biofeedback, sleep induction therapy, 'relaxology' sessions and unique Vital Dome treatment.
El Nido Resorts
This award-winning family of resorts on Apulit Island, Miniloc Island, Lagen Island and Pangulasian Island is known for its sustainability practices. With a strong commitment to providing luxury experiences with minimal environmental impact, it introduces new eco initiatives every year that build on the success and infrastructure of previous projects.
With offerings including rappelling off limestone cliffs, snorkelling to giant clam gardens and cave exploration, El Nido Resorts emphasise wellness by reconnection with the natural world and discovering more about yourself through interactions with incredible flora and fauna. In Luzon's popular resort town of Tagaytay, a mild climate and ridgetop location above Taal Volcano Island create an ideal location to destress, recover and recuperate amidst nature.
Nurture Wellness Village features a host of bespoke health packages designed to provide guests with long-term benefits and a fresh lease on life. The destination specialises in alternative medicine and methods encouraging the body to cleanse and heal through sustainable changes. Its programmes incorporate charcoal, diet, massages, expert consultations and soul-nourishing activities like qi gong and ecotherapy. Its Liver & Gallbladder Flush includes bespoke kidney flushing drinks, wellness treatments, acupuncture, and pyroenergen therapy. Those suffering from burnout can recharge through the Stress Buster Programme, with a menu of fresh juices, facials, acupuncture, infrared sauna, enemas and massage.
Image courtesy of Atmosphere Resorts & Spa (3)
Situated a world away from the everyday, Atmosphere Resorts & Spa is located in Dumaguete on Negros Island. The lush and beachy locale is perfect for the multifaceted and health-focused offerings of the resort, which uses the surroundings to their fullest extent.
Fitness-focused programmes incorporate mountain biking, personal training, circuit training, guided running, life coaching, TRX and use of an onsite Warrior gym. Guests consider this the perfect jump start or restart of incredible fitness regimes.
Images courtesy of Amanpulo (4)
This ultra-luxury resort in Palawan, ranked amongst the world's best islands by Travel+Leisure, offers massage therapy that makes you feel better inside and out. Its Pag-asa massage, inspired by the Filipino word for 'hope,' employs therapists' collective healing wisdom and powers of intuition to create an idyllic environment for bodily revitalisation and renewal.
To make this relaxing therapy all the better, proceeds aid the Andres Soriano Foundation, which funds education, healthcare, and financial independence projects on the resort's Manamoc Island. At this serene haven tucked away in El Nido, guests can embark on uniquely rejuvenating spa and wellness journeys in naturally transformational surroundings that have the power to create stillness that nourishes spirit and soul.
Among the resort's most alluring offerings are shamanic sound healing sessions and infused reiki with trained professionals that returning guests visit specifically to be treated by. At the resort's expansive Panari Spa, treatments are informed by a wide range of healing modalities and therapies amid a natural paradise. This stunning resort in Boracay — voted the top island in Asia last year in the Conde Nast Traveler Readers' Choice Awards — houses the retreat-like 5,714 sqm Chi Spa.
Its secluded location, detached from the resort on a rocky peninsula with gorgeous private bay views, is a sanctuary within the larger gorgeous natural oasis of the resort.
Chi Spa

Inifinity Pool
The spa's Traveller's Retreat revitalises jet-lagged visitors, relieving stiffness and improving circulation. After a soothing scrub, natural coco bath, and famed Philippine Hilot Massage, guests feel ready to explore, relax, or conquer whichever Philippines bucket-list items ignite their imaginations.
Dream Islet

Mithi Spa

Massage l Health & Wellness l Spa
For those searching for a holistic retreat in a hidden paradise, Panglao Island's Mithi Resort & Spa has been providing world-class services for two decades.
The spa offers a selection of massage techniques, from those meant to soothe tired muscles and minds to others made for energy and invigoration. It also offers a series of detoxifying programmes that can be personalised for each guest's individual needs. Or choose to engage in a full selection of spa experiences that blend local wellness traditions with treatments and products from across the world. A luxurious getaway amidst the surfer's paradise of Cloud 9, wellness travellers to the Philippines can find their centre at Nay Palad Hideaway, considered the birthplace of the barefoot luxury movement. With white sand beaches on one side and storied mangroves on the other, this tranquil location provides world-class treatments with an ambience that creates a deep sense of peace.
In the resort's spa village, healing Hilot Filipino massage improves circulation and relieves pain — and it is made all the better with the spa's homemade organic oils, luxuriously created with local ingredients. Employing the idea that the best experiences are those shared, the spa also specialises in romantic bubble baths featuring infusions such as coconut milk and sampaguita oil to envelop guests in love and healing.
Morning Yoga

Treatment Room

SUP Yoga
To learn more about wellness in the Philippines or any of the programmes mentioned here, visit Philippines Tourism at app.philippines.travel or Tourism Promotions Board Philippines at www.tpb.gov.ph
Article Sponsored by We Are Connections.
Written By