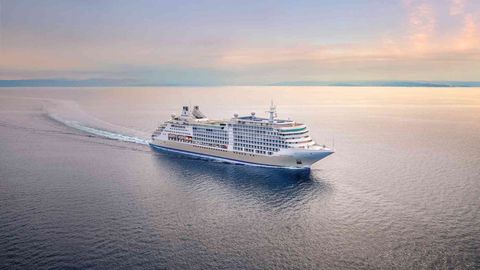 It's hard to believe we're already looking at trips in 2026, but this newly announced around-the-world adventure is worth planning ahead for. Luxury cruise line Silversea just announced a 140-day world cruise to 70 destinations across 37 countries, the brand's most wide-ranging voyage yet.
The 4.5-month cruise called "The Curious and the Sea" begins in Fort Lauderdale, Florida, on January 6, 2026. It sails down the coast of Central America to the Panama Canal, which it crosses, then makes a few stops in South America, including Lima, Peru. From there, it begins its 28-day immersion in the Pacific Islands. Easter Island is, of course, on the itinerary, followed by French Polynesia (both the Society Islands, where you'll stop at Bora Bora, and the Marquesas), Tonga, New Caledonia, the Australian territory of Norfolk Island, the Cook Islands, and Fiji.
"The Curious and the Sea" Next up is a stop in New Zealand before a semi-circumnavigation of Australia, which starts in Tasmania, sails along the southern coast, and then across the entirety of Western Australia. The ship will call in Indonesia, Singapore, Malaysia, and Thailand in Southeast Asia. There will also be multiple stops in Sri Lanka and India. (From Mumbai, there's an overland program that will take you into Uzbekistan; other overland destinations include Luxor, Egypt, and the Balkans in Europe.)
In the last month of the cruise, travellers will sail in the Middle East, through the Suez Canal, and around the Mediterranean, including stops in North Africa. The voyage concludes in Lisbon. This luxury cruise celebrates the history of navigation! "For this World Cruise, we took inspiration from history's most pioneering explorers, each of whom has sailed to the end of the earth — driven by curiosity and a thirst for discovery," Barbara Muckermann, president and CEO of Silversea Cruises, said in a statement sent to Travel + Leisure. "Appealing to the curious traveller within, we are inviting our guests to experience our planet's beauty with new eyes, while celebrating the rich navigation history."
Guests will sail on Silversea's Silver Dawn, a 596-passenger ship that launched in 2022. There are eight dining options on board, as well as the grand Otium spa. The voyage is all-inclusive — and that means business-class airfare, butler service, laundry, and Wi-Fi. Rates start from USD 76,900 per person; learn more at silversea.com.
(Hero and feature image credit: Fiippo Vinardi/Silversea)
This story first appeared on travelandleisure.com
Related: This 133-Day Cruise Sails From The South Pole To The North Pole — With Epic Stops Along The Way
Written By