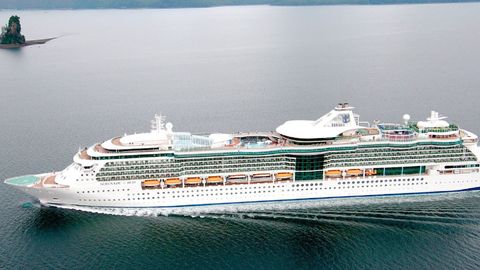 The glistening city of Hong Kong prides itself on an effortlessly luxe landscape. Whether it is the soaring skyscrapers, top-of-the-class epicurean fare, shopping haunts, or hiking trails, there's plenty to satiate the traveller of today. What's more? The indulgent offerings extend into the seascape too as Hong Kong cruises take the tourists on a maritime escapade unlike any other.
Asia is home to numerous cruise lines offering luxury voyages with endless entertainment options and state-of-the-art facilities, many of which set sail from Hong Kong. It is the glitz and glam onboard that take these cruises a notch higher. From poolside movie screens, upscale boutiques and enticing casinos to delectable gustatory delights, mini golf courses and relaxing spas, the options are aplenty.
Additionally, these cruises explore destinations such as South Korea, Japan, Cambodia, the Philippines, Indonesia, Thailand and Australia. They promise enchanting journeys that will take you from lush rainforests and limestone caves to ancient temples and historical monuments, all wrapped up with sparkling nightlife.
So, get ready to plan your 'seacation' with us. Bon Voyage!
Here are some of the most luxurious cruises from Hong Kong
Hong Kong to Singapore – Silversea Starting from Hong Kong, sail on international waters all the way to Singapore via Vietnam and Thailand, covering six ports. With nine excursions along Vietnam's Ha Long Bay, including floating villages and Sung Sot Caves, known for their unique stalactites, your third day is sure to be an adventurous one. This is followed by excursions in Ho Chi Minh City in Vietnam and Bangkok in Thailand.
Take your pick from nine types of opulent suites, most of them featuring a veranda with gorgeous views of the waters, for a lavish stay on Silver Muse. Some all-inclusive benefits include butler service, food and beverages including champagne, wines and spirits, 24-hour dining service, access to all eight restaurants, onboard entertainment and complimentary transportation.
Tickets: Starting from USD 9,200 per person
Date and duration: 14 days from October 25, 2023
Hong Kong to Bali – Viking Cruises Seven countries and 11 guided tours over 27 days — doesn't this sound thrilling? And, while you cruise across the South China Sea, you can experience enriching sessions at the theatre onboard with perceptive TED Talks and destination-based seminars.
Other than Vietnam and Thailand, guests will get to halt at Cambodia's Sihanoukville, where they can delve deep into the country's rich history and soak in the New Khmer architecture of the monuments. Additionally, meeting Cambodian children at a local school is also one of the fun highlights.
Guests can extend their cruise by two nights and explore Hong Kong (pre-cruise) or Bali (post-cruise) with additional charges. The Hong Kong itinerary includes a visit to the Possession Point, where Hong Kong was taken over by the British in 1841. Additionally, you can visit other historical places or go shopping, followed by dinner at any of Kowloon's fine-dining restaurants. The Bali package includes stops at Taman Ayun Temple, Ulun Danu Temple and Tanah Lot Temple, all known for their breathtaking vistas.
Tickets: Starting from USD 12,398 per person
Date and duration: 27 days from October 18, 2023
Hong Kong to Tokyo – Regent Seven Seas Cruises Take your pick from a myriad of suite options to spend your 14 days on the waters with 41 exciting shore excursions throughout your journey. Explore the best of Taiwan, Ishigaki, Shanghai, Busan and Nagasaki during this voyage. You can also choose the 3-Night Jewels of Hong Kong pre-cruise land programme or the 3-Night Vibrant Tokyo post-cruise land programme for free.
Some of the inclusions are unlimited beverages, including fine liquor, pre-paid gratuities, and shore excursions besides the ones already planned.
While onboard, you can go for a refreshing swim in the pool, try your luck at the glitzy casino or simply rejuvenate at the Serene Spa and Wellness. Also, the upscale boutiques are sure to spoil you with an array of duty-free products including designer clothes, jewellery, perfumes and more.
Named Beyond the Great Wall, this enthralling cruise is sure to take you on a magical journey across this part of Asia on Seven Seas Explorer.
Tickets: Starting from USD 11,999 per person
Date and duration: 14 nights from February 21, 2024
China, Japan and South Korea Cruise – Royal Caribbean Explore China, Taiwan, Japan and South Korea on board the enchanting vessel, Serenade of the Seas, which features everything — from a poolside movie screen to walls for rock climbing. Sample some of the best grills and Asian cuisines onboard at Chops Grille, Izumi and Park Café, and experience spectacular performances and music at Stage to Screen and Vibeology.
From cruising the waters while enjoying world-class facilities to visiting places including Hong Kong and Beijing in China, Taipei in Taiwan, Ishigaki and Okinawa in Japan, and Busan, Jeju Island and Seoul in South Korea, Royal Caribbean promises a lot more on this cruise from Hong Kong.
Tickets: Starting from USD 1,981 per person
Date and duration: 12 nights from March 27, 2024
Hong Kong to Singapore – Holland America Line If you don't wish to navigate through the usual Asian sea route and are thinking of cruising your way through the Philippines and Malaysia, then this one's for you. Its official website describes the cruise best — "Explore Manila's historic Intramuros. Wander a Puerto Princesa butterfly garden. See Ho Chi Minh City from an xe om (motorcycle cab.) Savour 5-star Thai cuisine on a Bangkok overnight."
With five different suite options to choose from, stay onboard the award-winning Westerdam, offering exquisite dining options at The Dining or Pinnacle Grill and entertainment at World Stage or Rolling Stone Lounge. Not to forget the little modern market onboard — Lido Market, perfect for your gustatory cravings.
Tickets: Starting from USD 1,159 per person
Date and duration: 14 days from November 11, 2023
Hong Kong to Singapore – Seabourn Get ready to sail onboard Seabourn Encore on its debut journey. The newest state-of-the-art facilities, gourmet cuisine and ultra-luxury experiences await you on this cruise from Hong Kong. With 300 splendid suites having glass doors and windows, a fitness centre, a spa and the retreat, you are sure to be spoilt for choices, with the highlight being 'Caviar in the Surf'. In this signature experience, chilled champagne and caviar are served on a surfboard to guests when they disembark at select beaches for water activities.
The destinations include Vietnam, Cambodia and Thailand before reaching Singapore, each offering numerous fun port activities. Some popular spots include Han Market, Cham Museum and Marble Mountain in Vietnam; Wat Batrang and Wat Leu Temple in Cambodia; and Koh Kood in Thailand.
Tickets: Starting from USD 6,749 per person
Date and duration: 14 days from December 22, 2024
Hong Kong to Sydney – Oceania Cruises This is for those planning to take a long break from work or work from the sea and cruise all the way from Hong Kong to Sydney. Other than an array of suites and staterooms for couples and families, solo stateroom options may also be available.
The cruise includes stunning destinations in Australia, such as Broome, Geraldton, Perth, Busselton, Albany, Adelaide, Penneshaw, Melbourne and Burnie. Before reaching the Down Under, discover the allure of Southeast Asia in Vietnam, Thailand, Cambodia and Indonesia. Additionally, under their Learn, Indulge and Relax section, you can spend your time reading, trying your hands on something new, attending an enriching guest lecture or simply heading to the spa.
Named Aussie and Asian Allure, this cruise has a special offer – Simply MORE. This includes simply MORE Shore Excursion Credit worth USD 2,200, champagne, wine and gourmet speciality dining for free as well as unlimited WiFi.
Tickets: Starting USD 8,399 per person
Date and duration: 39 days from November 12, 2023
Frequently Asked Questions
What are the popular cruise destinations from Hong Kong?
Some popular cruise destinations from Hong Kong are Japan, South Korea, Indonesia and Thailand.
How long do cruises from Hong Kong typically last?
Different cruises from Hong Kong have different durations depending on the places to be covered. These can last from a few days and weeks to a month or more.
What facilities and amenities are available on cruise ships departing from Hong Kong?
Numerous amenities are available on cruise ships departing from Hong Kong, including restaurants, bars, waterparks and even minigolf courses sometimes.
What documents do I need to embark on a cruise from Hong Kong?
Other than identity proofs, you need your passport, respective visas and related documents for visiting different countries via cruise from Hong Kong.
How do I get to the cruise terminal in Hong Kong?
The Ocean Terminal in Hong Kong is about 34 km from the Hong Kong International Airport. You can take a taxi to get there.
Are there any restrictions or regulations regarding luggage on cruises from Hong Kong?
Most cruises don't have any luggage limit. However, you can check with the company providing your cruise.
Can I explore Hong Kong before or after my cruise?
Yes, you can explore Hong Kong before or after your cruise. You can either choose to do that personally or book additional packages if the cruise company is providing them.
Can I book shore excursions during my cruise?
Most cruises have shore excursions included in the itinerary, but if you wish to visit more places, you can book excursions on your own.
How can I book a cruise from Hong Kong?
You first decide the time you wish to spend on a cruise depending on the ones available on websites that plan cruises. Alternatively, you can visit the websites of companies that arrange cruises and book from there directly.
Discover Luxury Travel Experiences Here
(Hero and featured image credit: Royal Caribbean)
(Prices and itinerary are subject to change based on availability and all currency conversions made at the time of writing)
Related: The World's Most Luxurious Yacht Rentals
Written By