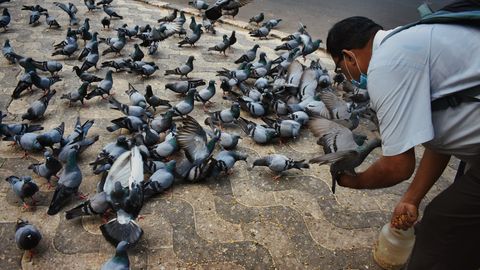 Have you ever been fined for chewing gum while navigating the streets of a beautiful city on your vacation or stopped from entering a monument for wearing heels? If you think this is strange, we don't blame you; but it is true. There are some weird and unusual travel rules around the world which can get you fined or, worse, arrested, and that too, unknowingly.
So, if you don't want to face something similar, take note of these travel rules you may not pay attention to otherwise and save yourself from a ruined vacation.
Here are some of the most weird travel rules that can take you by surprise
Feeding pigeons is not allowed in Venice and San Francisco You can be fined if you are seen feeding pigeons in St Mark's Square in Venice, Italy. Those who have visited the country must be aware of the problems caused by these birds at popular places such as Duomo di Milano and Siena Cathedral. According to reports, this ban was enforced in 2008, and the fine can go up to EUR 700 (USD 762). The reason behind imposing a hefty fine is that the administration here maintains that these birds threaten the monuments and public health. This act is also banned in San Francisco, USA, where these birds are called 'the rats of the sky.'
No chewing gum in Singapore
Have a habit of chewing gum? Well, you can't do that in Singapore unless you can prove that you have medical reasons for chewing gums. Reports state that you may have to pay a fine of USD 100,000 if caught in the act or end up in jail for two years. According to Singapore's law, chewing gum affects the environment adversely as they take time to decompose. The law came into effect in 1992 and was slightly relaxed in 2004 when medicated gums with prescription were allowed.
No heels in Greece Are you one of the tourists who can walk around effortlessly in heels? Well, Greece is not the place for it because many historical sites, including the Acropolis, don't allow wearing heels. The unusual travel rule is put in place to prevent the monuments from being damaged. Similarly, Rome's Colosseum will allow entry only if you wear proper walking shoes.
Stepping on currency is a crime in Thailand In Thailand, stepping on the currency notes is considered a criminal offence as they have an image of the country's revered king. This act is said to be an insult to him and is therefore illegal.
Flushing after 10.00 pm is rude in Switzerland
This is one of the weirdest rules that you should remember during your travel to Switzerland. Flushing the toilet between 10.00 pm and 7.00 am in the country is considered rude and treated as noise pollution. Although this isn't a criminal offence, many apartment blocks follow this rule.
No swearing in the UAE If you are planning to travel to the UAE, you need to keep a tab on many rules, and one of them is watching your tongue. You can be deported or jailed if you use obscene gestures or cuss words, not even online! Additionally, kissing publicly is banned in Dubai.
You can't carry codeine in Japan
Do not carry codeine-containing medicines or stimulants, such as nasal inhalers, if you are heading to Japan, as these medications are prohibited beyond a permissible amount. This travel rule may get you deported or you may be subject to detention unless you have permission from relevant authorities.
No spitting in Barcelona
This travel rule should ideally be followed everywhere. Spitting is looked down upon in most places, but in Barcelona, it comes with a heavy fine.
Don't carry durians in public In Japan, Thailand, and Hong Kong, you will not find durian fruit in hotels, flights and other public transportation services. They are banned due to their pungent smell.
No camouflage clothing in the Caribbean
Many people like wearing clothes with camouflage prints, but in certain places in the Caribbean, like St. Vincent and St. Lucia, you cannot wear these. This clothing is only for the army and is said to be uniform forgery if someone else dons that, even children.
No tattoos of the Buddha in Sri Lanka
Buddhist-majority Sri Lanka is strict about safeguarding the holiness of Gautama Buddha, so much so that you can be arrested or deported by the authorities for having Buddha tattoos. You can also not take a selfie with a Buddha statue or pose in front of one.
(Hero and featured image credit: Soubhagya Ranjan/Unsplash)
(Currency conversions done at the time of writing)
Related: Smoking Bans To Dress Code: New Travel Rules You Need To Know Before Heading To Spain
Frequently Asked Questions (FAQs)
Question: Which place has the strictest rules against spitting?
Answer: Many places have strict laws against spitting and littering, including Barcelona and Singapore. Places like Goa and Uttarakhand in India also have strict anti-spitting and anti-littering rules.
Question: What are the weirdest travel rules in the US?
Answer: Some of the weirdest travel rules in the US include avoiding being drunk on trains in Michigan, not using curses while driving in Maryland, and no horse speeding in Rhode Island. Additionally, it is illegal to fill your own car tank in New Jersey.
Question: Which country has the strictest travel rules?
Answer: Some places with the strictest travel rules include the UAE, Singapore, Japan, China, Sri Lanka and Australia.
Question: Which country has strict rules related to currency notes?
Answer: Many countries have strict laws related to their currency notes. One such country is Thailand, where you cannot step on currency, as it has the image of the country's revered king.
Written By