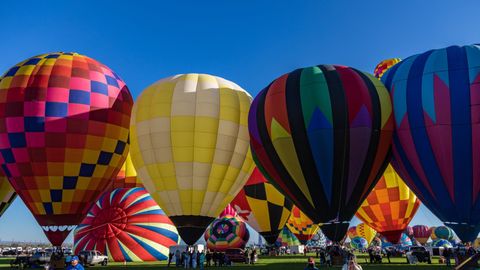 If you're seeking an unforgettable experience, add a hot air balloon ride to your bucket list and plan to tick that off right away. It will give you the sensation of flying as your balloon softly glides over majestic mountains, scintillating waters or green lands. And what better way to embark on this adventure than by attending hot air balloon festivals, held across various locations around the world?
The United States, Europe and Australia are among the destinations which feature some of the biggest and most colourful balloon festivals. You can also participate in live concerts, taste great food and do much more at these events. So, if you're looking to see things from above, bookmark this list of events and plan your vacation accordingly.
Best hot air balloon festivals in the world
Bristol International Balloon Fiesta, England Where: Bristol, South West
When: August 10-13, 2023
What started as a small gathering where a few like-minded balloonists came together in 1979 is now a popular festival in England. Marvel at more than 100 balloons ascending from Ashton Court at this four-day fiesta. Apart from the hot air balloon rides, visitors can attend live music and nighttime balloon glows, and watch extravagant fireworks that mark the event's finale.
For more information, visit here.
International Balloon Festival of Saint-Jean-sur-Richelieu, Canada Where: Saint-Jean-sur-Richelieu, Quebec
When: August 11-20, 2023
Hot air ballooning comes together with a variety of music at this festival Saint-Jean-sur-Richelieu. With a promise of "making a lasting impression and inspiring festival-goers of all ages", the festival in this Canadian city offers a variety of rides and experiences for everyone. About 100 balloons participate in the event.
For more information, visit here.
The Great Reno Balloon Race, US Where: Reno, Nevada
When: September 8-10, 2023
Visit Reno to see one of the world's largest free hot-air balloon festivals. With only 20 balloons in its inaugural year, 1982, the festival now sees up to 100 balloons and participation from over 150,000 spectators on average each year. The event takes place at Rancho San Rafael Regional Park, which is a few km north of downtown Reno. Over the years, this festival has won many awards, including Best Special Event in Reno and Best Special Event in Northern Nevada.
For more information, visit here.
Albuquerque International Balloon Fiesta, US Where: Albuquerque, New Mexico
When: The first week of October
With over 500 balloons participating in the Albuquerque International Balloon Fiesta in New Mexico, it is said to be the largest ballooning event in the world. The nine-day festival not only lets you take the hot air balloon ride, but you can also watch Drone Light Shows, AfterGlow Fireworks and AIBF Chainsaw Carving Exhibition at the event.
For more information, visit here.
Shop the best travel experiences here
Saga International Balloon Fiesta, Japan Where: Saga, Saga Prefecture
When: November 1-5, 2023
Don't just ride on the balloons but also enrol in the Hot Air Balloon School at the Saga International Balloon Fiesta. Learn the basics of hot air balloon flying from the pilots before you get ready to take your ride. Visitors can participate in many competitions or watch popular cartoon characters appear in the sky as huge balloons at the Balloon Fantasia.
For more information, visit here.
International Hot Air Balloon Festival, Switzerland Where: Château-d'Oex, Vaud (Switzerland)
When: January 20-28, 2024
Attend Switzerland's most anticipated winter events at Chateau-d'Oex. This nine-day hot air balloon festival takes place in the Swiss Alps. With outstanding views from the top, the only thing one wishes for is that the ride does not come to an end. During the event, watch flight demonstrations and competitions, and visit the hot air balloon museum in the vicinity.
For more information, visit here.
Canberra Balloon Spectacular, Australia Where: Canberra
When: March 11-19,2023
Spot over 50 balloons floating in the Australian sky in this nine-day festival held every year in Canberra. This year, Canberra also celebrated the Pride Festival on the same weekend and launched the first Pride flight on the inaugural day. Visitors were treated to performances by violin and cello duo Mirror Mirror, Jazz band Bella Groove and live music by the Sweethearts String Quartet.
For more information, visit here.
Colorado Springs Labor Day Lift Off, US Where: Colorado Springs, Colorado
When: Labour Day weekend
Witness over 70 hot air balloons sail up in the sky over Memorial Park. You can also participate in fun doughnut-eating competitions and skydiving demonstrations at the festival. This three-day action-packed event begins early in the morning and ends the same day with Evening Balloon Glow, Drone Light Show and exciting live concerts. With scrumptious cuisines on offer, enjoy beer and wine tastings at the event.
For more information, visit here.
European Balloon Festival, Spain Where: Igualada, Barcelona
When: July 6-9, 2023
Participate in competitive and recreational flights at one of the largest balloon festivals in Europe. Welcoming over 25,000 visitors from all over the world, one can spot over 50 balloons in the sky during the event.
For more information, visit here.
Mondial Air Ballons, France Where: Lorraine
When: July 21-30, 2023
Attracting thousands of visitors every year is the Mondial Air Balloons Festival, which takes place at the Chambley-Bussieres Air Base. Spend time watching and participating in balloon flights during the day and night. Don't be surprised if you see Beethoven's head, a minaret, a champagne bottle, bees or Darth Vader fluttering in the sky during the festival that lasts for 10 days. This year, it saw participation from over 700 pilots from 50 countries.
For more information, visit here.
New Jersey Festival of Ballooning, US Where: Readington, New Jersey
When: July 28-30, 2023
Spend a fun weekend at Solberg Airport grooving to music as the New Jersey Festival of Ballooning is not just a balloon festival but a music festival too. With over 165,000 guests attending the event annually, this fest offers activities like the Running with the Balloons 5K race. Also, try the signature dish — The Hot Air Balloon Funnel Cake — and other mouth-watering dishes.
For more information, visit here.
(Hero and feature image credit: Balloonfiesta.com)
Related: Bookmark This: 16 Unique Festivals To Witness Once In A Lifetime
Frequently Asked Questions (FAQs)
Question: Are hot air balloons festivals worth it?
Answer: Yes, hot air balloon festivals are a lot of fun to attend.
Question: Can we travel using a hot air balloon?
Answer: No, hot air balloons rides can be taken only for a short duration.
Question: Who should not ride in a hot air balloon?
Answer: People who have back or leg problems should not ride on hot air balloons.
Question: Are hot air balloons safe?
Answer: Yes, hot air balloons are safe.
Written By