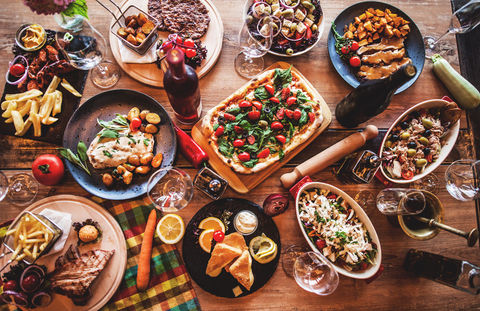 TRAVELING THROUGH SOUTHEAST ASIA is an amazing adventure full of color, fascinating culture, and mouthwatering flavor. A holiday in the region is guaranteed to broaden your horizons with new music, art, and cuisines. Quite simply, Southeast Asia is an unforgettable feast for the mind, body, and soul.
Sampling the quintessential dishes of a new location is one of the simplest and most authentic ways to experience a destination, providing a taste of the national palate and local concepts of hospitality and guest care. IHG Hotels & Resorts is an expert in providing unique dining experiences in far-flung destinations across the globe. Southeast Asia is no different — and with a range of luxury hotels across the region, enhanced by IHG One Rewards membership — the brand has some suggestions guaranteed to leave you drooling with anticipation!
Here are some of the restaurants and bars IHG can recommend from its rich portfolio in Southeast Asia and South Korea.
Singapore Inspired by the intricate details and colors of the vibrant Katong neighborhood, Baba Chews Bar & Eatery (at the Hotel Indigo Singapore Katong) is a beautiful space. And patrons will find time easily slips away as they sip on quality coffee from local roasters in a traditional but super chic environment.
Open all day, Baba Chews is a wonderful introduction to local architecture and artistic spirit, as well as being an ambassador of Singapore's thriving coffee scene.
Thailand Bangkok has a reputation for its exciting nightlife dating back to the mid-20th century. And if you fancy traveling back to a time synonymous with uninhibited fun, then you must check out Bangkok'78 Sindhorn Midtown Hotel Bangkok, Vignette Collection.
Channeling the golden era of Thailand's capital in the 1970s, Bangkok'78 pays homage to the decade with a menu of local classics, including Pad Thai Goong, Tom Yum Soup, Khao Soi, and the iconic Mango Sticky Rice.
Indonesia Making a reservation for an evening meal at SugarSand, part of Hotel Indigo Bali Seminyak Beach, is always a good idea.
A mainstay of the thriving Seminyak beach restaurant scene, SugarSand offers a uniquely Balinese experience. Guests can dig into its superb collection of cocktails and local seafood while kicking back in oceanfront surroundings and soaking up the sun.
Vietnam If you are traveling to Vietnam and are keen to check out the country's traditional food culture, Citron at InterContinental Danang Sun Peninsula Resort is essential.
Dining here is like participating in a whistle-stop tour of the entire country as it incorporates local recipes from North, Central, and South Vietnam. Dedicated to using the best ingredients available, Citron is particularly proud of its take on the iconic Hanoi-style pho and Vietnam's famous comfort food, Hoi An chicken rice.
Furthermore, members of IHG's refreshed loyalty program, IHG One Rewards, can add even more value to their dinner dates by taking advantage of the Dining Privileges program across Southeast Asia and Korea. By doing so, members will receive 20% off their bill at participating IHG restaurants and bars and also earn up to 250 bonus points per USD 25 spent.
---
In the new year, the program will provide more savings and rewarding experience, with a lower earning threshold where members will earn up to 100 bonus points for every USD 10 spent. To view the full list of participating restaurants and bars, click here.
Written By